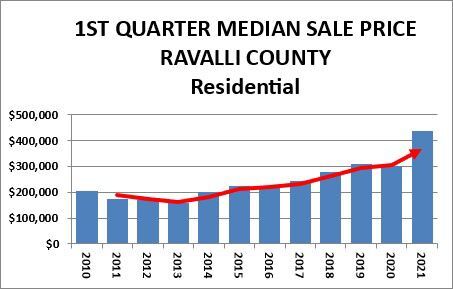 Ravalli County's record sales of last year don't show any sign of slowing down.
In the first quarter of 2021, house prices in the Bitterroot Valley jumped 44% from where they were last year during the same period, according to longtime Ravalli County appraiser and real estate agent Darwin Ernst.
The median sales price of a home in Ravalli County jumped from $302,000 in the first quarter of 2020 to $435,000 this year. The average sales price was $548,597 as compared to $392,270 in 2020.
Even with a tightening inventory of homes available for sale, this year's first quarter set a new record at 167 homes sold. Last year, 130 sold in the same period. Before 2021, the largest number of home sales in the first quarter over the last decade came in 2018 when 147 homes sold.
"We're on target to set new records this year," Ernst said. "There are always things that can impact the market, but without something drastic happening, I think we're going to continue to go up."
Last week there were only 87 homes available for sale in the Bitterroot. Currently, there are about 56 home sales each month, which Ernst said means there are only one and half months of inventory in the current market.
Homes that go on the market don't often last long. Some are being purchased by people living in other states who are buying them after looking at photographs.
"I had a deal last week where money changed hands three times in one day," Ernst said. "My client was selling their home. It closed in the morning. They had purchased a property from another guy who had bought a house from someone else."
"These are not typical market transactions," he said. "We are seeing people who are willing to pay over the market price because they want to make sure they get the house. We're seeing multiple offers in the same day, many of which are over the list price due to the low inventory."
Expensive homes are selling too.
So far this year there have been 17 sales of homes over $1 million. In 2020, there were only four reported during the same period.
There aren't many homes on the market that would be considered affordable housing.
In the Hamilton-area marketplace on Tuesday, the most inexpensive home was a 1971 manufactured home that offers less than 1,400-square-feet of space listed at $285,000. In the city of Hamilton, the most affordable home was a 1,200-square-foot house built in the 1930s at $315,000.
Of the 108 active listings, 38 homes cost over $1 million, which is 38% of the market. There are 32 homes in the $500,000 to $1 million range. And there are 38 under $500,000.
In the first quarter, there were about 100 sales in the Hamilton area of homes with zero to 40 acres. Close to half of those occurred within a mile of the city limits. The median sales price was $350,000.
In Corvallis, there were 34 sales, with a median sales price of $466,000. The median sales price in Stevensville was $449,000.
The median sales price in Victor jumped to $513,000, which likely indicated more land was involved. There were 21 sales in that area.
Florence — the community closest to Missoula — saw 22 sales at a median price of $572,000.
Home prices were highest in Darby where 19 properties sold at a median cost of $645,000.
"Those are more remote and larger pieces of property," Ernst said. "People are willing to pay more for those properties on the river without any neighbors."
At this point, Ernst said there aren't many properties available for people working at a minimal wage.
"It's becoming more and more unaffordable as time goes by," he said.
While it's a seller's market, Ernst said people considering putting their homes up for sale to cash in need to have a good solid plan on what they are going buy after they sell their homes.
"You might be able to get top market right now, but what are you going to buy and where are you going to go where it's affordable," he said. "It might be hard to make it work."
The Bitterroot Valley has seen housing prices skyrocket before and then come crashing down.
"Everyone has that history in the backs of their minds," Ernst said. "While some think it will happen soon, I don't foresee it in our market before it happens on a national basis. Everyone has their billfolds and purses ready to make that transition and move to Montana. Those people will still come. We'll have plenty of notice of a drop in prices is my guess."
"This is the fastest start that we've seen in the Bitterroot Valley's real estate market," he said. "Even though inventory is low, we've gone through more homes in the first quarter than we have before."