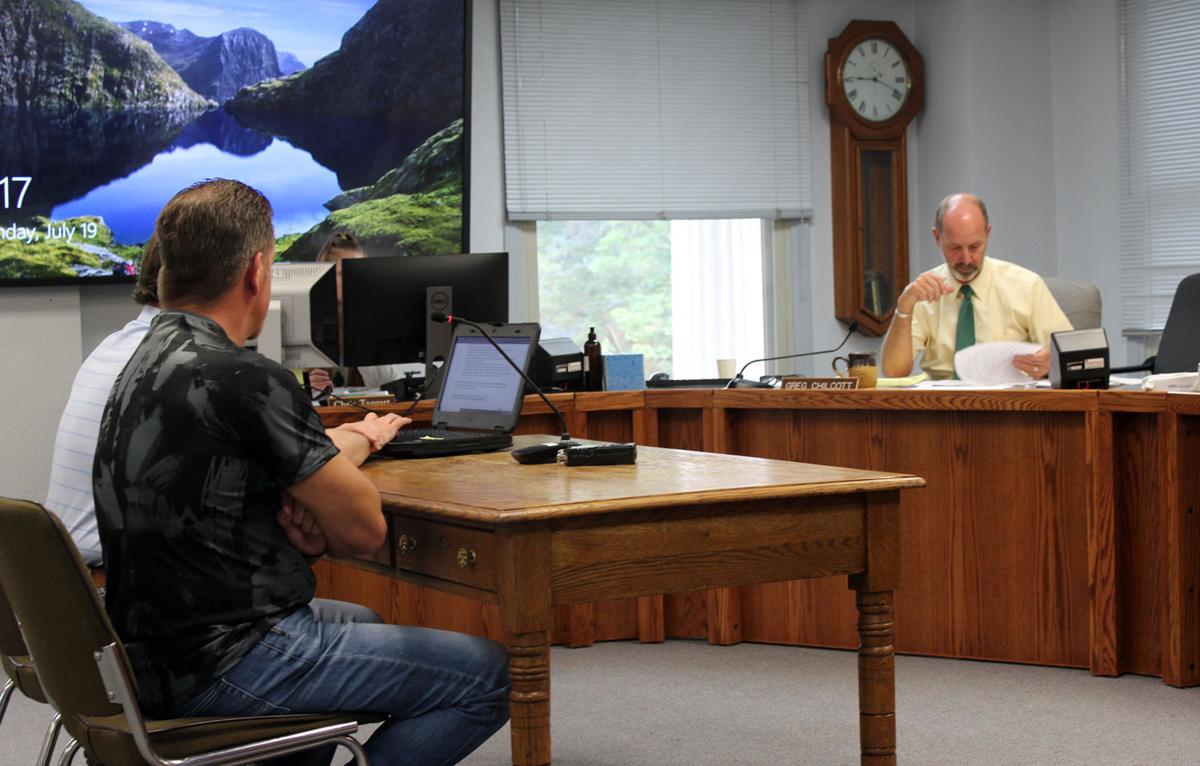 There are multiple active fires in the region and the threat of new fire starts.
At a meeting Monday, Emergency Management Director Eric Hoover said normal agriculture activities including haying and tilling, but not open burning, could continue. Residential and commercial lawn and ground maintenance could continue. Construction on private lands can continue if there is adequate fire suppression equipment available.
Stage 2 fire restrictions include no fires, campfires, or stove fires; no smoking except in an enclosed vehicle or building, a developed recreation site, or in a cleared area three feet in diameter; no operating internal combustion engines; no fireworks; and no operating motorized vehicles off designated roads and trails.
Hoot-owl restrictions are in place so that from 1 p.m. to 1 a.m. no chainsaws or other equipment powered by an internal combustion engine are allowed; no outdoor welding or operating acetylene or other torch types with an open flame; no explosives. A one-hour patrol in the work area is required following the cessation of all those activities.
Exemptions to Stage 2 restrictions include people with written authorization from the county commissioners; persons using a cooking device that can be turned on and off; generators with an approved spark arrester; staying on designated roads and trails; repair, maintenance, and construction of infrastructure, public utilities, and railroads; federal, state, or local officer, or member of an organized rescue or firefighting force, in the performance of an official duty.
All land within a city boundary is exempted.  
Bitterroot National Forest Fire Management Officer Mark Wilson said new fires in the Bitterroot have been quickly suppressed.
"Over the past week we've had nine new fires on the forest and all are contained except the one we had yesterday at Hughes Creek, [south of the valley in the West Fork district]," Wilson said. "It was about two and a half acres, growing rapidly, but crews got it knocked down with additional resources. We have a line around it and hope to mop up today."
The Sula Peak fire was small but highly visible overnight to the community, he said.
"We continue to add resources and are setting up a single-engine air tanker base at Hamilton Airport today and tomorrow," Wilson said Monday. "Our new starts with dry conditions are taking a lot of resources to contain. The airport opened just in time."
The Trail Creek Fire on Highway 43 in Beaverhead County, just below Chief Joseph Pass, was started by lightning on July 8. On Monday morning it had grown to 23,090 acres and fire crews were working on containment lines while providing structure protection on existing cabins and sites at the National Park Service Big Hole Battlefield. 
The smoke in the Bitterroot Valley is also coming from the Granite Pass Complex in the Lolo National Forest and fires across the western United States.
On Tuesday, the Granite Pass Complex update from the Lolo National Forest said the combined fire acreage was at 2,108 acres with no containment. An evacuation warning has been issued from the Idaho border to Lolo Hot Springs along Highway 12 and a 45 mph speed limit has been posted from Spring Gulch to Lolo pass for the safety of firefighters and the public. A red flag warning issued Monday could continue through Wednesday with dry, high winds and lightning.
Montana Gov. Greg Gianforte declared a statewide wildland fire emergency July 14, citing extreme drought conditions over 84% of the state, record high temperatures, excessive fuel loads, wind and low humidity.
As of July 14, 1,398 wildland fires had burned 141,000 acres in Montana and the fires threaten residences, outbuildings, infrastructure, crops, rangeland and forestland.
Gianforte has mobilized state resources including the National Guard to help protect life, health and property. He can request support from other states and temporarily halted fuel permits and large-size or oversize vehicle permits. 
On Monday, Wilson said the use of National Guard troops in the Bitterroot is not planned.
"I know they're talking regionally," he said. "This year in Idaho and Montana they have been helping out with fuel shortages at some of the airports. Not a shortage of fuels but of being able to transport fuels. Hamilton is one of the better airports as far as having a fuel supply. Some of our resources have had to jockey around to different airports."
Wilson said the Stage 2 restrictions are for all lands administered by the Bitterroot National Forest in Ravalli and Missoula Counties, including the Anaconda-Pintler Wilderness and the Selway-Bitterroot Wilderness within Montana. Fish, Wildlife and Parks state lands also.
"I believe all agencies, including the county, just signed an order and have Stage 2 restrictions in place," Wilson said. "We can hope for a little rain tomorrow but the danger is lightning, that's the double-edged sword."
Hoover said the agencies in the Missoula Fire Restrictions Area time their restrictions to all be the same.
"Counties, state and federal land management agencies try to coordinate to impose restrictions to all be in at the same time to avoid confusion," Hoover said. "The administrative agencies decided to do that Saturday and so it prompted us to make ours effectively immediately to match out other partners."
The National Weather Service in Missoula said Wednesday may have rain and gusty winds and a cold front passage on Thursday could lead to critical fire weather conditions due to breezy winds, abnormally hot temperatures, dry conditions possibly with thunderstorms.