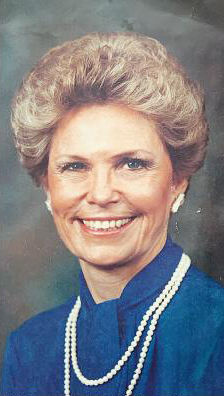 Jan.18, 1931 to Jan. 23, 2020
Willa Blaine Davis Matthews, Ed.D., died in Hamilton on Jan. 23, 2020. Born in Wilson, Oklahoma, to Alexander B. Davis, Jr. and Lois Morelock Davis, Willa was named for her late uncle, Willie Blaine Morelock.
She moved to Taft, California in 1937 when her mother divorced Mr. Davis and married Merritte H. Wilson, Sr., whose last name she used while attending Taft schools. Upon graduation from TUHS in June of 1947, Willa moved to Los Angeles to live with her mother and her mother's third husband, George Selby.
On May 29, 1948, in Los Angeles, California, Willa was married to her high school sweetheart, Jack E. Matthews, a U.S. Navy veteran. They and their children, Jon and Viktoria, lived in San Diego and San Jose before moving to Las Vegas in 1966-67. There, two grandchildren (Kasey Matthews Johnson and Jeffrey Jon Matthews) and one great-grandson (Matthew Christian Harney) were born. Subsequently, two more great-granddaughters were born in recent years, Hailey Willa-Lynn Johnson of Stevensville and Jenna Blaine Matthews of Bangkok, Thailand.
Willa and Jack were married 45 years as he became very successful in real estate, leading the way for hundreds of others in the field. Willa and Jack divorced in Las Vegas after 45 years of marriage and they remained close friends thereafter, having been together since Willa was 13 years of age.
You have free articles remaining.
Willa's paternal grandmother, Ida Jackson Davis, was a college professor; and Willa loved going to school. Her degrees included a CPS, M.A. from SJSC and B.S. from SDSC; and, in 1977 she earned the fourth doctoral degree granted by UNLV (Ed.D. in Educational Administration).
Willa loved to work, and she did — from the age of twelve as a bunkhouse waitress until her retirement from the Clark County School District in 1993. Her private sector jobs ranged from beginning typist, executive secretary, to personnel manager. After returning to university for her teaching credential, she became a business education teacher and student work experience coordinator in Las Vegas high schools.
She retired and lived with her kitty cats, "Sunny Joy" and "Roger CATTerer" (Named for the greatest tennis player in history, Roger Federer) A former Mensan, Willa belonged to Beta Epsilon and other professional organizations. During her volunteer period she drove for Sun City Summerlin Security, adopted out animals for Lied Animal Shelter, served on the Clark County Grand Jury, and acted as a member of the local Congressional Medal Board. In 2004, she joined the Roman Catholic Church and served as a funeral lector at St. Joseph, Husband of Mary Roman Catholic Church.
Preceded in death by her immediate family, Willa is survived by: daughter, Viktoria Blaine Johnson (Mrs. Wayne); granddaughter, Kasey Matthews Johnson; grandson, Jeffrey Jon Matthews; great-grandson, Matthew Christian Harney; great-granddaughter, Hailey Willa-Lynn Johnson; great-grand daughter, Jenna Blaine Matthews; and two beloved kitty cats, Sunny Joy Baby Cat and Roger CATTerer. She is also survived by cousin Bill Oliver, of Southern California.
She was an undeniably strong woman and she carried herself in a poised manner, facing any and all adversity with the kind of fortitude few have. She, along with her former beloved and only husband, Jack E. Matthews, also raised their grandchildren (Kasey Matthews Johnson and Jeffrey Jon Matthews) as their own, for which her grandchildren are eternally grateful. She was classy, independent, and dignified. The matriarch of her family, she will be missed dearly by those who love her.
Her remains were cremated at Daly-Leach Memorial Chapel-Hamilton. Services are scheduled at Palm Mortuary, 7979 W. Warm Springs, Las Vegas, Nevada, 89113, on Saturday Feb. 8, at 9 a.m. After the service, her ashes will be scattered privately together with the ashes of her precious predeceasing kitties. In lieu of flowers, those wishing to do so may remember Willa through gifts to an animal organization or to Wounded Warrior Project.