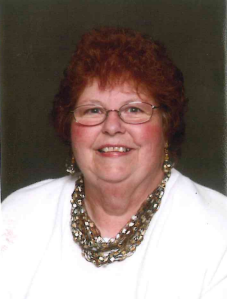 Nyla Sterner, 78, joined the Lord on Friday, Dec. 18, 2020, at the Beehive Assisted Living Facility after several years of Alzheimer's.
She was born in Great Falls, Montana on Aug. 21, 1942, to David and Margaret Grove. She grew up on Somers. Nyla knew the importance of providing for family in a faith-based home, and education for them all. She solely raised her four children in Missoula by working clerical/accounts payable at Champion International in Bonner until it closed. After retirement at 65, she was a part-time Merchandiser with American Greetings for years, bringing her to Hamilton's Albertsons and Kmart.
She was very active in the Order of Eastern Star, visiting the Hamilton and Victor Chapters. She enjoyed the Bitterroot with her daughter's family, Claudi Jo Lund. She would attend the plays at the Hamilton Playhouse, fair parade, shopping Moonlight Madness, eating at the Coffee Cup, and gathering with friends every Wednesday and Thursday at the Hamilton Trap Club. She loved going to the family cabin at Lost Trail Hot Springs and watching her grandchildren, Clark and Mariah, in their many community events, sports and HHS choir events. She was proud of her family and loved them deeply!
She was preceded in death by her daughter, Tina Sterner-Smith (1983); her children's father, Jack Sterner (1990); her daughter, Shelly Sterner-Willard (2019); and her grandson, Stuart Willard (2020).
Survivors include her brother, Morey Grove (Kalispell); son, Shane (April) Sterner of Missoula; daughter, Claudi Jo (Tim) Lund of Hamilton; son in-law, Scott Willard of Kernersville, North Carolina; her companion of eleven years, Dewey Jewett, along with his children, Sheryl Dimmit and Natalie Jewett; his grandchildren Nathan and Jacob Jewett; Nyla's grandchildren and greatgrandchildren: Margaret Smith Sanchez (Skylynn, Gabbi, Anna), Andrea (Jeremy) Willard-Price (Jorden, Bryant), Adam Sterner, Cristal (Sam) Dyer (Ash, Elizabeth, and Joey), Laura (Russ) Arnold (Lucy, Leon), Clark Lund, Mariah (Karill) Apedaile, along with several special cousins, and many nieces and nephews.
Graveside services for Nyla will be held at 2 p.m. on Wednesday, Dec. 30, at Sunset Memorial Gardens. A private family viewing will be at 1:30 p.m. Due to the global pandemic of the coronavirus, a full celebration of her life will take place later.
The family would like to extend a special thank you to the staff at Marcus Daly Hospital for their care, for the entire staff of Beehive Homes (mostly those of Harding House), the Sheriff's Dept. along with Tom and Carron Grymes of Daly Leach. Our community was dear to her and everyone made her last several weeks of life peaceful. Thank you for extending your prayers, thoughts, and assistance to the entire Lund family during this time!