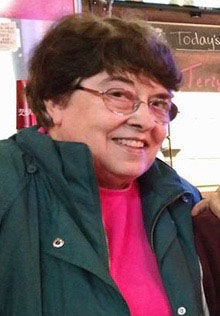 FLORENCE — Dolores gained her Angel wings Saturday, Oct. 31, 2020, at the family home in Florence. She passed from complications of COVID, quickly, quietly and painlessly in the loving arms of family members. The last voices and faces she heard and saw, were those of cherished loved ones.
She was born in Hamilton on Jan. 1, 1940, the first baby of that year. Graduating from high school in 1958, she married Bill Bourne in 1959, and was blessed to be a stay at home mom, with the endless love and devotion of their three children, Rita, David and Rob.
Later, divorced, she moved to Missoula and worked at the DeSmet school, Western Montana Clinic, and Farm Bureau insurance where she met her soul mate, Dave Hurtt.
Dave and Dolores were married Dec. 27, 1982, and brought their two families together as one. The family witnessed an unconditional love between Dolores and Dave that was cherished by all. Dave proudly recalls there was never a cross word between them in the entire 38 years of marriage. The ranch was the gathering place for holidays, weddings and several barn dances. Those events, filled with love, bring so many memories for all of us to share.
In 1988, Dolores went to work for Ribi ImmunoChem Research in Hamilton, where she enjoyed working with her daughter, Rita, and made numerous lifelong friends.
In 1996, Dolores and Dave designed and built a facility known as, The Dollhouse, on the ranch property, anticipating she would inherit her mother's doll business in Hamilton, known as, Theresa's Dolls and Gifts. They added a museum to the Dollhouse in 2003, all as a testimony to how well they worked together as a loving team. This was a magical place for so many memories to share. Dolores's work as a seamstress was beautiful, she had made four wedding dresses, and later excelled in dressing dolls with wedding dresses to match the bride. Her homemade gifts, poems and God given gifts will be treasured forever.
We reflect on Mom's gift of life. She was cherished by everyone who knew her. Despite her many health issues she taught us faith, strength, courage and a positive attitude even when it hurt to smile. Her presence was a safe haven for all and her hugs would melt your heart. God picked a very special angel and we know she will be watching over us until we are together again. We love you, Mom!
She is survived by her loving husband and soul mate of 38 years, David S. Hurtt, of Florence; daughter, Rita (Tom) Jones of Victor; David (Dana) Bourne of Hamilton; Rob (Sue) Bourne of Hamilton; stepdaughters, Leslie (Tim) Blackburn of Florence and Reni Fletcher of Denver. Her sunshine was her 13 grandchildren and 14 great-grandchildren. She is also survived by her (little sis) sister-in-law, Diana Neaves and several nieces and nephews. Thanks to social media, Mom kept in daily touch with family and friends. She loved each and every one of you to the moon and back.
She was preceded in death by her parents, Walt and Theresa Neaves; her two brothers, Robert Neaves and Bill Neaves; stepson, Little Dave Hurtt; and son-in-law, Matt Fletcher.
Due to COVID, her celebration of life will be postponed until next year. In Mom's memory, our family would like to ask that everyone be safe and kind to one another. In lieu of flowers, donations can be sent to food for the poor in her memory.
Obituaries Newsletter
Sign up to get the most recent local obituaries delivered to your inbox.