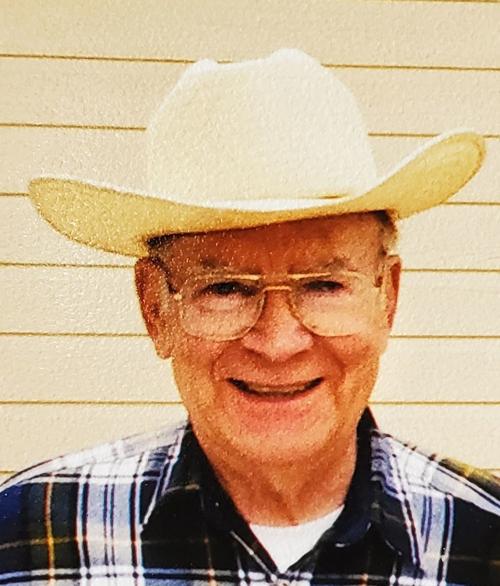 Saturday evening, May 23, 2020, John Raymond Gurtner, Jr. slipped the surly bonds of earth to dance the skies on laughter-silvered wings to rejoin many loved ones in our Lord's Promised Land. John was born August 12, 1923 to John R and Zora Gurtner, Sr. in North Carolina. As the only child of a preacher, John moved often throughout the middle of the country but fell in love with the expanses of New Mexico. There his life was filled with cowboying and a love of the western lifestyle and open spaces, which he carried with him all his days.
At 20 years of age, world events pulled John, like so many young men of the Greatest Generation into WWII. John drove tanks and served in the Army infantry before signing up for the Air Corps Cadet program. It closed before he graduated from college, so he was sent to serve the 78th Infantry Division in Europe. During his military career, John drove his father, a Chaplain, throughout Europe. When his service ended the following year, he opted to join the Air Corps Reserves. John married Betty Harned in 1946. They welcomed daughter Jane and son John R. III into their world. John's 15 years of military experiences was a perfect fit for Boeing where he worked in aeronautical design beginning in 1958. John and family moved to Bellevue, Washington in 1988 where John retired from Boeing after more than 30 years.
John and Betty rejoiced in John III's daughter Elizabeth. John III's life was tragically cut short in 1990 but that loss began a special bond between Elizabeth and her Papa. Tragedy struck again with Betty's death in 1992. Jane and husband Neil brought joy back to the family with the birth of their children Louise and Edward.
John was blessed to find happiness and love again in wife Helen Nobles whom he met and married in Bellevue, Washington in 1998. They chose Valentine's Day to honor that love. John came to the Bitterroot to live in 2004 with wife Helen to be closer to the Nobles' family and her return to her beloved Bitterroot Valley. They were quickly adopted into the United Methodist Church family in Corvallis where John served as a Layman from 2004. His fierce bidding on Pecan pies during the annual pie auction will not soon be forgotten! John was also active in local Corvallis American Legion Post 91. He was honored as a Grand Marshall in 2018. They made their residence at Sapphire Lutheran Homes where John set up a workshop and swiftly became the residents' handy man. John loved building wooden toys and giving them away as quickly as he could produce them. Sapphire staff's children were most often recipients of his joy-filled handiwork and generous nature.
John and Helen did not let dust accumulate under their heels! With trips throughout the United States to sleuth out a myriad of air museums and the whole world to explore and visit family along the way, they loved to travel. Who but John would parasail at 85? He was a strong supporter of the arts in the Bitterroot community and weekends would find them attending concerts, seeking out museums and donating to many causes. A big heart, a zest for life for his family and his country is a legacy that John leaves us all.
John is survived by wife Helen; daughter Jane/Neil, their children Edward and Louise/Andrew, great grandson Chayton John; granddaughter Elizabeth/Luke and children Alexis and Dominic.
In lieu of flowers, the family requests that you donate to their United Methodist Church PO Box 37, Corvallis, MT 59828 or to a charity of your choice. A military funeral will be conducted later this summer.
Obituaries Newsletter
Sign up to get the most recent local obituaries delivered to your inbox.