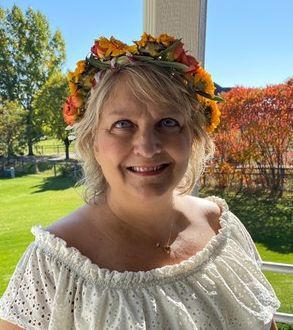 FLORENCE - How do you begin to describe the depth of a person's life on a piece of paper? 
After a 9-month battle with pancreatic cancer, Dawn (Hawkinson) Hornaday, age 56, passed away peacefully at the family home on Dec. 29, 2020.
Dawn was born on March 18, 1964, at St Patrick's Hospital in Missoula to Don and Kathy Hawkinson. Her sister Maureen arrived on Feb. 11, 1965. Their older brother Robin came to live with the family permanently during the summertime. Dawn was very close with her mom and dad, sister "Mo" or "Mosers," and brother, Robin "Robo." She took her job as Robin's little sister, Mo's personal "bodyguard" and best friend seriously. Dawn was her mother's confidant, sparring partner and "alarm clock" (calling her every morning to wake her up for work).
The family settled in Florence in 1969, where Dawn attended school from kindergarten through high school. She graduated from Florence in 1982. Dawn began her banking career while attending the University of Montana in the early 1980s. In 1989, she enrolled in paralegal school while living in Spokane, Washington.
Dawn and Casey's story began in Spokane in 1990 when Dawn applied for a position at American General Finance. At the time, Casey was the assistant manager for a branch in Spokane. He hired her on the spot. A year or so later, a storybook relationship developed. Shortly after, an opportunity arose at Spokane Teachers Credit Union, where lifelong friendships were created.
On Sept. 4, 1993, Dawn and Casey joined hands in marriage at Florence-Carlton Community Church surrounded by family and friends. Anyone fortunate enough to be in the Hornaday family circle understands the love, respect and dedication Dawn and Casey's marriage reflected.
Dawn and Casey purchased a home in Spokane, Washington in 1993. Their first child, Kade William Hornaday, was born a few years later on May 8, 1996. Casey's employer provided an opportunity to relocate to the Missoula area in 1997. The family then made the move to Florence where they have resided since. Their second child, Ashley Kate Hornaday, was born in Missoula on March 29, 2000.
For the last 23 years, Dawn was employed at Farmers State Bank in Florence. Their strong community and family values allowed Dawn and Casey to participate in their children's scholastic and athletic endeavors.
Dawn and Casey lived life to the fullest. Together they enjoyed hiking nearby trails, floating many local rivers, exploring beaches in Hawaii and Mexico, hosting game nights and watching chick-flicks with family and friends, holding hands by the fire pit along the creek and touching toes in the hammock, while looking at stars and listening to music. Dawn lived her best life as a lover and best friend, endlessly displaying her love towards her husband.
Dawn cherished and showed endless love for her children Kade and Ashley. She was the mom every kid wished they had. She was supportive, kind and a role model to many. Dawn was actively involved in her children's school and athletic endeavors, rarely missing an event. Her passion for family carried over to her nieces, Rachel and Erica Castillo. Dawn's admiration for her children was constant. She ensured her children knew how much they were loved on a daily basis, whether it was giving them a big hug or reaching out via call or text. During her last few days, Dawn would stare aimlessly at Kade and Ashley in awe of whom each has become. She knew her job was done, and she could now die in grace.  
The family extends their utmost gratitude towards Farmers State Bank, the medical staff at St. Patrick's Hospital Oncology Department and Partners In Home Care.
A celebration of life will take place during the summer of 2021.  
Dawn is survived by her loving husband Casey, son Kade (Hailey), and daughter Ashley; mother Kathy Hawkinson, sister Maureen (Roger) Castillo, brother Robin (Sue) Hawkinson; niece Heather; nephews Cody (Nicole) and Levi (Charlene) Hawkinson; nieces Rachel (Dylan) Berger and Erica Castillo. In addition, Casey's sister Mimi Justice (Flynn), nephews Nicholas and Michael Justice, brother Doug Hornaday (Alaina), and parents Steve and Cecelia Fausett. Lastly, numerous aunts, uncles, cousins and close friends.
Dawn is preceded in death by her father, Donald Hawkinson; paternal grandparents, LeRoy and Aldea Hawkinson; maternal grandparents, Harold and Bea Monahan; uncles Kenny Staninger and Bob Hawkinson; cousins' Lindsey and Lee Liebel, and Chad Hawkinson.