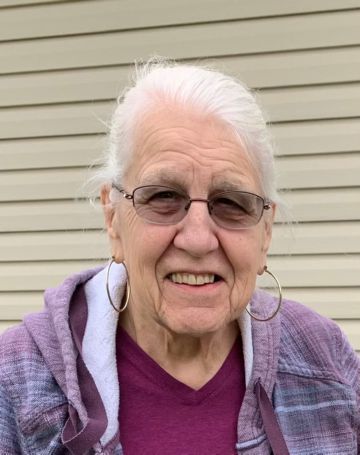 Julia (Julie) Ann Arduser-Thomas
Julia (Julie) Ann Arduser-Thomas passed away February 2, 2021 of natural causes at Riverview Nursing Home in Tomahawk, WI.
Julie was born July 19, 1938, the youngest daughter of Leonard and Dora (Young) Arduser in Marion ND. She attended Marion Public Schools and graduated from high school in 1956. On April 28,1957 she was married to Ray Merkel and they made their home in LaMoure ND. To this union 5 children were born, Jeff, John, Janet, Jason and Justin. In 1967 they moved to Dickinson ND where Ray was employed by the Dickinson Job Corps Center. In 1969 they were transferred to Darby, MT. In 1985, after 28 years of marriage, Ray and Julie parted company.
Julie started a custom upholstery business, restoring to "new" everything from recliners to motorcycle seats, she was very meticulous in her work.
On June 6, 1990 Julie married Arthur Thomas and they moved to Laona, WI. Julie was employed by Superior Aviation in the upholstery department. She was responsible for complete restoration of the interior of private jets and helicopters. She retired in 2014, Julie and Arthur continued to make their home in Laona, WI. Julie was moved to the nursing home in late December, 2020 and resided there until her death.
Julie was preceded in death by her parents, Leonard and Dora Arduser, and sister Margaret Egli. She is survived by her husband, Arthur Thomas, Laona, WI, a sister, Carol Knudsen, Marion ND, her children, Jeff (Jill) Merkel, St Onge, SD, John (Cindy), Whitehall, MT, Janet Hunter, Stevensville, MT, Jason (Julie) Merkel, Helena, MT, Justin (Rehnna) Merkel, Hamilton MT, 13 grandchildren and 11 great-grandchildren.
A celebration of life is planned for May 2021 in the Bitterroot, as well as a family gathering in Marion ND in late May 2021.