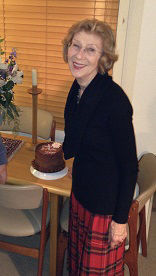 HAMILTON — On May 3, 2020, Helen Louise Lewis-Hedman passed away, suddenly, at her home in Hamilton. She was 81. Born Feb. 5, 1939, in Kamiah, Idaho, as the daughter of an early U.S. Forest Service ranger and his wife. Helen was raised on numerous remote wilderness ranger stations in Idaho and Montana. As an only child, nature was her playground, and she developed a keen love for wildflowers and trees; she also immersed herself in solitary pursuits—reading, drawing, and occasional feral cat-taming. Her formative teenage years were spent in the serene wilds of Warland, Montana. Now under Libby dam, Warland survived only in her memory. Helen graduated from Libby High School in 1957, attended Whitman College, and later, The University of Montana. There, she studied art, notably under the late Rudy Autio. While at the University of Montana, she met and married Wayne Hedman. They moved to Sandpoint for several years, and eventually, in 1969, two children in tow, settled in Hamilton. As co-owner of Bitterroot Drug, Helen was a true partner in the creation of a thriving business, while simultaneously being a loving and dedicated mother. She was the nuanced "yin" to Wayne's brash "yang." Helen sought the beauty in everything. Her floral and landscape paintings, gardens, flower arrangements, home décor and careful turn of phrase all reflected her aesthetic sensibility, intelligence and quiet sophistication.
Helen is survived by her children, Nathan Lane (Sheila) of Spokane, Washington, and Whitney Claire (Jade Martin) of Hamilton. She joins her husband of 59 years beyond the veil. She was also predeceased by her parents, LeRoy and Mabel Lewis, and a well-loved menagerie of furry and feathered family.
There are no services planned at this time. Donations may be made in her memory to Nature Conservancy, Bitter Root Public Library, AniMeals, or to the philanthropy of your choice.
Rivers flow through the core of my being
Nourishing the source of my being
Washing me with pleasures… delighting.
Green Rivers, murky and smooth as
Polished river rock, lovely and impassive.
Black rivers, ominous and opaque in their
Cold and primitive depths
Clear rivers, glittering, serrated and faceted,
Awash with sunlight in their pagan joy.
Dreams and memories awash with rivers
Awake, asleep They press on, aflow from
And even then, the certain knowledge
That I shall flow on in some form,
Bourn lightly upon the river.
Obituaries Newsletter
Sign up to get the most recent local obituaries delievered to your inbox.