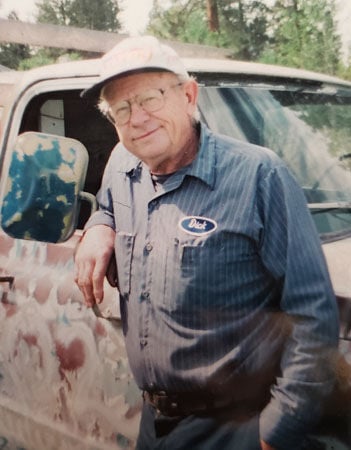 HAMILTON — September 10th the Jolley family suddenly lost their hero ... Richard Lee "Dick" Jolley went to be with his Lord.
Dick was born in Forest, Idaho, Oct. 11, 1936. He is survived by his two brothers, Don and Roy Jolley; his four children, Dan Jolley, Ted Jolley, Tom Jolley and Susan Bierrin; and numerous grand and great-grandchildren.
Dad was a lifelong mechanic who loved his work. Dad was a husband who taught us unconditional love, he gave up so much to be our mother's primary care giver for years until she passed away; he never complained. Dad was a father devoted to raising his four children from the time we were infants until the day he died, he remained our greatest fan.
Dad was "Grandpa Dick" to so many, both to his large immediate family and a host of others, he loved them all. Dad had a lifelong passion for God's creation. Just days before he passed he was telling me about crawling thru the brush at Crazy Creek to catch a trout, He loved taking his grandkids fishing. He loved all things wilderness, hunting, fishing, picking huckleberries and hiking.
Dad loved the church, he believed he was a real part of the real body of Christ and he loved his church body, and he gave his life to serve it. Dad loved Jesus and in his own special way he gave his life for his Lord. He took people fishing, he fixed cars and for years he brought firewood to people who needed it. He made his special cookies and delivered them to shut ins. He gave and he gave, and he gave, his message was always the same, "Life is a gift," embrace the gift to others and give your life as a gift to others. He never had a bad day ... ever.
There will be a celebration of this gift, Saturday, Sept. 19, 2020, at 3 p.m., at Cornerstone Bible Church, 280 Fairgrounds Rd., Hamilton. Condolences may be left for the family at www.dalyleachchapel.com.