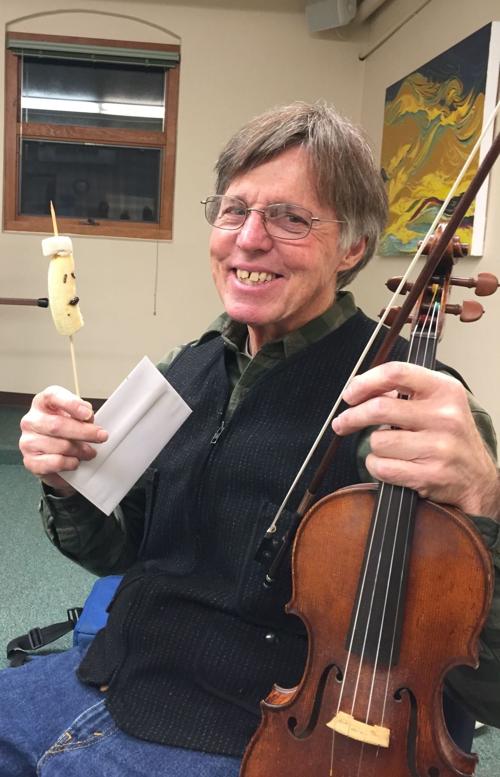 George "Chip" Albert Jasmin III passed away peacefully on Tuesday, Oct. 27, 2020, in the loving care of Hidden Meadow Memory Care and Frontier Hospice's wonderful staff.
Chip was born Dec. 12, 1949, in Woonsocket, Rhode Island, to Cecile and George Jasmin Jr. He graduated from Slippery Rock University in Pennsylvania, earning bachelors and masters degrees in education while also making a name for himself on the football field as a formidable defensive end.
In the mid 1970's, Chip traveled to Australia where he met his future wife, Amy Dittmaier, in September 1977. Together, they traveled around Australia, various Pacific Islands, and the U.S., eventually landing at the Lyndes family farm (with Amy's grandmother, Ruth) in Hamilton in 1983.
In 1990, Amy gave birth to their son, Cove. For eight years, Chip, Amy, and Cove traveled throughout Montana and the Northwest, sharing music with schools and communities. Chip and Amy were loving, attentive parents. During these unique adventures, they taught Cove the importance of sharing happiness and giving to others, whether it be through music, dance, communing with nature, or spending quality time with dear friends, old and new. Amy passed away on Aug. 5, 2001.
Chip and Cove then boarded a camper and spent the next year teaching and playing music in classrooms, dance halls and living rooms across the country. Returning to the Bitterroot Valley, Chip maintained an active schedule as a musician, singer, storyteller, dance caller and teacher for the next 30 plus years. He created musical programs for people of all ages that integrated song, dance, movement and story to teach about culture, history, geography, respect for humanity, global awareness, wildlife and the natural environment.
Chip was the life of the party, the first one to burst out singing in an audience, and the happiest person in the room. He loved people unconditionally and had a knack for making everyone around him feel accepted and special. Even as he experienced the inevitable decline associated with his Alzheimer's diagnosis, his passion for music endured, his guitar providing peace to him through some of the darkest periods of the disease.
In the spring of 2020, Cove and his fiancée, Amy Darling, put together a fundraiser to provide more professional care for Chip. The resounding generosity in response to their call was a beautiful testament to the positive effect Chip had on the people and communities he served. We hope those same people might sing a song, do a jig, and share a laugh in tribute to Chip's legacy of connection through music, humor and good company.
Chip was preceded in death by his wife, Amy Dittmaier; mother, Cecile Jasmin; father, George Jasmin Jr.; and mother- and father-in-law, Dorothy and Bernard Dittmaier.
Survivors include Chip's son, Cove Jasmin, and almost-daughter-in-law, Amy Darling; brother and sister-in-law, Eric and Kathleen Jasmin; brother, Donald Jasmin; brother and brother-in-law, Marc Jasmin and Tony Simonneau; brother- and sister-in-law, Alan and Kristen Dittmaier; and numerous cousins, nieces, nephews, and dear friends.
On Sunday, Nov. 15, 2020, at 3 p.m., there will be a virtual memorial service celebrating Chip's life. All are invited to join the service. You will find further details and opportunities to contribute your own memories and digital keepsakes at the following website: chip-jasmin.forevermissed.com.
Obituaries Newsletter
Sign up to get the most recent local obituaries delivered to your inbox.