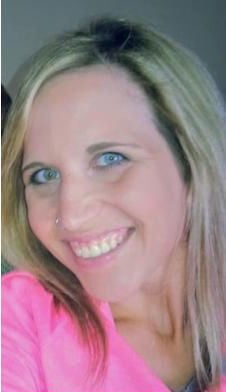 Nicole (Nicki) Leigh Johnson, beloved mom, daughter, sister, aunt and friend, died in Seattle, Washington, at age 33, on Oct. 22, 2020, surrounded by angels and holding her dad's hand.
Nicki was born on Nov. 15, 1986, in Hamilton, to Perry and Betty (Malatare) Johnson. She was the youngest child of five and joined older siblings Luke, Wendy, and Allison. Her oldest brother died at birth and greeted her in heaven. Nicki spent her childhood in Hamilton, mostly in the Grantsdale area, on Meadowlark Lane, making memories with her mom and dad, brother and sisters and numerous friends. Nicki played softball for many years, enjoyed a good mud fight in the Republican irrigation ditch in her own backyard, loved a bright vibrant lipstick, and was very creative in the way she got out of doing chores. Nicki learned how to ride and crash motorcycles in the field next to her house. She loved animals and manhandled all the cats and dogs she could get her hands on, rode horses, and had too many adventures to count. Nicki spent many hours in the summers swimming at the public pool next to the Creamery, smashing rocks at the secret rock factory she discovered with her siblings while camping by Hungry Horse, and every summer she ate as many huckleberries as she could pick and her mouth was often purple. Nicki didn't like bullies, she hated picking rocks out in the field, and she didn't like feeding or watering the chickens that her family raised one year.
As a young woman, Nicki lived briefly in California and Wyoming, but Montana was always home. She lived the majority of her life just down the road from where she grew up. Nicki worked a variety of jobs, but really enjoyed both making coffee for people as a barista at the various coffee shops throughout the valley, and taking care of people as a CNA. She seemed especially well suited to these jobs because she loved to visit and her ability to make people feel special or laugh when they were feeling down really shined through. Nicki had an infectious laugh and a flair for the dramatic that those lucky enough to know her were often able to observe.
Nicki loved old people, her nieces and nephews, and most of all her son, Chase. She often posted stories and photos of the adventures she would have with Chase, sometimes they were pictures of Chase making silly faces, and sometimes they were photos of she and Chase along with expressions of gratitude and joy at being his momma. Nicki was the type of mom who wanted to be in the thick of the action – she would play games and smack talk all the players, and she took great pride in being the first grown-up in the summer to try and make it all the way down the slip and slide. In her final days, Nicki loved to watch videos of Chase that he sent her — it was her favorite thing to do. The last entry that Nicki posted on Facebook summed it up best — it was a message accompanying a funny picture of Chase and it said, "Oh how I miss this wild one. I love you more than I EVER knew I could, never forget that!"
Nicki is survived by her beloved son, Chase Johnson-Cushing, Corvallis; her parents, Perry and Betty Johnson, Helena; her brother, Luke (Dawn) Johnson, Otterville, Missouri; sisters. Wendy Johnson, Fairfield, Montana and Allison Johnson, Cole Camp, Missouri; and numerous nieces, nephews, aunts, uncles, cousins and friends.
Nicki was preceded in death by her grandparents, Douglas and Gwen Johnson, Hamilton; and Charles and Marian Malatare, Augusta; her favorite cousin, Hannah Gwen Johnson-Swanson Capen, Missoula; and her older brother, who died at birth.
A celebration of life will be held next summer, with the location and time yet to be determined. The family would encourage those who knew and loved Nicki to donate to their local animal shelter in her memory. Additionally, the family would ask people to please send stories or memories of Nicki that will be included in a memory book that they are compiling for Chase. Condolences and stories may be shared with the family at the following address:
3650 Skylight Vista Drive
Obituaries Newsletter
Sign up to get the most recent local obituaries delivered to your inbox.