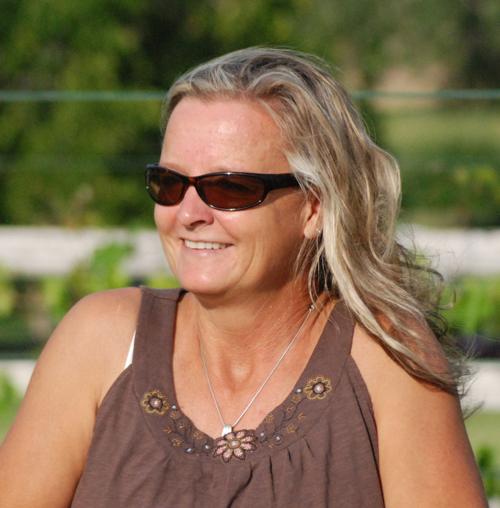 Pam passed away on Nov. 12 2020, in Marcus Daly Hospital after a six week battle with methanol toxicity.
Born on July 17, 1958, in Elgin, Illinois, to John and Judy Kaye, Pam grew up in Crystal Lake with her five siblings Steve, Lori, Kevin, Jeff and Susie. She dropped out of high school, which made all of her accomplishments that much more impressive. In 1985, she married Randy Phillips and had two children, Katie and Val. Pam always worked a number of odd jobs and had a knack for creating things no one else could. When her kids were young she painted custom tile, her art later moved towards oil paintings and barn quilts, many of which can be seen around the valley. She worked as a ranch hand in trade for a log house. During the turmoil of moving that log cabin and building it into a home Pam and Randy divorced in 2001. Pam then became the first bar tender Bitterroot Brewery ever had. That job sparked her love for building businesses. After about four years she had traded a house that she built for a smaller one and met Eric Hayes, who would become her significant other. In 2007 she started work on a dilapidated building in Stevensville. Everyone knows it now as Blacksmith Brewery. Two years later she sold it to Eric and took a road trip around the country by herself, she was always up for a road trip. She returned to the Bitterroot and started looking for a new building. She found one in Corvallis. After many hours changing everything in the building she was ready to open up The Wild Mare restaurant. Soon after that she was looking for her next opportunity. It would come along about five years later in the form of Backroad Cider which she and Val opened in 2015. That also only slowed her down for a couple of years. This time she bought a house with a beautiful barn; she sold the barn, Barnwood Builders tore it down, and shipped it to Wise River where it is being used for a veteran's fly fishing retreat. Next came turning a local ice company into Fin's Taphouse. Once again she only lasted a couple years before she was looking for her next thing. We looked at many buildings and tossed up a bunch of ideas in her last year, none of which had time to come to fruition. Pam was one of a kind; she was full of ideas, quick to see the best see the best in people and things and made fast friends with everyone she met.
She is preceded in death by her mother, Judy and father, John. She is survived by her siblings, Steve, Lori, Kevin, Jeff and Susie; her children, Katie and Val; her first grandchild Emery; her significant other Eric; and countless friends across the country and in the community.
There will be a celebration of life next year. She will be cremated and spread across the world with love. Condolences may be left for the family at www.dalyleachchapel.com.
We would like to thank Marcus Daly Memorial Hospital for bringing her to Hamilton and taking such loving care of her in her last couple of weeks. Please remember her fondly and often, we will all miss her greatly.