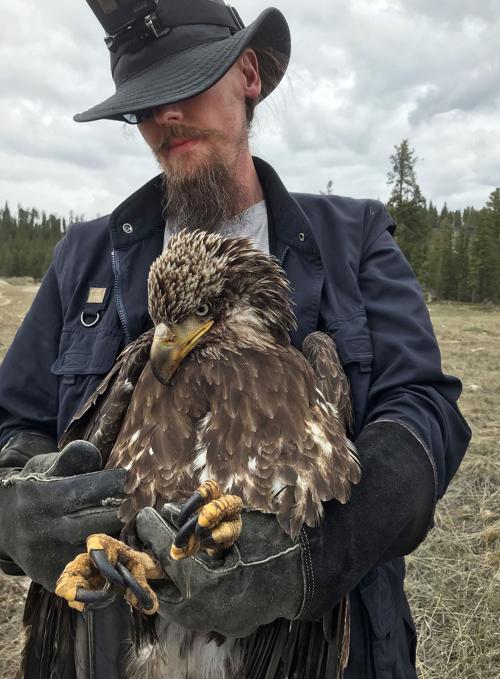 A routine inspection of the dam at Lake Como turned into a rescue operation Monday for a juvenile bald eagle.
The Bitter Root Irrigation District began releasing irrigation water Monday. A couple of its employees inspecting the toe of the dam for anything unusual did find something they weren't expecting to see.
The 2-year-old eagle was on its back with its talons pointed in their direction.
They radioed the district's manager, John Crowley, who reached out to Montana Fish, Wildlife and Parks. Jesse Varnado of the Potomac nonprofit Wild Skies Raptor Center responded to the dam to safely capture the eagle.
"He was very good at handling it," Crowley said. "It was obvious he knew what he was doing … Jesse told us it wasn't unusual to find an eagle on its back like that. It does that to fend off predators."
On Tuesday, the eagle was at Wild Skies Raptor Center's rehabilitation center.
The center's founder and executive director, Brooke Tanner, said she couldn't feel any fractures and the bird appeared to be relatively healthy otherwise. Blood tests showed that it did have lead in its system, but not at toxic levels.
"This is one of those cases where it's not cut and dried," Tanner said. "At this point, he's standing, but he's not interested in food."
The eagle may have collided with a car or some other object and ruptured its air sack. It might also have been shot. Tanner said the wound caused by the small pellets of a shotgun can be hard to see.
If the eagle doesn't improve overnight, Tanner will take it into Missoula for X-rays.
"Right now, we're running down the list and trying to figure out exactly what's going on," Tanner said.
Retired veterinarian Estelle Shuttleworth, of Hamilton, has been working with Tanner on several rescues this winter, including a great horned chick that fell out of its nest near Hamilton Pack and a great grey owl that had been struck by a vehicle and lost an eye.
In both cases, Tanner was able to get both birds released back into the wilds.
"She is an excellent rehabber," Shuttleworth said. "It's a little early to know how the eagle will do. Guarded would be the prognosis. Tomorrow will be a telling day on which way the bird will turn."
Shuttleworth said it's been nice for her to get back into veterinarian medicine by working with Wild Skies Raptor Center.
"I didn't do bird work earlier in my career, so this is a hands-on learning experience," she said. "They are all air — fragile and hollow bones. It does feel good to help however I can. The whole key is to get them back into the wilds as soon as possible."
An eagle can heal after rupturing its air sack. 
"They will just be out of breath for a while," Tanner said. "Internal bleeding is the biggest worry. That could potentially lead to infection … Birds that we've seen that have collided with vehicles or fences tend to heal pretty well if you just give them time."
If the eagle survives, Tanner said she will bring it back to the Bitterroot Valley to be released.