As a fifth-generation farmer and rancher in the Bitterroot, Drew Lewis has seen a lot of changes in the valley over the years.
His family homesteaded up Three-Mile and his dad still owns and runs a dairy operation today. But growing up in Victor, Lewis wanted nothing to do with agriculture when he got out of school.
"Everything's easy compared to a dairy farm," Lewis laughed. "It never stops. They're almost working 24/7 down there. I mean, they milk those guys three times a day, starting at noon to 5, 8 to 1 in the morning, and then 4 to 9. So it's just seven days a week, 365 days there."
Lewis struck out on his own after graduating high school and started Skyline Fencing, which the family still owns and operates today. About six years ago he and his wife Kaci started Skyline Angus, and three years ago they purchased the 420 acres they live on now, dubbing it the Triple D Ranch after their children — Dash, Diem and Denali.
The family finalized a conservation easement on the property last month with the help of the Bitter Root Land Trust.
"It started out kind of as a purchasing tool, like an idea of a way that we could get into a ranch and afford it, especially in the valley here with land prices being so high, and then the more we learned about it, the more it was like — yeah, this is a really cool thing that you can do for future generations," Lewis said. "I feel, you know, growing up here in the Ag world, that it's disappearing vastly. So I felt like this was a good opportunity and a great area with the other easements that our kids could continue on with the agricultural life in the Bitterroot if they wanted to."
Previously the family owned 80 acres and were heavily reliant upon leases of Ag land, which were becoming harder to come by as more people sold or subdivided and property values skyrocketed throughout the valley. Though they still lease 5,000 to 6,000 acres, purchasing the 420-acre ranch has given them a "home base" for their family and herd, allowing them to expand their operations.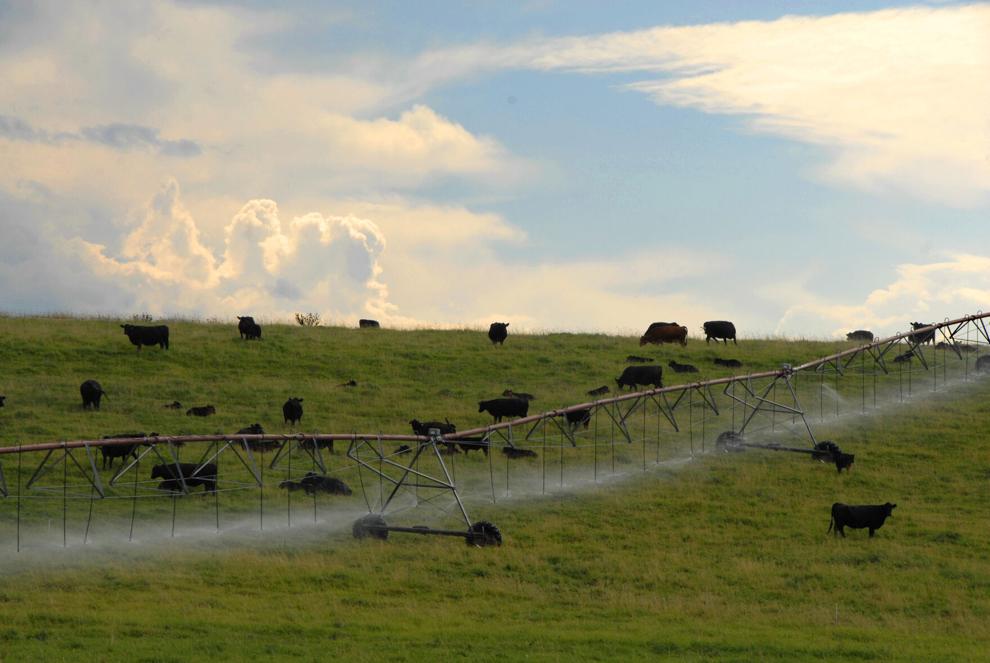 "If we lose a lease, we don't have to sell a whole herd you know, because before we were almost 100% reliant on leases," Lewis said. "It gives us a lot of flexibility. I mean, we have great facilities here — corrals, calving area, because we bring most cows home to calf them in the winter. It's given us giving us a home base. We were able to get a ranch manager, ranch employees, more help, housing on the ranch."
In the three years since purchasing the acreage the Lewises have been able to increase their herd from 250 cow-calf pairs to the 800 to 900 cow-calf pairs they generally run now. They're also able to cut and put up more of their own hay, saving them money on production costs. Lewis estimates they produce about 800 tons at the ranch.
The Lewises figure they could have subdivided the 420 acres and retired, but that just wasn't their dream.
"I'm just hoping that you know, down the line, our dream is to continue on," Kaci Lewis said. "Continue to the next generation. We felt like we'll start something cool here and see how far goes."
"We felt like that was slipping away as a fifth generation," Drew Lewis added. "That opportunity was slowly slipping away. So we felt this was our best route to hopefully continue … as far as the conservation goes, I think it's a great tool for locals to maybe try to hang on to their land and keep the dream and give them a little financial support in the meantime."
The property is located in the Burnt Fork area where a number of farms and ranches have been preserved through conservation easements. Bitter Root Land Trust Executive Director Gavin Ricklefs praised the family's dedication to helping preserve agriculture and open lands in the Bitterroot.
"Montana loses 1,500 acres of open lands every month," Ricklefs said. "In the face of this rapid change, the Lewises have made a huge commitment to the future of agriculture in the Bitterroot by conserving their land. In the Bitterroot, we are fortunate to have visionary, multi-generational families like the Lewises and a community investment in the future of local farms, ranches, wildlife and water resources through our Open Lands Program. Agriculture, wildlife and the people of Ravalli County all benefit from Drew and Kaci's decision to protect this incredibly important part of the valley and we can't thank them enough for their vision and stewardship."
Lewis stressed the importance of the Open Lands Bond on this November's ballot and how its passage would benefit farming and ranching in the valley.
"Hopefully, we can get this bond passed," Lewis said. "So you know, with the rising land values, the conservation group can be even more competitive. I hope that if anything, we can help the community realize that this is a good thing. Yeah, everybody moves to Montana in this valley because it's beautiful, and there's open places. But if we don't start doing this, there's gonna be no open spots. It's not going to be beautiful," he said.
"You put a lot of other things before yourself in agriculture and I think that kind of attests to the conservation easement," he said. "I mean, there's a lot of other ways to make more money with land, but you know, at the end of the day, somebody's got to protect it or there won't be any left."