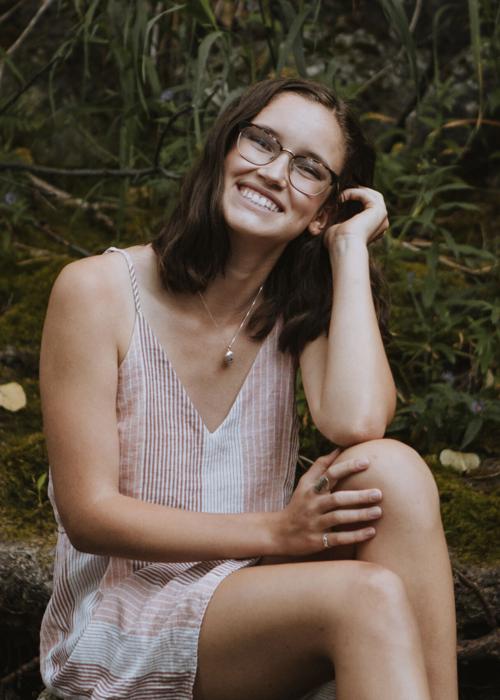 This story appeared the Ravalli Republic's annual graduation tab that was inserted into the Sunday, May 30 edition of the newspaper. 
HHS Senior Megan Yockey has attended Hamilton schools since Kindergarten and likes that her school is "the perfect size." Her secret to being a valedictorian is that she worked and studied hard.
"I have a friend who says if you can get all A's get all A's," Yockey said. "If you can do it, you should do it. If you're capable, you should make it happen."
In high school, she has participated in choir, Guys and Dolls, cross country, Unified Track and the SPURS club. She put extra thought into her club choices and schedule.
"I am too busy and didn't want to do something I'm not fully invested in just to have it on my resume for scholarships," Yockey said.
After HHS graduation on June 6 she is going to the University of Hawaii for a career in medicine.
"I'm not sure what job specifically," Yockey said. "I want to see what different jobs are like and what I'm most interested in. I like that medical jobs have two sides. My analytical, science-y side is excited to try to find the problem and fix it and then there is the side where you have a deeper connection one-on-one with your patients."
Currently, she is employed at Catalyst Physical Therapy.
"I don't have the science part and don't have the training but connecting with the patients and getting to know them is really special and fun," Yockey said. "I enjoy that environment. My mom is a speech therapist and I know she really cares about her patients and I always found that interesting."
She said the pandemic has had a big impact on students.
"I think we're very lucky to be seniors this year," she said. "We have the opportunity to go to school together until we graduate, I'm really grateful for that. Going off to what's next for each of us is an unknown. We're adapting and I think it has made us all more flexible."
Principal Ryan Wells said Yockey makes HHS a more welcoming and inviting place.
"She is an integral part of our SPURS club, which promotes school wide inclusion, and she is a member of our unified track team that pairs special education students with general education students in regular season competitions," Wells said. "Megan values opportunities to promote the self-worth of others and she is truly a kind person. HHS is incredibly proud to have such a talented and caring student in our building every day."