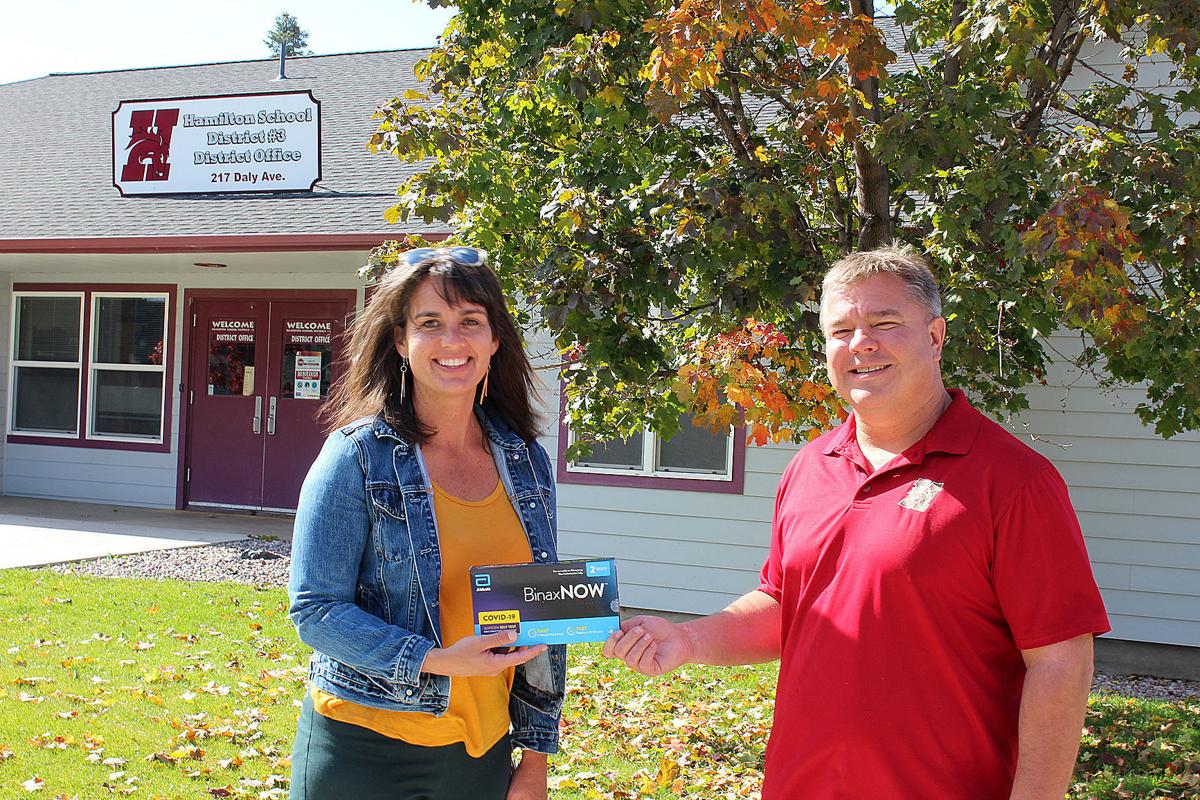 Healthy Hamilton, a subcommittee of Hamilton City Council, is making at-home rapid COVID testing kits available for free to the families of Hamilton School District thanks to a grant from the Montana Board of Crime Control.
The 2020 MBC grant totaled $75,000 to help Hamilton respond to the COVID pandemic.
Healthy Hamilton Board Chair Robin Pruitt said the grant benefits the community as it aims to help keep students and teachers safe and schools open.
"We are interested in showing ways our community can come together on voluntary mitigation efforts," Pruitt said. "It's just a nice way for our community to report on COVID and we'd like to come up with more ways we could all help each other."
In 2020, Healthy Hamilton partnered with the school and the hospital to share helpful hint messaging. In early spring of 2021, Healthy Hamilton did a direct mailing campaign to all Hamilton residents to help people without Internet access sign up for a vaccination appointment.
Pruitt recalled that effort was when the vaccines first came out and the hospital and pharmacies were overrun with requests.
"We sent out a mailer with a self-addressed stamped envelope and we got about 150 people vaccinated that way," she said. "The grant is almost up and we have been in contact with the hospital and the school to try to find ways to use the grant money that would be helpful. We thought this would be a positive impact."
Pruitt said the local effort has the best interests of the community in mind and is a positive way for Healthy Hamilton to use the final $30,000 of the grant that ends in November.
"We're all trying to come up with the best information to provide with the testing so they know what the test results mean and don't mean," Pruitt said. "It will tell you what to do if you get a positive test. If parents are curious it will help them make decisions for their own family. The hospital is offering free test kits too."
Bitterroot Drug owner and pharmacist Pete Seifert ordered the COVID at-home testing kits alongside pharmacies from Missoula to Hamilton.
Superintendent Tom Korst said the Hamilton School District wants to help families make informed choices by providing rapid COVID-19 tests. 
"We hope this will reduce transmission in the schools and keep them safe, open and functioning at a high level," Korst said. "We encourage families to contact their medical provider and/or Ravalli County Health for guidance regarding COVID-19 rapid test results."
Korst said the tests can help families make good decisions.
"If they tell us their child is positive we will have to treat them as positive," he said. "Only confirmed, positive cases can be required to isolate. If they have a positive case they should contact the county health department, the hospital, or their local medical provider to see if they need to go further and what to do next. [These provided tests] remove financial barriers and it is convenient."
Parents and guardians of Hamilton students can stop by the District Office at 217 Daly to pick up the test.
The BianaxNOW tests identify active COVID infections by detecting the protein from the virus. The tests are most reliable if symptoms are present, are approved for children age 2 and older when administered by an adult, give results in 15 minutes and have a 98% accuracy rate for positive results.
In Hamilton, the kits also come with isolation and quarantine instructions from Ravalli County Public Health.
Healthy Hamilton is a subcommittee of Hamilton City Council with members Pruitt (Ward 1), Kristi Belski (Ward 1) and Jenny West (Ward 3), and community members Cara Bushmaker from Marcus Daly Memorial Hospital and Katelyn Andersen with her connection to the community and Rocky Mountain Laboratories. City Planner Matthew Rohrbach wrote the grant to the Montana Board of Crime Control.
"It's a nice group of people who just care," Pruitt said. "In 2020, we met almost weekly then backed off and did the Perk Up the Parks effort. We thought we might not need the last $30,000 but kept it open until the grant ends. It's great we can do something for the community."
Pruitt said that Healthy Hamilton has enjoyed working with the school, hospital, pharmacy and Ravalli County Public Health.
"I think it is just a great testimony of inter-agency support," Pruitt said. "We want positivity back in our community. RAPP Foundation and Massa Home Center are giving money for air filters in the schools and the community is coming together to make families feel cared for."