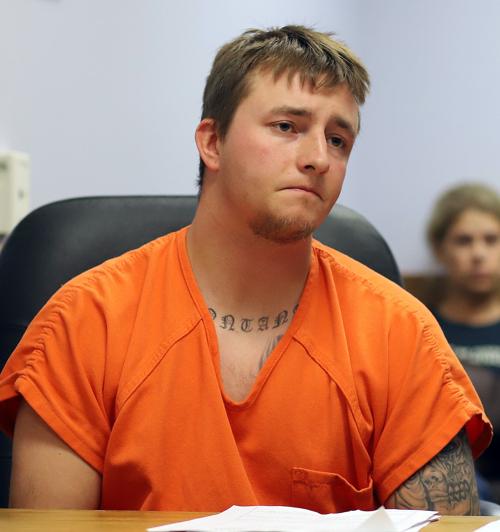 A Hamilton man charged with firing an estimated 67 bullets through the door of his apartment after police responded to a domestic abuse call pleaded guilty Thursday to attempted deliberate homicide.
At the hearing, Tyler Kain Butler, 25, said he created the potential for death or serious bodily injury to police officers and his neighbor by firing with an AR-15 through the door on Jan. 4, 2020.
"I repeatedly fired my weapon from the interior of my home in a manner that I reasonably could have expected to kill one or more people on the landing of my complex," Butler said in a prepared statement.
Butler pleaded guilty to attempted deliberate homicide and four counts of felony criminal endangerment as part of a plea bargain that dropped several other charges.
The Ravalli County Attorney's office will ask for a 40-year commitment to the Montana State Prison, with none suspended, under the terms of the agreement. The county attorney would not recommend a parole restriction.
Butler's attorney will be free to argue for a lesser sentence.
Butler was arrested following a standoff that sent police officers looking for cover and his neighbor hiding behind her bathtub.
The situation started with a morning phone call to authorities reporting that a man was threatening to kill two women in an apartment on Pintail Loop. When the first officers arrived, they heard several loud bangs.
The apartment complex had eight units equally divided between upstairs and down. Butler was in one of the upstairs apartments.
The first officers on the scene found five to 10 bullet holes in the door to Butler's apartment. When they announced their presence and ordered him to come out, he responded by firing another 15 rounds through the door. As the officers called for assistance, he fired 20 to 30 more shots.
An officer was eventually able to speak with Butler on a cell phone. When the officer told Butler that no one needed to die, he responded by firing several more rounds through the door.
Butler finally exited the building after asking the officers not to shoot him.
An AR-15 on a bipod was located inside the apartment facing the front door. The smoke coming from its barrel had set off the smoke alarm. There were additional loaded magazines and ammunition nearby.
When officers attempted to make contact with the upstairs neighbor whose door was riddled with bullet holes, no one responded initially. An officer kicked down the door to determine if anyone needed medical attention.
A terrified but unhurt woman was found inside the apartment. She told the officers when the shooting started, she crawled to her back bedroom and hid next to a bathtub.
Officers later determined that 29 rounds had traveled through her apartment, including one that penetrated the back bedroom.
Butler told officers later that he had an argument with his girlfriend and her mother. After they left, he noticed that an AK-47 rifle was missing from beside his bed. That made him upset, so he retrieved the AR-15 from a gun safe, set it up on the floor and began firing through the bedroom door.
During a later call to his mother and sister that was monitored from the detention center, Butler said he didn't remember what happened.
"I'm just glad I didn't hurt anyone," Butler said during that call.
Butler will be sentenced either on Dec. 13 or Feb. 7 depending on Ravalli County District Judge Jennifer Lint's schedule. The sentencing hearing is expected to take several hours as both sides plan to present witnesses.
Butler remains free on bond.