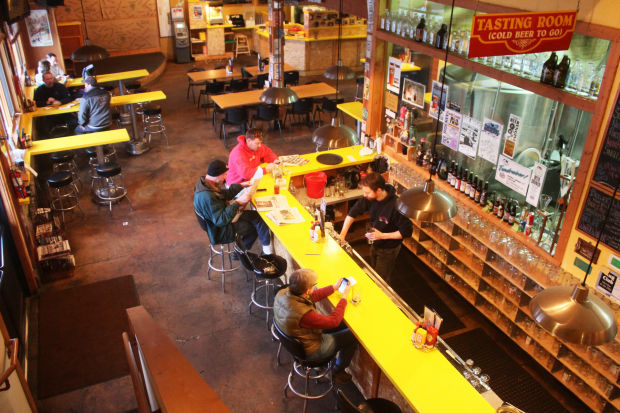 Commercial craft brewery owners in Ravalli County were shocked when a controversial bill proposed by a state legislator from Dillon was drafted earlier this month, as it would have had severe impacts on the craft beer industry in the state.
The draft version of the bill has since been changed to focus on an entirely different subject, but brewers remain concerned that such legislation could pop up again in the next session and have organized a social media campaign aimed at raising public awareness.
With four separate craft breweries and a population of just over 40,212, Ravalli County has the highest concentration of craft beer producers per capita in Montana.
State Rep. Jeff Welborn, R-Dillon, requested a bill in early January, LC 1322, originally entitled "Limit beer sold on premises of small brewery to 10 percent of annual production."
The four Ravalli County breweries – Bitter Root Brewing and Higherground Brewing in Hamilton and Blacksmith Brewing and Wildwood Brewing in Stevensville – got quite a scare when they read the title of the bill, along with many other brewers in the state.
Many breweries currently sell between 80 percent and 90 percent of their beer on premise, and the 10 percent rule would force them to either ramp up their production for off-premise beer (and therefore oversaturate the market, according to many brewers) or drastically cut the amount of beer they sell in the tap rooms.
Currently, since craft breweries aren't allowed to purchase either liquor or beer and wine licenses, they are only allowed to sell "sample amounts" of 48 ounces per person per day between 10 a.m. and 8 p.m., with no limit on the number of people they sell to per day.
Montana Brewers Association executive director Tony Hebert said there are 38 breweries in the state.
"It's a $50 million industry in the state with 430 full-time employees," he said. "It's a great story. According to our studies, in 2011 12 percent of beer made is sold at the brewery, and 88 percent is sold out in the market. And the percentage that is sold out in the market continues to grow. Part of the reason breweries need to sell beer on the premise is a brewer needs to find out if he is making a good beer."
The bill to limit the on-premise amount of beer sold to 10 percent of yearly production was endorsed by the Montana Tavern Association, whose members include bar owners that are required to purchase liquor or beer and wine licenses from the state.
JoAnn Fuller, the president of the Montana Tavern Association, confirmed to the Ravalli Republic that the MTA had endorsed the bill, but she wasn't sure why the bill was put on hold because she hadn't spoken with the executive board about it yet.
There are currently no craft breweries in Welborn's district. The bill was put on hold by Welborn after just one day, but just the fact that it was proposed and endorsed by the MTA sent shockwaves of concern through the craft beer industry in the state. Welborn, however, said that he only requested the bill at the behest of other lawmakers, whom he didn't specify. The bill was a placeholder, he explained, and the title has since been changed to "Generally revise alcohol enforcement laws," and it is currently on hold. The new bill would address the language in server training laws, and doesn't have anything to do with limiting brewery sales.
"I didn't have much to do with it in the first place," Welborn said. "I certainly heard a lot about it though. The reason it still has the same number, LC 1322, is because if you change the number you lose your place in line, so to speak."
Welborn said he has no plans to pursue any form of legislation in the future that would limit the amount of beer sold on the premises of small breweries, and he knows of no other lawmakers that are considering sponsoring such a bill.
Still, the language of the bill and the fact that it was ever drafted prompted some strong reactions from Ravalli County brewery owners and managers.
Jason Goeltz, the general manager of Bitter Root Brewing in Hamilton, said the bill would have forced his brewery and many others to shut down had it become law.
"Without question it was a bill that would have absolutely devastated the brewing industry," Goeltz said. "It would have left approximately seven breweries open in the state. Naturally, our industry greatly opposed that bill. We were never able to view a full draft of the bill, but the title said it would have limited on-premise consumption to 10 percent. If that had been the law 10 years ago, our industry wouldn't have had the opportunity to grow the way it has and the endgame would be very different than what it is today."
Goeltz said he understands that not every tavern owner in Montana supported the bill.
"After hearing from constituents, Jeff Welborn decided to drop the bill," he said. "We are very grateful that he did."
Although this particular bill was tabled, Goeltz believes craft breweries are now much more vigilant that something similar could pop up in the future.
"We're certainly still aware of proposed bills that are currently hovering out there with generic short titles," he said. "We're hopeful that we will no longer be faced with legislation that would negatively affect our industry. We're hopeful that the existing laws will not be challenged in this session.
The proposed bill galvanized members of the Montana Brewers Association into action, Goeltz said.
"Members of Montana Brewers Association came together to put out a consistent message and response," he said. "This would have been a devastating bill. It not only would have put a stop to the growth of our industry but closed the doors of all but seven in the state. I don't know if there was a grace period in the bill, but we would have had to shut down that day if the bill had become law."
Goeltz is quick to point out he has a great relationship with many, if not most, bar owners.
"There are many great tavern supporters of our brand and other Montana brands," he said.
Jim Lueders, owner of Wildwood Brewing in Stevi, said that craft breweries are important to the local economy.
"It would have put a lot of people out of business the way I understand it," he said. "It would have been horrible. Our industry supports a lot of jobs and supports Montana grain growers. There is a lot of wealth that's created from craft beer, a lot of tax base. It would be a shame to pull the plug on that. The Tavern Association has been fighting us from day one, but in reality we need to work together. The consumer wants craft beer, and the Tavern Association should work with us instead of against us."
Lueders said that because liquor licenses have become so valuable in the state, in some cases worth nearly a million dollars, bar owners feel like they have to fight the breweries that sell beer without them.
"The root cause is the value of liquor licenses," he said. "The state should step up and buy those back from people and re-sell them. The road is going to lead us there, other states have done that. That way we would all be standing on the same ground. Right now, a few bar owners feel threatened by brewers and that's a shame. We need to help each other out, because we both have the same goal: It's about attracting tourism and getting people to drink Montana beer. There are lots of funky laws concerning beer in Montana, and they were written to benefit some people, but unfortunately they all don't serve the best interests of the public."
Fenn Nelson, co-owner of Higherground Brewing in Hamilton, said that because they don't bottle or can their beers, they currently sell 90 percent of their annual production on premise.
"The bill made us a little nervous," he said. "More likely than not we would have had to hit it pretty hard to distribute that much more beer. It would have probably shut us down. Even for us at this point, 90 percent of our beer is sold in house, because of the size of our system. The demand we have here is for beer in our tap room. The little we send out is for marketing purposes. We send a few kegs to bars, like the Old Post and the Rhino in Missoula. For a lot of us it wouldn't feasible to cut down to 10 percent. If everyone did try to sell their beer in the distribution world there would be too much product and not enough space. Everyone would have to put a lot more effort into getting tap handles in bars."
Nelson said that if his brewery, which opened last year, was forced to close, 16 people would lose their jobs and the local economy would suffer.
"Not including (co-owner) Jasper and I, that's 14 jobs that weren't here last year," Nelson said. "An awesome part of this valley is people support the breweries. Montana is second in the nation as far as breweries per capita. There's a ton of people that enjoy the atmosphere of a brewery."