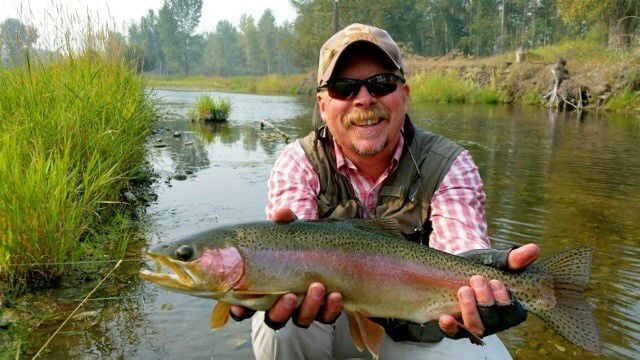 The Skwala hatch is increasing daily.
We have started to see some decent fish eating dries in the afternoon. Some days have been great and others a bit slow. Warmer weather is helping water temps and getting bugs and fish moving.
There is however a downside to the nice weather. The warmer temps are also melting low and mid elevation snow, which causes water levels to rise. This is typical for this time of year as spring and winter are in a battle for control.
River flows will be up and down for the next few weeks until runoff is in full swing by May. The Bitterroot does not fish well on the rise as fish become displaced and water temps drop again from snow melt.
That said, the river will have a big rise this weekend due to several days in the 60s and 70s. Cooler weather returns next week and will slow the melt. If you go fishing, fish a large Skwala with a dropper nymph about 2 feet below the dry. Productive patterns are Pat's rubber leg stone, Skwala nymphs, Perdigon and SJW.
You may have to experiment until you find one they will key on. For dries, Skwala, of course, trail a Nemoura 12" behind it for the picky risers. The spring may flies should begin emerging as well so look for surface action to improve.
The river is cold and fast so please use caution when floating and wading. Happy Easter!
Hatches: Skwala #8-10, Nemoura #14-16, Capnia #18-20, March Brown #12-14, Gray Drake #10-12, BWO #16-20
Eddie Olwell of Stevensville's Fishs Eddy O has been fishing the waters of western Montana since 1977 and guiding since 1999. Olwell writes a regular column for the Ravalli Republic called Fish Tales.