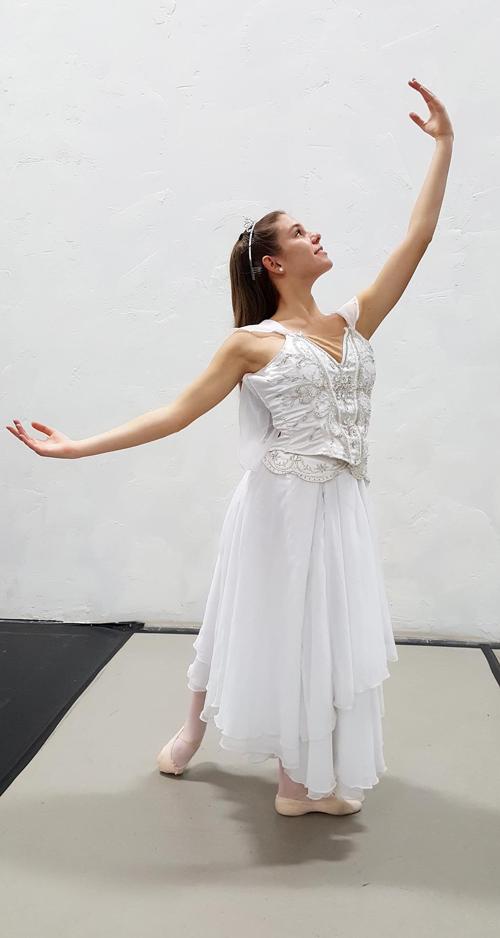 Hamilton High School sophomore Isabel Alcrudo, 15, from Zaragoza, Spain, is the lead in the Ballet Bitterroot Dance Academy's original ballet "The Toy Shoppe."
Ballet Bitterroot Dance Academy owner Courtney Ratliff called Alcrudo a "beautiful dancer." She is in Hamilton as part of a student exchange program.
"There was an audition process with three judges - myself, Mauriana Jessop, and Char Pigman," Ratliff said. "The process was about an hour and a half long and they were required to do combinations that were given to them on the spot instead of presenting a memorized piece. They had to perform the dancing combinations to receive their casting position."
Fortunately, ballet terms are in French, which means the names of the dance moves and positions are the same in Spain and the United States.
Alcrudo said she enjoyed the challenge.
"The first day was hard because I didn't know anyone," she said. "The best part is that I got the main role, the angel, so I can spend more time dancing and I like that."
Alcrudo began dance lessons at age 3 and loves ballet for the challenge and discipline. The opportunity to learn more English drew her to the United States. She has family in New York, Boston, and Florida, but selected Montana.
"I love skiing and am eager to ski," she said.
Yet even though the slopes are open, Alcrudo hasn't strapped on her skis - the show has first priority.
She's staying with Anne and Richard Webber, who have three children. The youngest lives in Hamilton and the middle child lives in Spain.
In her biological family, Alcrudo lives with her parents. She has a twin brother, who is in Virginia as an exchange student this year, and a younger sister.
Alcrudo said the best part of being in Montana is the overall experience.
"I'm learning more things, meeting new people, having new friends, and living with a great family, so it is a big experience," she said.
Alcrudo came with the Academic Year in America program and her favorite subject in school is algebra.
"I really like science, math, health science, and algebra," she said. "I have a great class with Mrs. (Marie) Antonioli and want to become a doctor."
Alcrudo said she doesn't have a college selected yet and will talk it over with her parents first.
"I want to make a really good decision. It is important," she said.
She encourages people to check out The Toy Shoppe show, which is about a toy maker and his granddaughter during Christmas. The grandfather is about to lose his shop to a banker, and the granddaughter must find a way, with the help of the Christmas Miracle, to keep the shop and bring Christmas to the town.
Ratliff said she enjoys working with Alcrudo.
"Isabel is a positive dancer with a good attitude and good work ethic," Ratliff said.
The 2017 Toy Shoppe cast list includes:
Isabel Alcrudo – Angel (understudy: Katie Bienusa); Rich Thomas – grandfather/toy maker; and Jon Robertson – banker; Amanda Boelman – Elsie (understudy: Katie Gleason); Katie Bienusa – ballerina; Marieke Marston – Spanish; Kaitlin McCartney - Jill-in-the-Box; Alexis Treece – Chinese; Isabelle Harvey – ragdoll; Audrey Marsh – shepherdess; Hayden Howe – Dutch girl; Marie Davenport – soldier; Bella Campbell and Katie Gleason – marionettes; Mindy Hanson, Ivy Somerlot, and Ava Wilcox - Matryoshka dolls; Bella Campbell and Mark Nelson – Arabian; Katie Gleason – peacock; Jasmine King – harlequin; Ceder Slatten and Ava Slatten – Russians; EmmyJoe Jessop and Lily Adair - porcelain skating dolls; Mindy Hansen- panda; Hayden Howe - Dutch girl; Maddie May and Hannah Nickish - Spanish Corps de Ballet; Foundations Ballet Class – Fallan Fay, Suzanna Harrold, Shona Jessop, Madison McArthur, Lauren Nelson, Kelby Pace, Eva Thurman, Anise Walker, Zoe Williams - Chinese Corps de Ballet; Ceder Slatten, Marieke Marston, Mindy Mae Hanson, Katie Gleason, and Audrey Schlosser – rats; Beginning Ballet I Class – Mackenzie Pilkey, Sydney Pilkey, Ava Slatten, Kaylee Stewart and Kaitlyn Wyatt – mice; Creative Movement II Class – Gracelyn Byrn, Myka Clinton, Haylee Harris, Lillian Hendrickson, Chloe Koller, Callie Suter and Molly Woods - baby mice; Discover Ballet Class – Cara Benson, Joycee Campbell, Elaina Cole, Isabella Joy Gonzalez, Aaliyah Montgomery, Claire Nelson, Sydney Pond and Callista Walker - birds; Beginning Ballet II Class – Ava Chase, Lucy Daly, Charlette Jessop, Sage Thompson - sheep; Ava Slatten, Emmy Joe Jessop, Lily Adair, Hayden Howe, Ashlin Jetmore - towns girls; Emmy Joe Jessop, Lily Adair, Ivy Somerlot, Hannah Nickish, Ava Wilcox, Ava Slatten, Hayden Howe, Alexis Treece, and Ashlin Jetmore - party girls; Cara Benson, Elijah Thurman, and Grayson Thurman - party boys; Robin Benson, Marie Davenport, Susan Boelman, and Caitlin Dunn - party moms; and Justin Wilson, Kyle Somerlot, Cody McCartney, and Noah Thurman - party dads. 
Costume designers: Char Pigman Lori Hanson, and Kristi McCartney; alteration assistants: Tracy Thurman, Amy Boelman; set designer: Courtney Ratliff; prop crew: Tom McCartney, Jaime and Karla Roberts, Jon Robertson, and Patrick and Laura Treece.
Enjoy Ballet Bitterroot Dance Academy's original ballet "The Toy Shoppe" at 7 p.m. on Friday, Dec. 1; and 1 p.m. and 7 p.m. on Saturday, Dec. 2, at the Mary Stuart Rogers Performing Arts Center in Victor.
Tickets cost $12 for adults, $6 per child, and can be purchased at the Ballet Bitterroot Dance Academy, 537 West River Road in Hamilton from 4:15 to 7 p.m. on Thursday, online at balletbitterroot.com – with a 50 cents per ticket processing fee, or at the door. For more information call 961-1818 or email bitterrootdance@gmail.com.