In the 10th year of the Hunger Games project at Corvallis High School, students broke the record for gathering the most food and donating it to the Haven House Food Pantry on Wednesday.
The project is part of freshman English classes taught by CHS educator Suzy Schrader, where the students read the book "The Hunger Games" by Suzanne Collins.
It is a cross-curricular unit combining counseling, PE, health and English.
"We try to get as many parts of life and education incorporated," Schrader said. "One of the things in the book is we see the impact of hunger on these characters and how they cannot function without food. We talk about real-life problems and how food insecurity is something that happens in our own country, as wealthy as we are."
Schrader said some of her students are unaware there is a food bank in Hamilton while others use it regularly. They also talk about the Backpack Program in the school, where food is sent home on weekends to meet hunger needs.  
Three weeks ago the classes were divided into seven districts similar to the book.
For the food gathering challenge, the districts set goals, contacted grocery stores, and asked family, friends and neighbors for donations.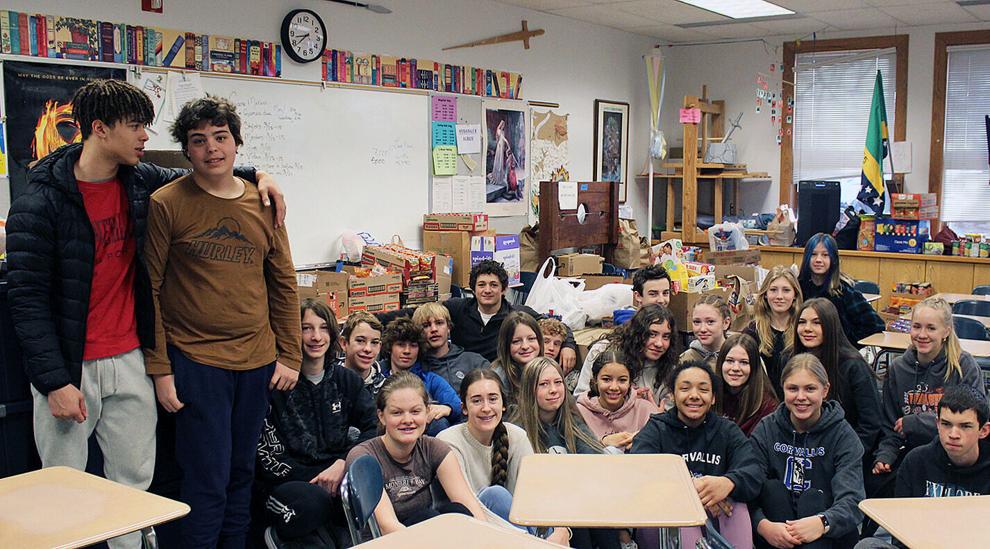 Rather than just taking food from their family, students are encouraged to earn it by doing chores or other tasks.
"I give them an incentive of extra credit and I sponsor their district with extra money for the games, just like it is in the book," Schrader said. "Basically, we talk about chivalry and bonding with their district. We talk about safety, expectations and things that could happen going door to door."
Students Morgan Bisel and Amelia Watson were in District Four, Switzerland, which brought in the most food in three weeks — 4,761 items.
Bisel said she enjoyed the project.
"It was fun to organize the food drives and go to the different food stores and businesses," Bisel said. "It was bonding and a good cause. We were able to help out Haven House a lot."
Watson added that she learned the community is generous.
"They would come out, see us, and go back in and buy stuff to donate to us," Watson said.
"One lady just came to the store for one onion but donated two bags of food to us," Bisel said. "I think it is amazing that the community steps up to help during times like these, when everything is getting more expensive."
Combined, the districts brought in 8,438 items weighing in at 7,573 pounds. Overall, the 2022 goal was 7,000 items, which would top the 2021 Hunger Games food competition's 6,136 items.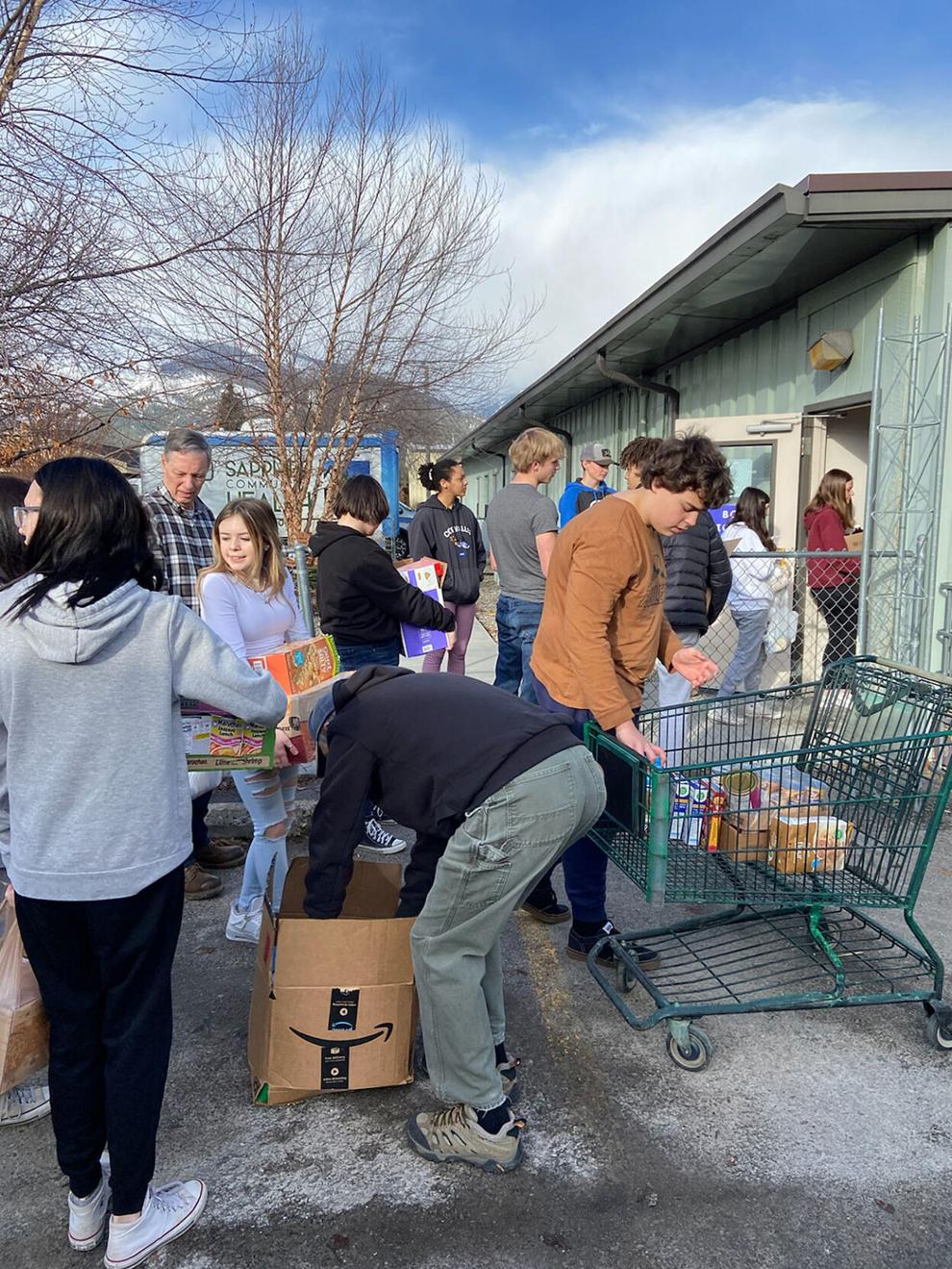 On Wednesday, Health Educator Deana Burch and some of the participating students loaded the food onto a bus and took the items to the Haven House in Hamilton.
Haven House Director Judy Williams said the donations are appreciated.
"In 10 days the high school students brought in the most food ever," she said. "If you could see our garage right now you wouldn't believe it. They brought in 7,573 pounds. It is incredible — I've never seen so much."
The timing is perfect as the pantry food shelves were low and some were empty, Williams said.
"It's a good time of year. It is really fantastic that all this food came in," she added. "It will take us days to put it all away. We're thrilled and the kids were so nice, they were wonderful."
The official CHS Hunger Games competition is set for next Wednesday, March 23. Students in each district will dress alike, create banners, and compete in challenges that require deep thought and physical stamina. The games incorporate multidisciplinary learning, team building, communication skills development and high energy. Plus there is a formal entry with introductions and an official closing ceremony with student actors portraying characters from the book, Claudius Templesmith and Caesar Flickerman.
Principal Cammie Knapp said the unique experience has become a popular academic and athletic event.
"It brings cross-curricular collaboration from our teachers and our entire freshmen class participates in competition throughout the day," Knapp said. "Our students work hard with videos, posters, food drives and many other events leading up to the day, then cheer on the competitors throughout the day until the winner is selected through physical challenges."
Schrader said that for this 10th anniversary year, she is throwing in extra rule changes like they do in the book.
"We're giving extra prizes for best costumes, best flag, and most innovative game," she said. "It will be fun. The food drive is the bigger goal and bigger prize. It teaches compassion."