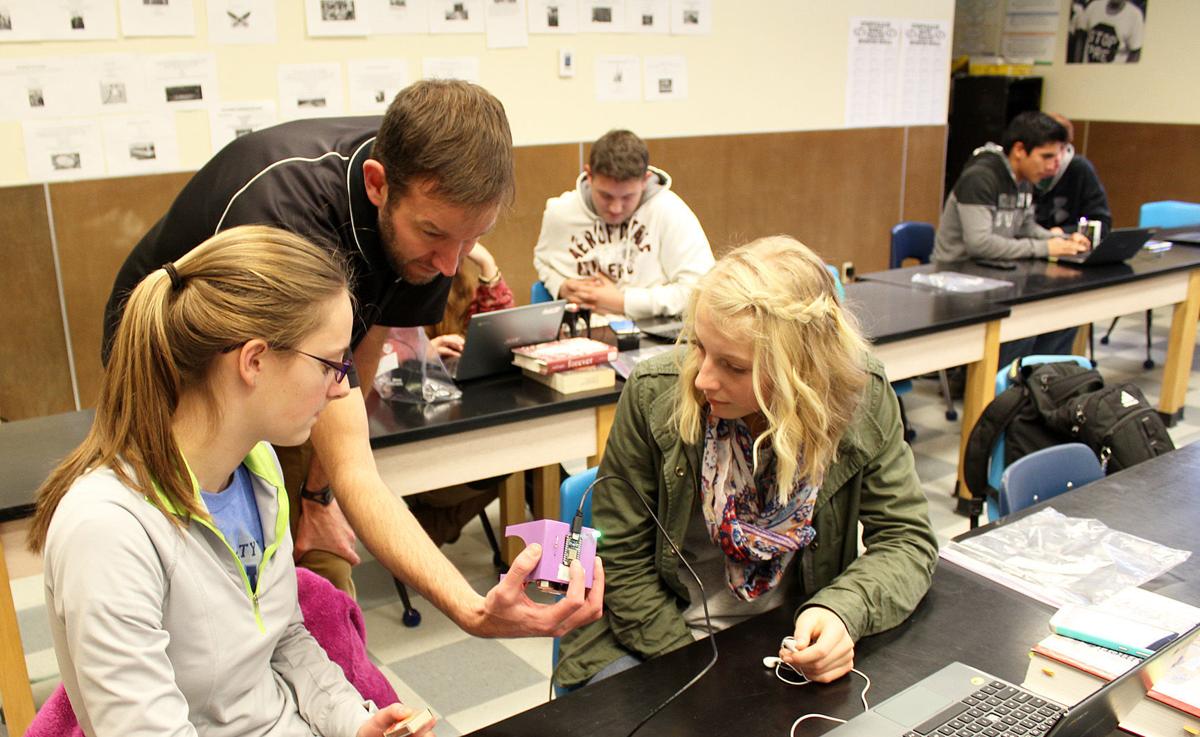 Corvallis High School educator Brock Hammill has been awarded Honorable Mention for the 2021 Presidential Innovation Award for Environmental Educators (PIAEE).
The prestigious award honors teachers, grades K-12, who create and use innovative environmental education.
Hammill has been teaching for 20 years — two years in Oregon and 18 at Corvallis in Montana. He has taught high school physics, chemistry, integrated science, AP physics, alternative energy and computer programming.
The award statement said Hammill is, "recognized for his ongoing research developments in air quality blending environmental science with technology to create place-based learning strategies that expose students to experiential learning opportunities."
For the last 15 years, Hammill has taught an innovative air quality course where students build and code air monitors, employ them and present their findings at the University of Montana during the Spring Air Quality Symposium. He has mentored over 700 students who have conducted air quality science research projects. His students have also developed a website that provides instructions on how to build low-cost indoor air quality monitors which have been used by people in Australia, India and across the U.S.
Hammill also participates in the Reach Program, which is funded through the National Institute of Health (NIH) Science Education Partnership Award (SEPA), of which he is an active advisory board member.
Hammill said receiving the prestigious award was humbling.
"When you read about the other bios and what other teacher projects are you realize it's a high-level group of people," Hammill said. "Some projects are pretty involved and impressive. Having my name on the list was nice to see, to be in the company of those teachers."
The application took letters of recommendation, essays, and samples of the teaching materials developed and used.
"They just want to know what you do, they have different categories to discuss as to how you meet that criteria that they are looking for," Hammill said. "It took a handful of hours to get the material together and submit it. With last year being a COVID year I give extra credit to teachers who went through that and turned it all in while they had extra stuff on their plates."
He said his work, interests and efforts are for the benefit of his students.
"That's the hope, that's the goal," Hammill said.
The selection criteria are based on an outstanding record of teaching plus innovation, achievement, service to the community and underserved populations, leadership, integration, sample teaching materials and letters of support.
CHS Principal Cammie Knapp said she's "extremely proud" to have Hammill as a science educator.
"Mr. Hammill challenges students to think for themselves and find real-world solutions, such as the process involved with the construction and design of personal air-quality monitors," Knapp said. "Brock's intent is to teach students to utilize data to conduct quality scientific research. Mr. Hammill continues to teach challenging content to our students providing them with the necessary tools to be successful in post-secondary education."
Corvallis Superintendent Jon Konen said he is amazed at Hammill's efforts.
"I'm excited for him and for the kids to have that experience especially working on air quality," Konen said. "I like the fact that kids can make an impact. With what they are learning in school and what they are learning with Brock, they are able to impact our school and outside of our school district. Some of the ideas are going across the US, Australia and India. I love it!"
The White House Council on Environmental Quality (CEQ) administers the award in partnership with the U.S. Environmental Protection Agency (EPA) to honor, support, and encourage educators who incorporate environmental education in their classrooms and teaching methods.