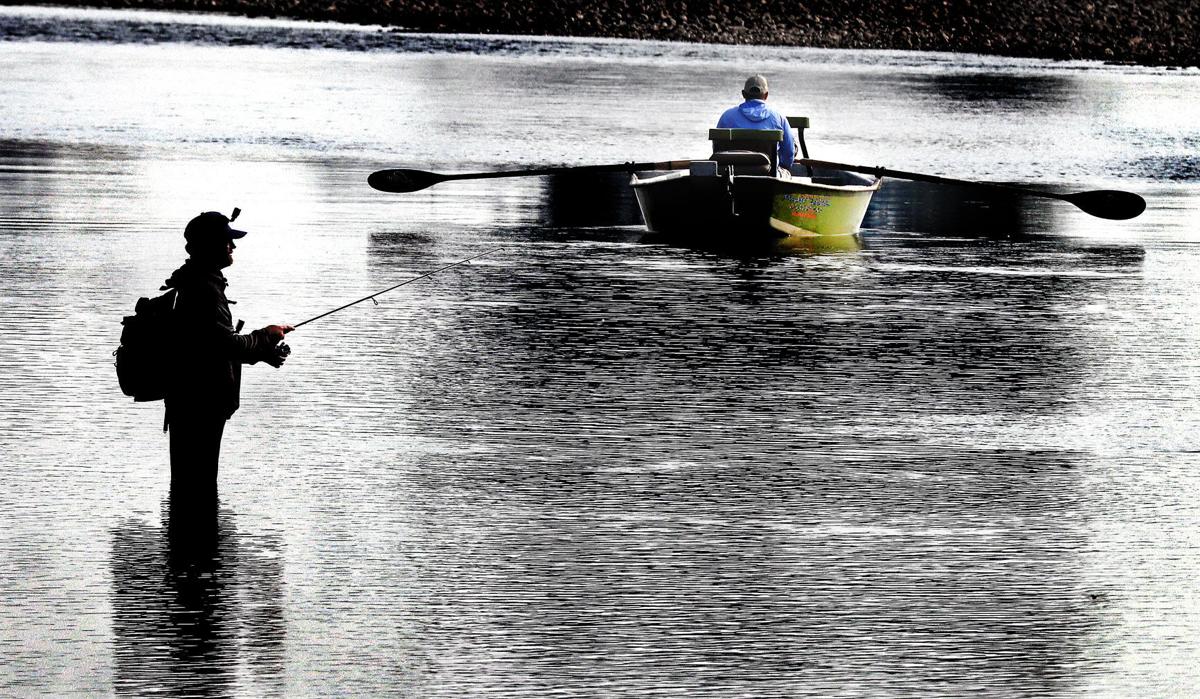 The Bitterroot's Big Ditch has been running full since mid-June and Lake Como is dropping close a foot a day, but John Crowley thinks irrigators will still be moving pipe until the first of September.
Considering what he's hearing from other irrigation districts around the state, the Bitter Root Irrigations District manager knows that's a blessing.
"Mother Nature has been a tough cookie this year," Crowley said. "We haven't seen this kind of weather with temperatures in the 90s for almost a month straight. Pushing a full ditch starting in the later half of June is unheard of. Normally that doesn't happen until the last week of July or first of August."
At a recent conference, Crowley heard from other managers of irrigation districts farther east who said they had either already run out of water or would soon.
"We're hanging on, but it's been a struggle," Crowley said.
Newly appointed Painted Rocks Reservoir water master J.R. Iman is optimistic that water stored in the reservoir will be enough to meet both irrigation and fishery needs through the month of August, but it's taken some compromise to make that happen.
When full, the reservoir stores about 32,000 acre-feet of water. A little less than half of that — 15,000 acre-feet — is used to maintain the fishery in the West Fork and main stem of the Bitterroot River. The Painted Rocks water users are allocated 10,000 acre-feet. The remaining 7,000 acre-feet is left in the reservoir to protect the dam's infrastructure.
The state of Montana owns the rights for the stored water behind the dam. Both entities lease the water for their uses. 
In the 1980s, the Bitterroot River often went dry at Bell Crossing in the late summer.
With the state leasing water from Painted Rocks, the goal has been to maintain 600 cubic feet per second at Bell Crossing.
"If we have a bad year — like this one — we know that's not reachable," Iman said. "Everyone is going to hurt a little bit. We have been trying to maintain 350 cfs this year and haven't always been able to meet that."
Despite the low water, Montana Fish, Wildlife and Parks Bitterroot-based fisheries biologist Jason Lindstrom said the Bitterroot River has remained cool enough so far this season to avoid the kinds of restrictions that are common around the state.
For the state to issue "hoot owl" fishing restrictions — which limit anglers to fishing during the coolest times of the day — water temperatures have to go over 73 degrees for three days in a row.
"We haven't hit that this year," Lindstrom said. "The cool fronts and smoke cover have been big over the last few weeks to keep the temperatures in the river below that."
Biologists do see fish mortality rise when water temperatures bump up over 68 degrees, especially with cutthroat trout, in the upper river. Three weeks ago the river hit that threshold and Lindstrom found 18 dead fish, including 15 cutthroat, in a 15-mile reach above the Wally Crawford Fishing Access Site.
Lindstrom floated the same stretch Wednesday and only found one dead mountain whitefish.
While the river remains open to fishing without restrictions, Lindstrom said anglers should take into account the water is low and fish are stressed.
"People should fish in the mornings if they can," he said. "Play the fish as quickly as possible and keep them wet. Treat them as gently as possible. When water temperatures start to reach 66 or 67, it may not be the time to fish the river."
"There's not much water and it's certainly not great by any means," Lindstrom said. "Typically, especially in the upper Bitterroot, the last week of July is the hottest week of the year. After the first week of August, we normally start to see a cooling trend. As much as I hate the smoke, that's what kept temperatures in the river down. Hopefully, we can sneak through this."
There are a lot of factors that impact surface water supplies in the Bitterroot, but the valley is fortunate to have stored water at the two larger reservoirs and a series of mountain lakes.
"We are in a 12- to 14-inch rain belt, which is the same as most of eastern Montana," Iman said. "What's different is that we have 1,000 square miles of mountains that store water for us in the winter and we have, by far, one of the most complicated irrigation water systems in the state."
"It makes it so we have something closer to a 25-inch rain belt on ground that can be irrigated," he said. "We have a pretty good system. We've sued each other over the last 140 years to make it work."
"I'm encouraging everyone to be kinder and gentler to their neighbors and realize that everyone is going to run out of water early this year," Iman said. "We're just trying to be as fair as we can. If everyone gives a little bit, we'll get by."
Even with the cooperation, Ravalli County commissioner and former longtime dairy farmer Dan Huls said valley livestock owners are facing a hay shortage this winter.
"There is going to be a hay shortage statewide and probably regionally," Huls said. "Farmers in eastern Montana are not going to get a cutting of hay. They are pasturing their hay fields. They just don't have the water."
"Hay prices are already at a premium," he said. "It's definitely going to be a serious problem and hard on guys who need to buy hay to feed their cows."