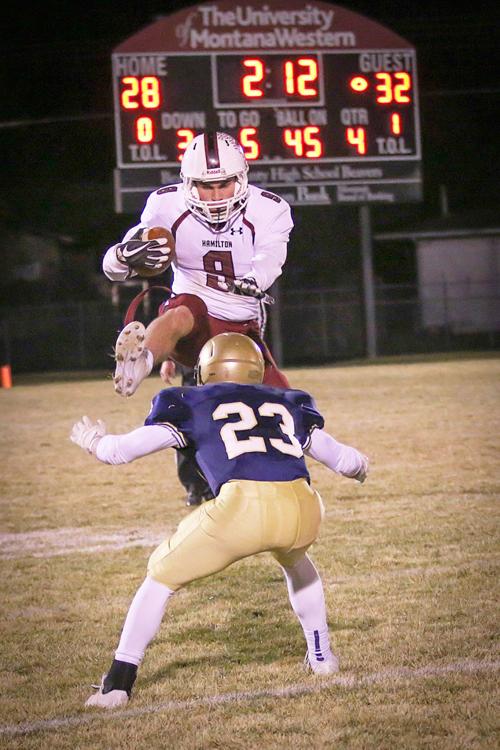 Hamilton High School Bronc football team is hosting the quarterfinal football playoff game at 1 p.m. on Saturday, Nov. 4, against Dawson County High School (Glendive).
The game comes after the Hamilton team had a bye last week and time to recover, after placing first in the southwest division against Dillon on Oct. 21. 
Bryce Carver, in his fourth year at HHS and first year as head coach, said having a weekend off has been good for the Broncs after a solid season.
"A good highlight for us this year was beating Dillon in Dillon," Carver said. "It sealed up the first place in the Southwest A for us. We haven't beaten Dillon in a long time and to compound that with winning the first round has been great."
Hamilton is the number one seed out of the Southwest and Dawson is the sixth seed out of the East. The Dawson Red Devils beat Laurel, the third-place team out of the east on Saturday.
Carver said Dawson has a strong team.
"Their quarterback is a great athlete, they have good linemen and a really good receiver," he said. "They are going to give us fits with their athleticism and it will be a great challenge for us."
Carver credited the successful season and post season to the entire Bronc team.
"Our lineman up front have done a great job for us this year," he said. "Our quarterback and running back are some fantastic players. We have guys with skill and speed, which have been a big positive for us this year."
Carver encourages the community to attend the game and watch the match.
"Anytime you can get people there cheering you, I think the players feed off that energy and we'll take any little bit we can to help us move into the semi-final game," Carver said. "As many people as we can get would be awesome."
Cold temperatures with rain and possibly snow could add exciting elements to the game at Haynes Field on Saturday.
"We haven't had to play in any real weather yet," Carver said. "Whenever there is weather involved something always can happen, but it is no excuse - both teams have to play in it. We're all Montanans and we should be used to anything thrown at us."
A Hamilton win on Saturday would mean a home game against either Billings Central or Frenchtown on Nov. 11.
The gates for the Class A quarterfinal football playoff game open at 11:30 a.m. Tickets for playoff games will be $7 for adults and $6 for students.
Travis Blome, activities director for HHS, said the Montana High school Association determines ticket prices and that conference and school passes will not be honored for this playoff game.
The HHS Booster Club will decorate Haynes Field Saturday morning and parents and community members are invited to help. The HHS Booster Club will pay the entry fee for the first 20 HHS students to the game.
There will not be a tailgate prior to the playoff game. Instead, the HHS Booster Club is promoting the community fundraiser for Daly Elementary student Blaine Newman, who is battling cancer. The event is a "slam dunk" and skill development camp hosted by Bitterroot Club Basketball, a non-profit basketball club for boy and girl athletes in second through eighth grade.
It will be taught by Kenny Dobbs, known as "The Best Dunker in the World," Ryan Wetzel, John Walker and several girls and boys varsity HHS players. Each athlete will donate $20 and register that morning. The Blaine Newman Foundation will receive 100 percent of the proceeds of the fundraising event, which runs from 10 a.m. to noon on Saturday in the HHS gym.
Get local news delivered to your inbox!
Subscribe to our Daily Headlines newsletter.