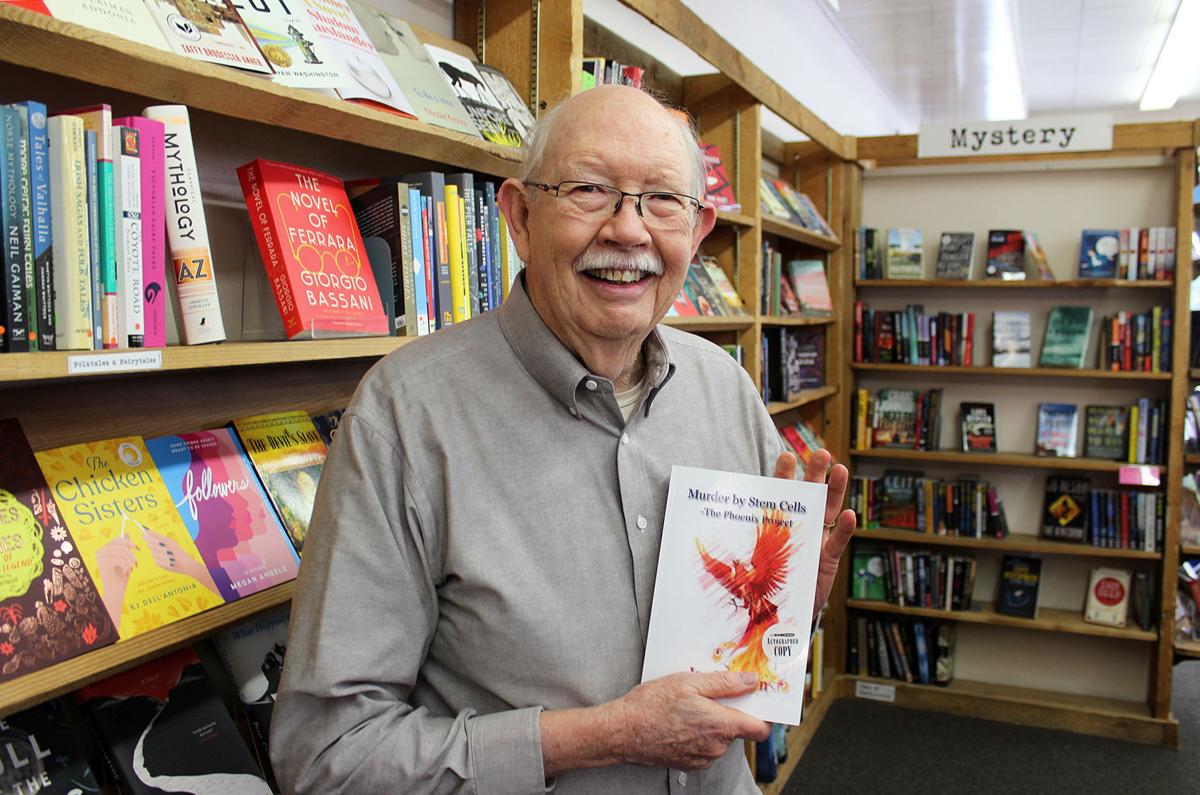 A local retired biochemist wrote a mystery-suspense novel about the misuse of adult stem cells, "Murder by Stem Cells, The Phoenix Project, a Conspiracy of Silence."
"The science in it is accurate," said author Joe Bowen, Ph.D., now living in Corvallis. "Although it could be somewhat speculative because we don't have a stem cell cure for diabetes that's ready for everybody, but it is right at the cusp."
He said the parts of his book about doing modifications of the cell is all happening in the world of research.
"Adult stem cells represent a divisive double-edged sword of the 21st Century," Bowden said. "On the one hand they are powerful tools used in the treatment of disease, but on the other can be misused to treat a whole collection of problems, or in the case of my book to cause the death of a patient being treated for diabetes."
Science has been an interest of Bowden's from childhood when, as a ten-year-old, he began tinkering with chemistry sets. He continued with chemistry/biochemistry for nearly 70 years.
He attended college, completed postgraduate research and taught biochemistry at the university level. After over 40 years as a consultant, and writer of hundreds of technical documents for business, government and environmental science, he changed his writing goals and semi-retired.
Bowden has written "all his life" including scientific reports, books on water wells, articles for kids' science journals (including The Club House Magazine by Focus on the Family).
His fiction writing began in earnest about 12 years ago when he took his wife, Elaine, to a writer's conference where she was signed up for classes and he was just waiting for her. He wandered into a room and the instructor invited him in to use the empty chair.
"I was hooked," he said. "In high school, my teacher told me I had a 'real gift for mystery,' I'd forgotten about that. It was a little mystery I wrote as a junior in high school and the seed for mystery was planted."
The following year he attended the writing conference as a registrant, attended the classes and began putting together stories.
The plot of "Murder by Stem Cells" is that a TV journalist blames an internationally renowned biochemist at the Rosch Clinic for killing her sorority sister with stem cells. The investigative TV reporter uses her position to sleuth the truth. After joining forces, the journalist and biochemist stumble upon the bigger picture of corrupted scientists, greed, blackmail and a trail of dead bodies. 
As to who will enjoy reading the book, Bowden said, "readers who like a really good, clean mystery."
"People get killed but nobody bounces in and out of bed," Bowden said. "Anybody who likes a mystery that has some twists in it. Basically, how the good guys beat the bad guys is totally unexpected, which is the way it is supposed to be. [The book shows] how ordinary people get drug into extraordinary things."
The book has a quote from the Bible before the beginning of chapter one, "Greater love has no one than this, that one lay down his life for his friends," John 15:13.
"The basis of the book centers around this Bible verse and it will show up in the last chapter," Bowden said. "Spoiler alert: The female protagonist gets the Pulitzer prize at the end."
He has published cookbooks, guidebooks, magazines and anthologies. He has 20-30 poems and over 15 children's books ready for publication.
Currently, he is writing a sequel to "Murder by Stem Cells" and a five-book series for middle-school age boys.
"[The book series for boys] is centered in the southwest as I spent 70 of my 80 years down there, specifically, Durango, Colorado," Bowden said. "The first book is set 40-miles south of Durango in a little unincorporated place, like Corvallis, called Cedar Hill. The kids set up the Cedar Hill Detective Agency as 11-13-year-olds would do."
The first four books are set in one of the four states of the four corners and the fifth book is set in the Bitterroot Valley.
"The fifth book is about lost treasure in the Bitterroot," Bowden said. "That one is probably five years down the road. These aren't published, they are waiting for someone to buy them."
Since he was a child, most of Bowden's reading has been of mystery books including every Hardy Boy book and most of the books with Nancy Drew. He called Murder by Stem Cells a "Hardy Boy/Nancy Drew mix for grown-ups."
Murder by Stem Cells is 321 pages of intrigue, suspense, mystery and accurate science.
Bowden said he has received many positive reviews by people saying, "They couldn't stop reading" but that the best review was from his brother.
"My brother who has only read one book in 25 years, said it was 'phenomenally good,'" Bowden said.
"Murder by Stem Cells" was published in a hybrid-style of publishing, half self-published and half traditional.
"On this one, I provided the graphic and the publisher did some editing and all the formatting," Bowden said. "She submitted it to Amazon."
"Murder by Stem Cells" costs $16.99 from Amazon and is also available for the same price in the mystery section at Chapter One Book Store, in Hamilton.
Watch for an author signing event at Chapter One when the weather turns warmer.
Bowden called Chapter One Book Store the "most dangerous store in town."
"My wife and I are voracious readers," he said.