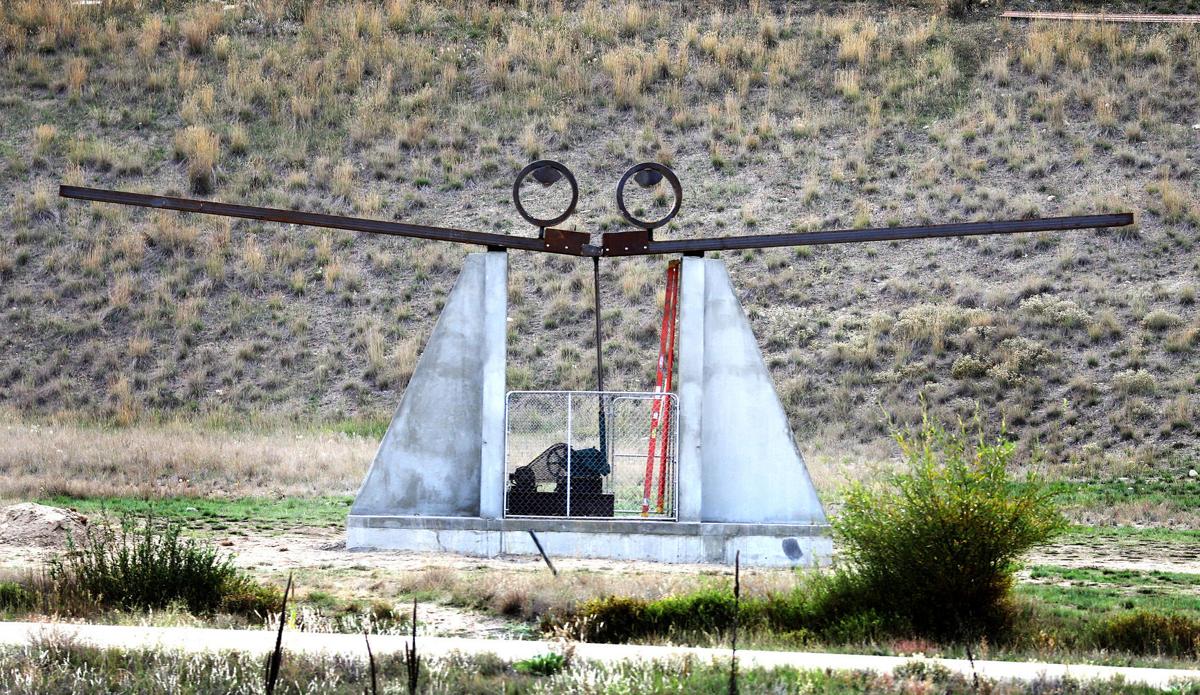 There's something new to look at for travelers coming into Hamilton from the north.
But just what it is remains a bit of mystery.
With its huge flapping iron wings and two large rings that look something like a pair of eyes, the new sculpture northwest of Veterans' Bridge is turning heads and raising questions.
And the anonymous artist isn't ready to offer any answers.
On Monday, he chose to pass on an offer for an interview about his very public piece of artwork, and asked that his name not be used.
"Just let people wonder," he said.
It was an answer that made at least two of Hamilton's longtime advocates of art smile.
"I'm just really so proud of him," said Barbara Liss, owner of Hamilton's Montana Bliss Artworks studio and director of the popular Artists along the Bitterroot Studio Tours. "All these years and I had no idea he was an artist. …He didn't do this for notoriety. He's just out there expressing his artistic side."
Liss said she's heard from plenty of folks who want to know more.
"It was his idea and his plan to keep it under wraps," she said. "It's been fun posting things (on social media) and seeing people's interest grow. I think he kind of likes that, too. He's a very low-key person. For as long as possible, we'll just keep the secret going. It's more fun that way."
Longtime Hamilton art advocate Kris Komar hopes the artwork may become an inspiration for more to follow.
"I think it's wonderful," Komar said. "Public art is really my passion. It's so important for a community. Something on this scale rarely happens. I think it's a fantastic project because it's a mystery and it makes you think."
"I see it as a total gift to the community," she said. "Spontaneous art at this scale is so rare. The only thing is that without knowing who the artist is, there's no interpretation. What is it? Is it a bird? Does it have a name?"
And maybe that's the whole idea.
"People are going to name it," Komar said. "It's going to be exciting to see what happens as times go on. Once we discover who the artist is, maybe we can work together to bring more public art into our community.
"I think what's so exciting about it is what will happen now as time goes on," she said. "What do people think about it now? And what we will think next year or 10 years from now? How will this piece change the way we enter our community? Will it change the way we think about our community over time?"
Hamilton Mayor Dominic Farrenkopf has fielded his share of inquires since the new art began flapping its huge wings of iron.
"I've had a lot of people calling and asking about it," Farrenkopf said. "I wished I knew more."
Farrenkopf said the sculpture was on private land outside the city limits. He knows the name of the artist but that's something he's not sharing.
"What does it mean? Will there be more? I don't know the answer to any of those questions," he said. "It's all shrouded in mystery. I think the artist wants it left to the observer to interpret for themselves what it means. It has got people talking. If someone comes to Hamilton from Stevensville to take a look and then has lunch, so much the better."
Get local news delivered to your inbox!
Subscribe to our Daily Headlines newsletter.