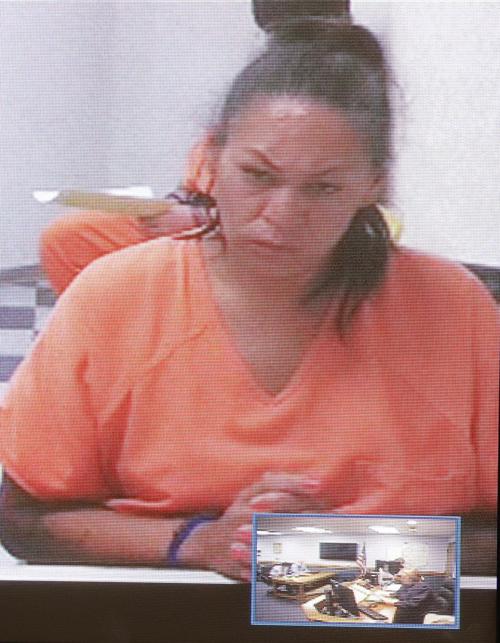 A 36-year-old homeless woman faces an attempted deliberate homicide charge after allegedly slitting the throat of the man she and her husband knew as "Pastor Bob."
Lydia Mae Doney appeared before Ravalli County Justice Jennifer Ray on Friday.
According to charging documents, the 60-year-old male victim told officers he met Doney and her husband at the Povarello Center in Missoula one week before the incident. He reported they got along well and that he had been trying to help them in various ways.
On Wednesday, the three were driving from Missoula to Hamilton where they hoped to obtain a temporary registration for the vehicle that Doney and her husband had just obtained.
The victim was sitting in the front passenger seat. Doney was sitting directly behind him.
The man told law enforcement that Doney had injected methamphetamine earlier that day.
About the time they reached Victor, the victim said Doney became upset. She accused the man of not helping her see her children and allowing his step-daughter to become a prostitute.
The man said he was leaning his chair back when Doney placed her arm on his shoulder and allegedly sliced his neck with a "razor" or "boxcutter" type of knife. He said blood was "squirting all over the place."
A large amount of blood was found in the passenger seat of the van the three were traveling in.
Doney's husband drove at very high speed to the Marcus Daly Memorial Hospital emergency department. The victim thinks that may have saved his life.
The man said when they arrived at the hospital, Doney "bailed" from the vehicle.
Doney was located by law enforcement at the Bitterroot River. A syringe, preloaded with a clear substance, was found in her bag. A package of replaceable knife blades was discovered in Doney's purse, the affidavit said.
A urine test on Doney was positive for methamphetamine and THC.
Ravalli County Attorney Bill Fulbright told the judge Doney had recently been charged in Blaine County for assault with a weapon that involved a knife. In that case, Fulbright said that case allegedly involved some sort of sexual offense to a member of her family.
Fulbright asked for a $250,000 bond. He said the large amount was needed to protect the community and ensure that Doney doesn't flee.
"The violence is so close to a homicide…that fractions of an inch matter," Fulbright said. "There was no provocation for it that makes any sense. She was certainly not protecting herself."
Ray set bail at $250,000. The judge said she would have set it higher had the state asked for more.
"In this matter, $250,000 is an attempted deliberate homicide is an extremely low bond in my opinion," Ray said. After looking at search warrants in this case, Ray said "it sounds pretty egregious whatever happened in that vehicle that day."
When Ray asked Doney where she lived, Doney told the judge she's been homeless for a long time.
Ray then asked Doney were she laid her head at night.
"On the ground by the river," Doney said.