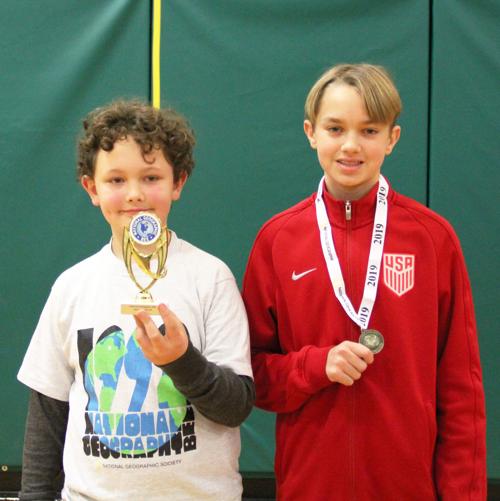 Stevensville Middle School's National Geography Bee winner was Zane Svaren, fourth grade, and the runner-up was Thomas Walthall, eighth grade, in the school competition of the 2019 National Geographic GeoBee.
The National Geographic Society developed the National Geographic GeoBee in 1989 in response to concern about the lack of geographic knowledge among young people in the United States. Over more than three decades, 120 million students in the fourth through eighth grades have participated in the GeoBee.
This year thousands of schools are competing in this year's contest from all across the United States, the five U.S. territories, and Department of Defense Dependents Schools around the world.
Svaren will advance to the next level of competition, a qualifying test to determine state competitors. Up to 100 of the top test scorers in each state become eligible to compete in their State GeoBee. The winners of the State GeoBees receive an all-expenses-paid trip to National Geographic Society headquarters in Washington, D.C., next May to participate in the GeoBee national championship, competing for cash prizes, scholarships and an all-expenses-paid expedition to the Galápagos Islands aboard the National Geographic Endeavour ll.
Most Bitterroot Valley schools are having their National Geographic Bee competitions in January.
Get local news delivered to your inbox!
Subscribe to our Daily Headlines newsletter.