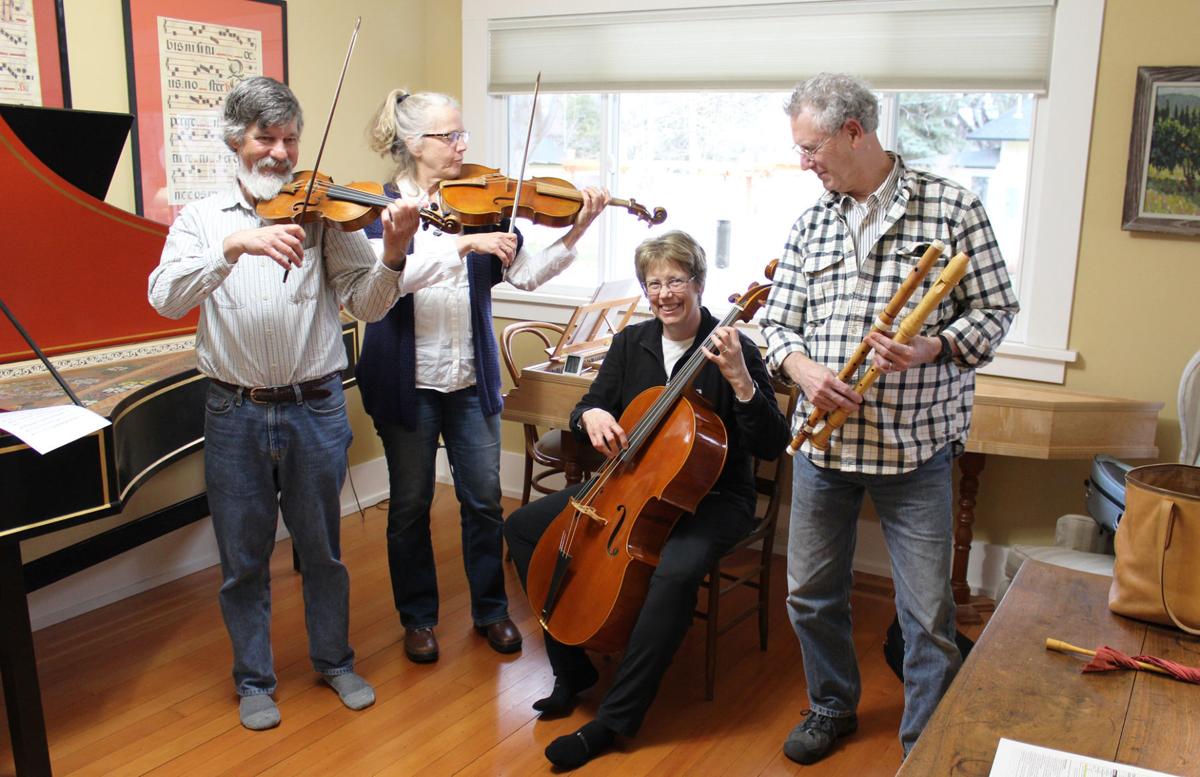 The Bitterroot Baroque is preparing for their Montana Cantata Project - three days of workshops culminating in an concert of Bach music on April 22.
Alex Shaffer, president, said this project is different from past concerts.
"It has the dual objective to train a handful of local, accomplished musicians to play in Baroque style, mostly with period-type instruments and then to give a concert of some glorious and rarely heard music by J.S. Bach," Shaffer said.
Rather than a performance by established and professional ensembles or sponsoring other period performances, they are bringing in four faculty members - specialists in period performances to guide and instruct local musicians leading up to a performance.
Faculty members are Curtis Foster (baroque oboe), Lindsey Strand-Polyak (baroque violinist and viola), Tim Westerhaus (tenor, Gonzaga) and Adaiha MacAdam-Somer (baroque cello, Portland).
"The idea is we are trying to jumpstart the involvement of local people playing early music on appropriate instruments by bringing these experts to teach us," Shaffer said. "This has the form of a workshop for a couple of days which will culminate in a performance on Sunday night, April 22."
The music is Bach's cantatas – BWV 125, Mit Fried und Frend ich fahr dahin and 161, Komm, du susse Todesstunde. Strand-Polyak and Foster will play the Bach double concerto in C minor for oboe and violin.
Local musicians that love to play and happen to play the right instruments are learning the music and gleaning from the instruction: Martha Ilgenfritz (bass); Tasha Fain (soprano and violin); Alex Shaffer (flute and recorder); Loy Koch, Ed Mellander and Kelaiah Horat (violins); Kathy Mellander (viola) and Kathryn Habedank (chamber organ).
Bitterroot Baroque has purchased a chamber organ.
Another aspect of the weekend teaching event is that the faculty will come a day ahead of time for private coaching and teaching of adult musicians that are learning new instruments.
Kathy Mellander said she is participating because of the music selection.
"Number one it is Bach cantatas which you are not able to do very much," she said. "It is especially great to have period instruments and real experts on period music. This is very unusual – the arias are the most beautiful things for the soul."
Ed Mellander said he was drawn in because of the vocal component.
"The vocal and strings go really well together," he said.
Martha Ilgenfritz said the performance will be an opportunity for vocalists to shine.
"They may be accompanied just by the oboe," she said. "It will be fun to have a home town person – Tasha Fain (soprano and recently of Chicago! fame) and someone really involved in local music festivals - Tim Westerhaus (tenor)."
Ilgenfritz said the reason she is involved is simply that "it's Bach."
"This is incredible, incredible music and you don't get to play it very often," she said. "Playing it on period instruments it is amazingly different. It makes you feel that 'ah, this is what Bach was trying to accomplish.' There are several layers in the music that you don't realize on a regular instrument. It is tremendous music that doesn't get played very often because it is old."
Kathy Mellander said the vocal parts are very challenging.
"Forget breathing," she said.
Shaffer said that people who know the literature of the music love the cantata.
"It is serious and they don't get to play it as much as they like," he said. "They are jumping at the chance to be involved in this."
Bitterroot Baroque board member Robert Thomas said the weekend of learning and the concert is a cooperative adventure.
"They are bringing in people from the outside and also it is wonderful education for the area," he said.
Experts will be coaching the local musicians in rehearsals on Friday and Saturday with the concert on Sunday. Support for the Bitterroot Baroque efforts have come from a variety of sources.
The David Kerr Violin Shop in Portland, Oregon, is loaning is two baroque violins, a baroque viola and a baroque cello which will be used in this workshop.
"We have had them since mid-January for people to use for chamber music and get used to," Shaffer said. "The hope of course was that some would get purchased and remain in the area as a resource."
The new chamber organ was purchased in part with funds from grants from the Rapp Family Foundation. The board members of Bitterroot Baroque have been generous in their financial support and their willingness to host visiting musicians. There have also been community donors.
Shaffer said he is concerned about the timing of the concert.
"Sunday night is not a great time for a concert," he said. "We are hoping for a good audience, but on the other hand we are having so much fun playing that it is already a success."
Admission to the Montana Cantata Project's concert of Bach music is $25 and $10 for students. The concert starts at 7:30 p.m., on April 22, at St. Paul's Episcopal Church, 600 S. 3rd St. in Hamilton.