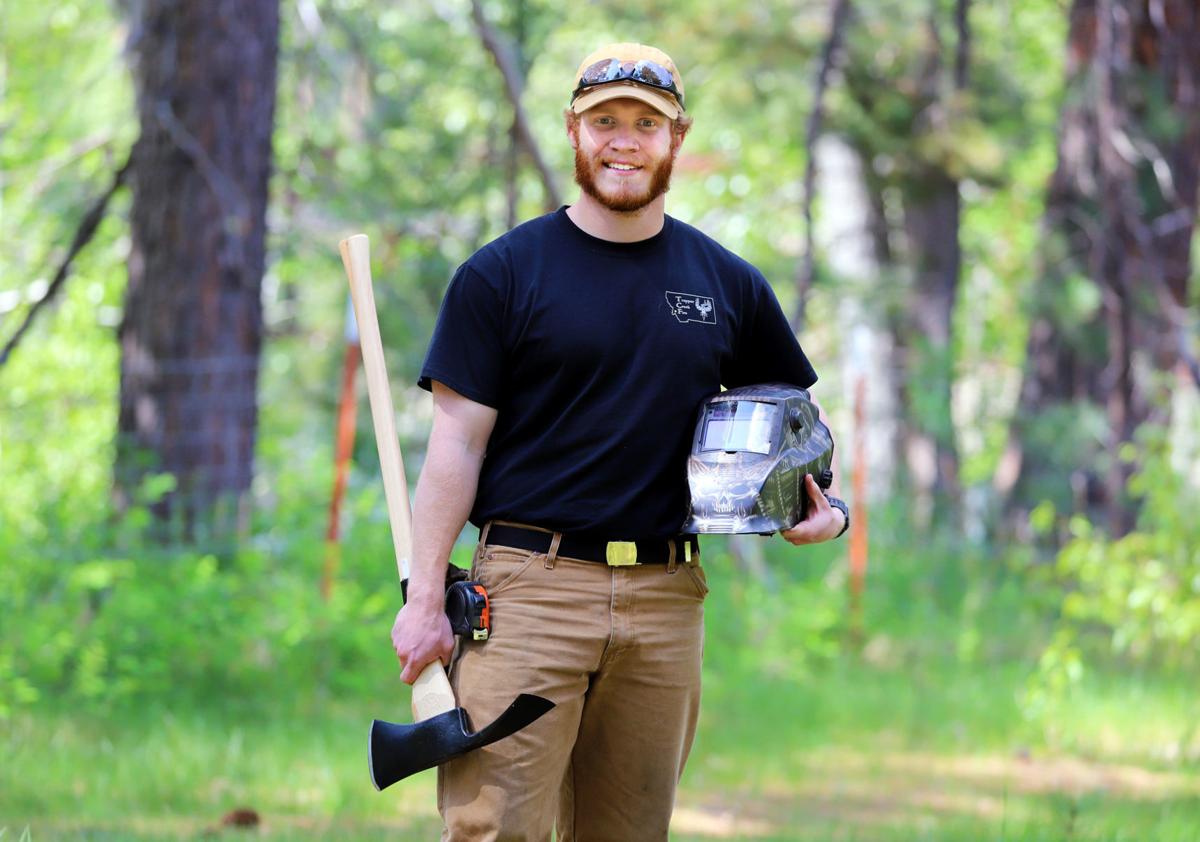 Robert White III didn't have a whole lot of hope before he came to Trapper Creek Job Corps.
The first time he even heard there was such a thing, White was sitting in cell in a Texas prison.
"Addiction is a sad story, man," White said. "You know you're headed down the wrong path, especially when you're trying to fight it so bad, and it's like there's nowhere to turn."
The 22-year-old grew up in the small town of Kennedale just outside Fort Worth.
"Honestly, it was pretty rough," White said. "I come from a long line of criminals and drug addicts in my family. I lost my mother at age 9 to a car accident. My father was never really part of my life. He was in and out of prison."
He was raised by his grandfather — a great man with a hard streak — who served as the primary parent to 11 of his grandchildren.
"My grandfather's kids were never around to raise his grandkids, so he did it," White said. "I didn't have the best influences in life and I fell down the wrong path. I had drug issues and was in and out of the system. I think there were people in my life who played a key roles, but I wouldn't say they saved me.
"I'm not quite there yet, but I'm on my way," he said.
White's real troubles with the law began after he tore up his knee playing football and got hooked on the painkiller hydrocodone. At 17, he was arrested for possession of illegal drugs at his school. He ended up on probation, which he violated and spent time on the run in between stints in jail.
He ended up in a hardscrabble state prison for men in suburban Dallas called Hutchins State jail.
It was the place where White is pretty sure that God offered him a second chance.
"While I was locked up, I had kind of rekindled my relationship with God," he said. "I was sitting in my cell reading my Bible one night and this older gentleman walked by my cell."
"Hey. What are you reading?" the man asked.
"Oh, just my Proverbs for the day," White answered. "He said to me: 'I've been watching you. … I think you got a good head on your shoulders. What are your plans for when you get out of here?"
"I had no marketable skills," he said. "The only way I had made money was dealing drugs or crime. I had no idea what I was going to do."
The man told him about Job Corps — a place where he'd be housed, fed and taught a trade.
"It sounded way too good to be true," White said. "I took it with a grain of salt. After I got out on Feb. 16, 2018, I started waiting tables and making just enough money to survive. One day, it popped up in my head — what did that old man say?"
White did some research. He found Trapper Creek — a place that was about as far away from Texas as he could get. He called the center about a month after he had been released from prison.
"I let them know the trouble I had been in," he said. "They were helpful. They said, 'We want you here. We think this place can do something for you.'"
White was skeptical at first, but he agreed to try.
"A few weeks before I was set to leave, I started to fall in with the same crowd," he said. "I called them and asked if there was any way I could get my date bumped up. I told them I needed to get out of here. I was in a bad spot."
"I was definitely slipping — methamphetamine, heroin, cocaine, pretty much anything you could think of — and they helped me out and bumped up my date."
When he looks back on how it all came together, "I would say it was probably an act of God," White said. "Honestly, if I wasn't here, I would probably be back in prison or six feet under right now. To say this place saved my life is an understatement. It not only saved it, but it's set me up for success."
White wasn't ready to turn his life over to anyone when he first arrived in Montana. He had always been distrustful of people in authority. He bucked the rules for the first few months and came close to being kicked out.
When he first arrived, he had hoped to get into the center's natural resources program, but it was full. After learning that students in any of the trades offered at the center could also go through guard school and become a firefighter, White decided to give welding a try.
"What this place offers is structure and guidance for people who have never had it," he said. "I knocked against the sideboards pretty hard for three or four months. I woke up one morning and thought maybe it's me that making this so hard on myself."
He put his pride aside and started doing everything he was asked to do and a little bit more. He asked for a chance to serve in leadership, which grew from dorm chief to welding trade chief to student government association treasurer.
"The eyes started to shift off of me, which was a really good feeling because the eyes had always been on me," White said. "My mindset began to change. Two years ago, all I thought about after waking up in the morning was where was I going to get my next fix, what lick (crime) am I going to do to get some money. Instead of thinking what's going to happen every day, now I'm planning for what I want to do five to 10 years down the road.
"I never had ambitions or drive before," he said. "I had no sense of motivation. I kind of saw my life as pointless. The only way I saw it ending up was either I being dead or incarcerated, but this place was my escape rope."
Last Christmas, White went home to Texas to visit his grandfather.
"It was something different," he said. "I don't think I've ever made him as proud as he was when I went back down there. I've never been proud of myself before. He told me he could see it and he could hear it in my voice that something had changed. I now refuse to settle for what I used to have. I want better.
"I think he saw that," White said. "It was just a heart-wrenching feeling that I got from seeing him. It was amazing experience.
"A lot of times back in the day when something would go wrong, I had this victim's mindset," White said. "I would tell myself I was dealt a bad hand in life. That wasn't my fault. Poor me. After about five months of being here, I had to shift in my mindset that I would grab life by the horns and take advantage of every opportunity I had. I stopped playing the victim.
"It was very empowering. I've grown so much since I've been here. It has opened my eyes to a whole new outlook on life. You can make your life whatever you want it to be."
After he graduates from welding school in July, White hopes to work his way onto a fire crew so he can make enough money to help him get set up in Billings. His girlfriend — who is also a graduate from Trapper Creek — plans to study horticulture there and he wants to find a job welding.
Eventually, White wants to go to school to study aviation mechanics with the ultimate goal of joining a helitack fire fighting crew, and then work on aircraft in the off-season.
"I know that's big aspirations for someone who grew up like I did," he said "But, I think, using this place as a stepping stone, it's very attainable. I know I'm intelligent. I know I'm smart enough to do anything I set my mind to. … I don't think I can go wrong in following my dreams.
"I have something now to look forward to which is something I never had before," White said. "I used to dread waking up every morning and wondering what is this crappy day going to bring. Now that I have aspirations, things I want to do, and places I want to go, I wake up every day and think how am I going to better myself."
White credits that change to the men and women who work at Trapper Creek.
"I can see that it's not just a paycheck to them, which is amazing to me," he said. "A lot of these kids here have never had this in their lives. Somebody who cares that much about them that they will go out of their way to create opportunities so they can be successful.
"I think it's hard for the staff sometimes," White said. "Every student has something to offer the world and it's up the staff to show us what we have to offer. A lot of us have been beaten down and kicked around our entire life. When we first get here and have these opportunities, a lot of us don't know what to do with it.
"For the first time, many of us don't have to wake up worrying about what am I going to eat today or where am I going to sleep tonight. This is a safe place, a safe haven, a bubble. All of these people who have had to fight their entire lives now don't have to fight. They can just take advantage of the opportunities."
White said the change can affect generations to come.
"I used to never want kids because I didn't want them to grow up like I grew up," he said. "I didn't think there was any way to get out. To hell if I was going to bring a kid into this world to grow up just like I did. It wasn't going to happen.
"But now, I can see kids in my future and I can see them having a better life than I did," White said. "And that brings a smile to my face."
Get local news delivered to your inbox!
Subscribe to our Daily Headlines newsletter.