MacLean William Kayser stood in a Darby High School hallway Feb. 12 or 13 and told a group of friends that he was "going to shoot up the school,'' according to court documents.
The 18-year-old senior, who is on the honor roll and all-star football team, also told classmates that those wearing yellow shirts to school the following day would be "a target'' but those in red shirts would be safe. He then pointed at various students, saying "you're a red shirt" or "you're a yellow shirt,"  according to an affidavit of probable cause filed Tuesday in Ravalli County Justice Court.
Kayser allegedly posted a picture of a pistol on his Snapchat account on Feb. 13 with the caption saying "wear a red shirt tomorrow if you want to live." He didn't show up for school Feb. 14, but did post a live feed of news about the school shooting that day in Parkland, Florida, labeled "coming soon to Darby."
On Feb. 15, he posted a picture of the Florida shooting, one of the deadliest in modern American history, with a caption stating "clearly those kids didn't wear red shirts."
The allegations in the probable cause affidavit visibly upset Judge Jim Bailey, who on Tuesday afternoon called Kayser a "danger to the community" and set his bond at $50,000.
"I read the affidavit and it scares me to read it," Bailey told Kayser. "The things you did and said show you are a danger to the community."
One felony charge of intimidation has been added to the original charge of assault with a weapon. The weapons charge is based on statements from Kayser that "caused reasonable apprehension of causing serious bodily injury."
Kayser sat quietly in the courtroom, with his shackled hands resting in his lap. His parents, who also attended the arraignment, declined to comment afterward.
County Attorney Bill Fulbright wrote in the affidavit that a number of witnesses in the school hallway expressed confusion over Kayser's statements, with some not wanting to take him seriously, but others being concerned. He apparently was laughing about the statements at the time.
One person later sent text messages to Kayser, asking if he was serious about the shooting. But "every time I asked for an answer he would insult me," the texter said.
Officers were able to look at the texts, and noted when the person implored Kayser multiple times to not "shoot up the school,'' he finally responded with "fine, I'll go to Hamilton and do it," according to Fulbright's affidavit.
"Defendant reported that he viewed the activity as 'a joke' and had intended the posts as 'humor,'" Fulbright wrote. "Defendant reported that he received a variety of responses to his Snapchat post that he had not expected, finding that most responding did not think the post was funny."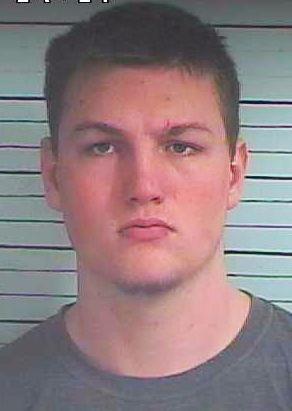 Fulbright added that at the end of the interview, Kayser expressed remorse over the trouble his actions had caused the community, saying, "I'm sorry for scaring everybody.'' He said he regretted his actions "a thousand times" since he learned of the emotional distress he caused.
If Kayser is able to bond out of jail, he must stay at least 1,500 feet away from any school, and must wear a GPS so his pre-trial supervisor always knows where he is located. He's banned from being on social media, but will be allowed to use the internet for online school work.
Kayser also can't contact anyone from school, but people who want to see him will be allowed to go to his house.
"If you violate any of these, your bail will be $100,000," Bailey said, before remanding Kayser to the custody of a Ravalli County deputy.
Kayser's SnapChat post has been taken down, and his Facebook page was wiped clean by Tuesday afternoon. Earlier, his Facebook site was filled with photos of himself in a Darby Tiger football uniform, as well as scenes of snowboards and places in the Darby area. It also had images of weapons, and videos of comedian Adam Calhoun.
The Darby School District Facebook page shows Kayser in his football uniform as part of the 2017 Homecoming royalty court and as a member of the shop class that made fish centerpieces for a Trout Unlimited banquet.
Darby Superintendent Loyd Rennaker said that, as a school district, the Darby school is prohibited by federal law from providing any personally identifiable information about their students without their consent.
He said the atmosphere at Darby school is relaxed and classes are continuing as normal. Uniformed officers were in the school Tuesday morning and will remain all week — or as long as necessary. The school is offering counseling, and reminding students that staff members are available.
"Kids are going to class, talking a bit about the incident," Rennaker said. Darby High School Principal J.P. McCrossin "went around to all the classes with a statement and to answer questions."
Rennaker encouraged students  to seek assistance rather than feel they need to "solve everything themselves."
He said he was proud of his students for reporting what they felt.
Darby counselor Kurt Kohn said the high school students are talking about an upcoming basketball tournament and the recent victory that moves the team into a game in Hamilton. He said a few students are seeking counseling services after what they've seen on television with the Florida school shooting and also with the local incident.
"Specifically more since the event happened here," Kohn said, adding that they're not nervous, but are concerned about Kayser.
Darby Public Schools Community Outreach Coordinator Shelby Rogala said the senior class and community are close-knit, and they're doing their best to protect the privacy of all of the students and families.
Rennaker called school shootings in the news a "hard balance."
"How much do you focus on it and how much do you try to keep the regular school business going on?" he said. "It's hard to interrupt what we're doing when we're doing good work, but you have to support kids and be sensitive to their needs."