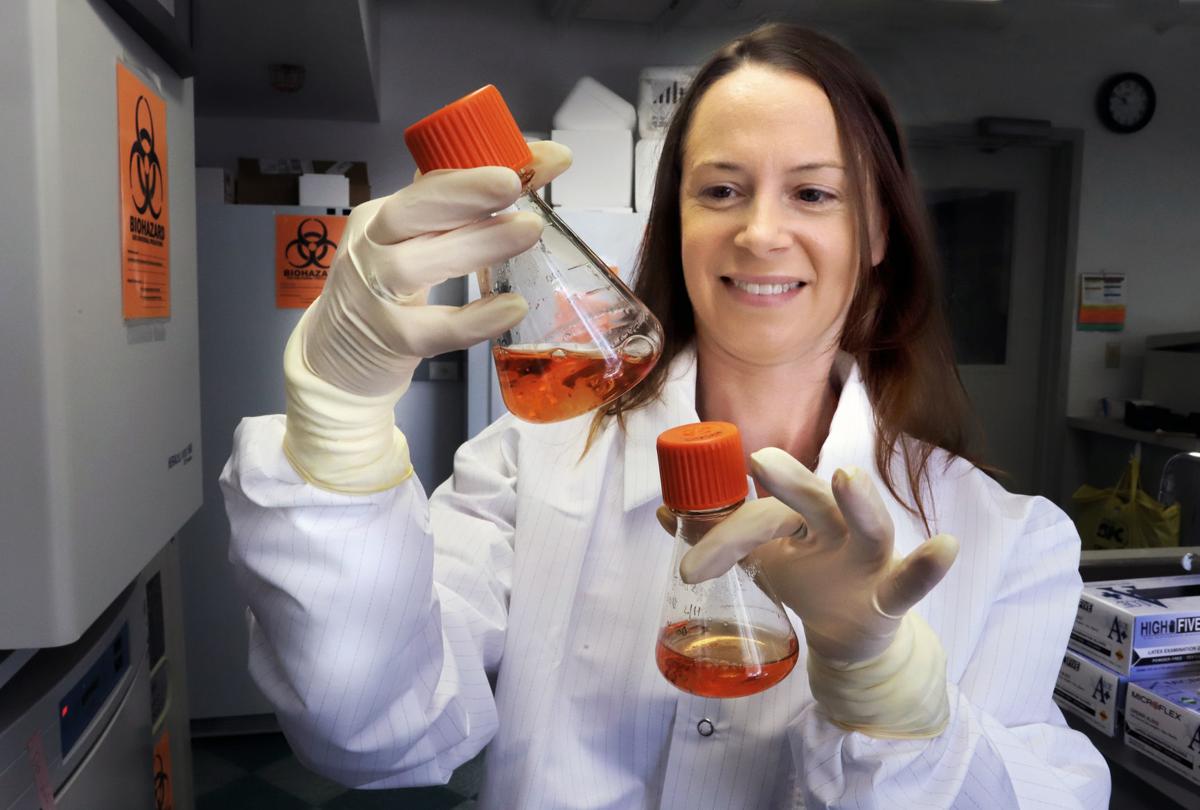 Atop an oscillating tray inside a temperature-controlled incubator at the Rocky Mountain Laboratory, clusters of human brain cells ranging in size from a poppy seed to a small pea are helping scientists unlock secrets of a mysterious disease.
Sporadic Creutzfeldt-Jakob disease is an always-fatal neurodegenerative brain disease caused by an infectious prion protein that's similar to the misfolded proteins found in mad cow and chronic wasting diseases.
No one really understands exactly how a normal protein vital to life becomes misshapen, infectious and deadly.
"It is one of those proteins that for every question you answer, you get a million more questions," Rocky Mountain Laboratory scientist Cathryn Haigh said. "It is just incredible, but there is so much about the biology of this one little protein that we don't know yet."
In the past, scientists used mice to test treatments that could lead to a cure for the deadly prion disease.
"There have been so many drugs tried in mice that look really promising and for whatever reason, when they're used on humans, they don't work," said Haigh. "We don't know why. We know mice are different from humans, of course, but we really can not fathom why something that appears so promising in one creature doesn't work in another creature.
"We are really hoping these organoids will answer some of those questions and give us some strong leads on what really might work," she said.
Cerebral organoids is what the scientists call the "mini-brains" swirling around in flasks filled with a nutrient-rich orange fluid in the incubators marked with orange biohazard signs.
The organoids begin their lives as skin cells that have been reprogrammed in the bottom of a petri dish to become small masses of brain cells complete with the same organization, structure and electrical signaling found in brain tissue.
The technology isn't new.
Scientists have been creating cerebral organoids from skin cells to study Zika virus infection, Alzeheimer's disease and Down syndrome for several years.
But Rocky Mountain Laboratory scientists, under Haigh's direction, have created what they believe is the first cerebral organiod system, or "mini-brain," for studying sporadic Creutzfeld-Jakob Disease (CJD). Their hope is the research will enable them to develop a better understanding on how prion diseases work and how they might be treated.
In a study recently published in Acta Neuropathologica Communications, the RML team of scientists detailed their discovery in developing a method to infect 5-month-old cerebral organoids with prions using samples from two patients who died of different CJD subtypes.
It took about a month for the scientists to confirm the infection. They monitored changes in health indicators, such as metabolism, for more than six months. By the time the study ended, the scientists observed the spread of the infectious prion to all the organoids exposed to the CJD samples.
"It's actually an incredible technology," Haigh said.
The scientists have systems that measure the electrical current the organoids generate as their neurons fire.
"It goes up when they become over-stimulated and goes down as they begin to die," she said. "Electrotechnology is rather new. Its application to organoids with the context of CJD is completely new. I believe what we've been developing here is really impressive.
"It's a very exciting time to be working in this field," Haigh said. "We are really hoping that we can make a huge difference in our understanding of prion diseases."
With chronic wasting disease(CWD) spreading in deer in Montana — the first cases west of the Continental Divide showed up in Libby this spring — the interest in prion diseases is becoming more commonplace in the state.
"We know that CWD is spreading in the state," Haigh said. "No one knows if it can jump to humans. All the evidence suggests that it won't, but we can never be completely confident."
Since cerebral organoids can survive in a controlled environment for months, nervous system diseases like CJD can be studied over time.
The mini-brains continue to grow for about six months. So far, the longest the organoids at RML have lived is about a year. Other labs have reported keeping them alive for as long as 18 months.
"Like the human brain, as they get old, they start to decline," Haigh said. "As they decline, they lose function and begin to die."
While the organoids serve as excellent models for research, they don't learn.
"Humans are defined by learning and memories," she said. "These things have no learning or memories. It's as if they are in a coma. They are brain cells. … Their neurons still fire back and forth to each other as if they were talking.
"But it's not like they are human," Haigh said. "They have no sensory organs and can't interact with their world. We want to stay clear or giving any kind of sensory organs. The idea is to model a human brain, not create a human."
Prion diseases often take years to manifest in a human. In most cases, the disease inflicts people in their 60s or older. Its symptoms include dementia, psychiatric inflictions and personality changes.
"Patients may only have months before they die," she said. "In some patients, the disease is so aggressive, they are not diagnosed before they did. We want to know what causes the neurons to stop function and to die. If we can identify what causes that, then we can look at what we can do to stop that."
Get local news delivered to your inbox!
Subscribe to our Daily Headlines newsletter.