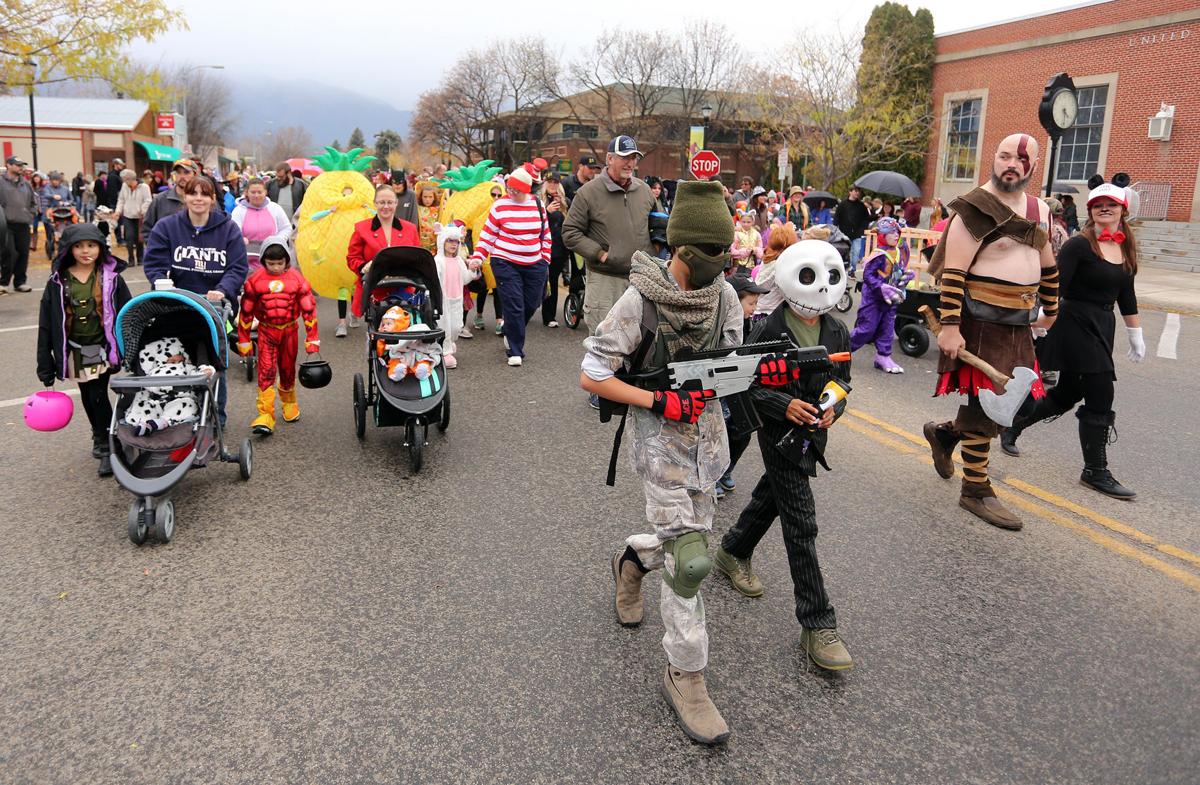 As if COVID scares aren't spooky enough, Halloween events are still happening in the Bitterroot Valley.
Opportunities for spooky adventures include the Field of Screams, Darby Library (Oct. 23), the Hamilton Downtown Association's weeklong "Parade of Scarecrows," the Witches Brigade on Oct. 30, the Daly Mansion's Trunk or Treat event, the Halloween Carnival & Halloween Fun House at the Ravalli County Fairgrounds and night trick-or-treating in Hamilton on Oct. 31.
The Field of Screams is celebrating 21 years of outdoor thrills at 1493 U.S. Highway 93, 4.5 miles south of Victor. Open Wednesday through Saturday, with tamer adventures for kids 4-6 p.m. on Fridays and 3-6 p.m. on Saturdays.
The Darby Community Public Library is hosting a Halloween event "to go" with a pumpkin carving contest, crafts and snacks to go, 2-5 p.m. on Friday, Oct. 23. For children age 12 and under, pick up Halloween treats and instructions for the contest at the library and Exit Realty, while supplies last.
The Hamilton Downtown Association has updated its usual Halloween parade, transforming it into the "Hamilton Downtown Parade of Scarecrows," a week-long candy gathering event for better social distancing, Oct. 26-31.
Traditionally, hundreds of children (and sometimes their parents) have dressed up in creative costumes and walked from business to business collecting candy in downtown Hamilton. It has historically been a densely packed event of children, parents and storefront owners full of fun and laughter as "The Monster Mash" plays over loudspeakers.
Rather than cancel the event or put community members at risk, the Hamilton Downtown Association has come up with a clever solution to keep the businesses and community members safe as they observe this fun tradition.
The plan is for businesses to build a scarecrow and place it with a basket filled with individually wrapped candy in front of their business, refilling each day as needed. Community members can come anytime during the week, at their convenience, not just on Halloween. Everyone can enjoy the scarecrows, take pictures of their favorites and promote businesses.
Andrew Kilian, vice-president of the Hamilton Downtown Association, said the newly designed event solves many problems.
"We still get to display our community spirit and show that we will not be beaten by the current [coronavirus] crisis and it avoids the masses of people in close contact that would cause spread," Kilian said. "[This event] will uplift people's spirits with something wholesome which is something we definitively need in this day and age."
Kilian said that the community needs to stick together.
"We have to adapt and improvise to life's unexpected obstacles," he said. "As good citizens we want our businesses to stay open and our community members to remain harm-free. The well-being of the valley depends on both. Most importantly we have to lift each other up and continue to keep this community as a part of America's last best place."
Hamilton Downtown Association Executive Director Claire Kemp said the Hamilton Downtown Parade of Scarecrows is a good solution to prevent a large gathering of people.
"It looked like MDT [Montana Department of Transportation] was not going to approve closing Main Street for the event because of COVID," Kemp said. "Instead we thought of something fun and festive."
Another fun yet spooky event is the Witches Brigade, where community women dress as witches, cackle and ride their bikes around Hamilton. This year they will ride on Friday, Oct. 30, without a large, centralized gathering due to COVID-19. The witches will ride from their own small covens at 6 p.m. and swarm between Ninth and Second streets and Cherry to Ravalli Streets, with the possible inclusion of senior resident facilities on Eighth, Tenth and New York streets. They are required to follow Hamilton city bike and open beverage laws, and ride bikes that have a front light and a rear reflector after dark.
The Daly Mansion is hosting a free "Trunk or Treat" event and opening their beautiful grounds 2-4 p.m. on Saturday, Oct. 31.
Event coordinator Courtney Hartelius said the event is a fun opportunity to keep the trick-or-treat tradition alive while social distancing.
"We have heard that trick-or-treating as we all remember it might be a thing of the past because of COVID concerns," she said. "We decided to offer the space on our grounds for people to still have some semblance of the event. Kids can show off their costumes, get candy and have fun."
Bitterroot families are invited to dress up in their Halloween best and trick-or-treat outside along the main lane leading up to the front porch of the Daly Mansion. People who want to participate by handing out candy are asked to decorate the trunk of their vehicle, provide individually wrapped candy, and wear gloves and facemasks.
"We want to make sure everyone feels safe while community children get to show off their costumes and have fun," Hartelius said. "For everyone asking to hand out candy we're asking them to call and reserve a spot. We'll have spots clearly marked on the north and south lawn, similar to when we host the car show. It will be more spaced out."
The event is spread out during the day and replaces the mansion's usual Halloween event.
"We decided to not do the haunted hayrides this year because it just wouldn't work with social distancing," Hartelius said.
The Halloween Carnival & Halloween Fun House at the Ravalli County Fairgrounds will be from 5 -9 p.m. with free admission on Oct. 31.
Organizer Gina Deschamps said she is still collecting candy and donations to help cover the cost of the event and that 100% of the donations go to the event. Both candy and money donations can be dropped off at the fairgrounds.
The Hamilton City Council is discouraging door-to-door trick-or-treating.
Hamilton City Council President Claire Kemp, Ward 3, said it is the right decision.
"We know how this town embraces Halloween," she said. "All of us are bummed but we also know our [COVID] numbers are on the rise and that would not be responsible. We know people will make their own choices but we are not going to encourage trick-or-treating."
Main, Third, Fourth and Fifth Streets are not going to be closed to vehicle traffic.
"Those roads will not be shut down this year," Kemp said. "We are leaving it up to individual homeowners, my assumption is that most will not participate. We are encouraging people to decorate their house but we are not encouraging door-to-door trick-or-treating."
People are encouraged not to bring children into the neighborhoods that usually have a high volume of people on Halloween.
"I encourage everyone to be safe," Kemp said. "Remember it will be dark so look out for kids."
Hamilton Mayor Dominic Farrenkopf said individuals need to weigh the risk.
"If you are concerned about trick-or-treating, turn off your porch light and don't answer your door. People don't knock on a dark door anyway," Farrenkopf said. "Moms and Dads who are concerned about it should buy candy at the store and have a Halloween party at your house. I hope everyone is cautious. We say it every year, 'be careful on Halloween.'"
The City of Hamilton administration said Halloween can still be celebrated.
"Take a walk through the fallen leaves, enjoy the crisp fall air, the creative residential Halloween decorations, downtown Hamilton's 'Parade or Scarecrows' and don't forget the blue moon, our second full moon of the month that falls on Oct. 31," their press release said.
Get local news delivered to your inbox!
Subscribe to our Daily Headlines newsletter.