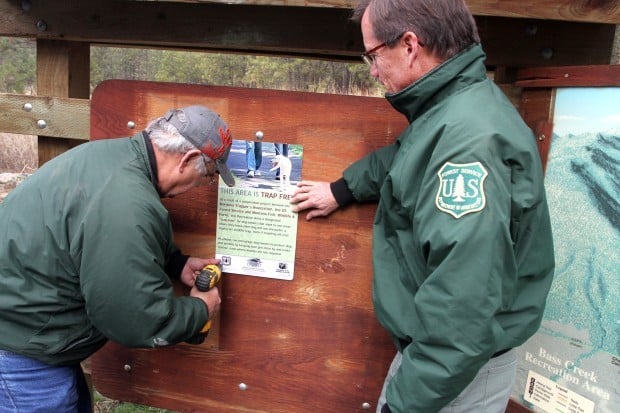 STEVENSVILLE – A simple question mixed with a dose of common sense - and a willingness by all sides to listen to one another – has created a safe place for dog owners to walk their canine friends this winter.
The Bitterroot National Forest's 1,600-acre Bass Creek Recreation Area is now officially a trap-free zone.
On Thursday, some of the folks who had a hand in making that happen braved icy roads to reach the site northwest of Stevensville and watch officials post the first trap-free sign in the popular recreation area.
"It's a culmination of a lot of people coming together and doing the work to find common ground," said Toby Walrath of Corvallis.
Walrath serves as the Montana Trapper Association's District 2 director.
He stood next to Teri Norchross and her fluorescent orange scarf-clad dog, Keb.
Last year, Norchross started the conversation about trapping in the Bitterroot National Forest's second most popular recreation area with a single statement.
"She called me up and said: 'I want the facts,' " remembered Montana Fish, Wildlife and Parks wildlife manager Mike Thompson. "That's what started it all."
The Bass Creek area has long been popular for dog walkers, horseback riders and mountain bikers.
As a dog owner, Norchross was concerned about the potential of traps being in the area and wanted to know what she could do to ensure her dog didn't end up in one at her favorite place to go hiking in the winter.
With the amount of recreational traffic in the area, Thompson said it seemed like a good idea to consider putting Bass Creek off limits for trapping.
While the FWP Commission could close it to trappers participating in the furbearer season – which it did this summer – it would take a U.S. Forest Service decision to ban all trapping, including coyotes.
Coyote trapping is not regulated under the state's furbearer season.
Last February, members of the Montana Trappers Association sat down with Norchross and FWP and Forest Service officials to see if there was common ground on the idea of setting the area aside from trapping.
When the six local trappers at the meeting agreed that the idea made sense, Walrath presented the issue at both district and state meetings of the association earlier this year. Both times, trappers voted to support the proposal.
"It was a good example of people coming together as a collective group and finding a resolution without conflict," Walrath said. "It was a really positive experience for me. I was proud to have been part of it."
Walrath called the decision to make the popular recreation site a trap-free zone "recreation land use 101. Different areas should have different uses. This area is a great place for people to come and walk their dogs. There is easy access and it's used year around."
Other areas that aren't as heavily used are set aside for multiple use, including trapping. In those areas, non-trappers need to be aware that those uses are taking place, Walrath said.
From a land-use management perspective, Walrath said it's important that all people recreating on public lands be aware that there are different uses occurring on different parcels of land.
The Bitterroot National Forest's Stevensville district ranger, Dan Ritter, said the decision to set the area aside as a trap-free zone was easy following the work by members of the public to find consensus.
The Bass Creek Recreation Area receives about 50,000 visits a year, which makes it second only to the Lake Como area.
Dog owners are required to keep their pets on a leash in the more developed portions of the area, including the campground and at trailheads. In the rest of the area that runs along the eastern edge of the Bitterroot Mountains from Bass Creek almost to Sweeny Creek, the agency asks dog owners to keep their canines close enough for voice command.
"We ask people to use common sense for the safety of other people and their pets," Ritter said. "We really have very few issues with dogs here."
The Bass Creek Recreation Area joins three others in the area that are trap free. The others are located on the Lolo National Forest at Blue Mountain, Pattee Creek and the Rattlesnake Recreation Area.
"We're just really codifying common sense," Thompson said. "This way, trappers know for sure what's allowed and the public can recreate without worrying."
Get local news delivered to your inbox!
Subscribe to our Daily Headlines newsletter.