If there ever was an artist that captured the west as well as Charlie Russell, it would have to be his good friend and fellow frontiersman, Edgar S. Paxson.
He happened to enter the country just a few years before Russell did, but both men started out by riding the lonely, wide-open ranges stretching out in boundless splendor under the Big Sky. While Russell went on to make his home in Great Falls, Paxson eventually settled down in Missoula, and some of his most accomplished works are found locally in the wonderful murals that grace the walls and rotunda of the original courthouse downtown. A half a dozen murals are also featured at the State Capitol building in Helena, including two scenes representing the Lewis and Clark Expedition, which in my mind, have to be considered as some of his greatest works.
Fifteen years ago, during the bi-centennial of the Corps of Discovery, I had an opportunity to view a large Paxson work at the Missoula Art Museum, and I was instantly impressed with all the intricate details incorporated in the oil painting. The mural had been temporarily taken off of the walls of the Missoula County Courthouse, and depicts a panoramic view of Captain Lewis's party crossing the Clark Fork River on log rafts. Unfortunately, the exhibitors had erroneously pointed out a large buck lying in the fore ground, which seemed to have his antlers on backwards. Upon closer inspection it was apparent to me that there were both a doe and a buck piled together in the scene and that the horns of the male deer were perfectly and properly positioned, just as they should be. The supposed error was obviously not on Paxson's part.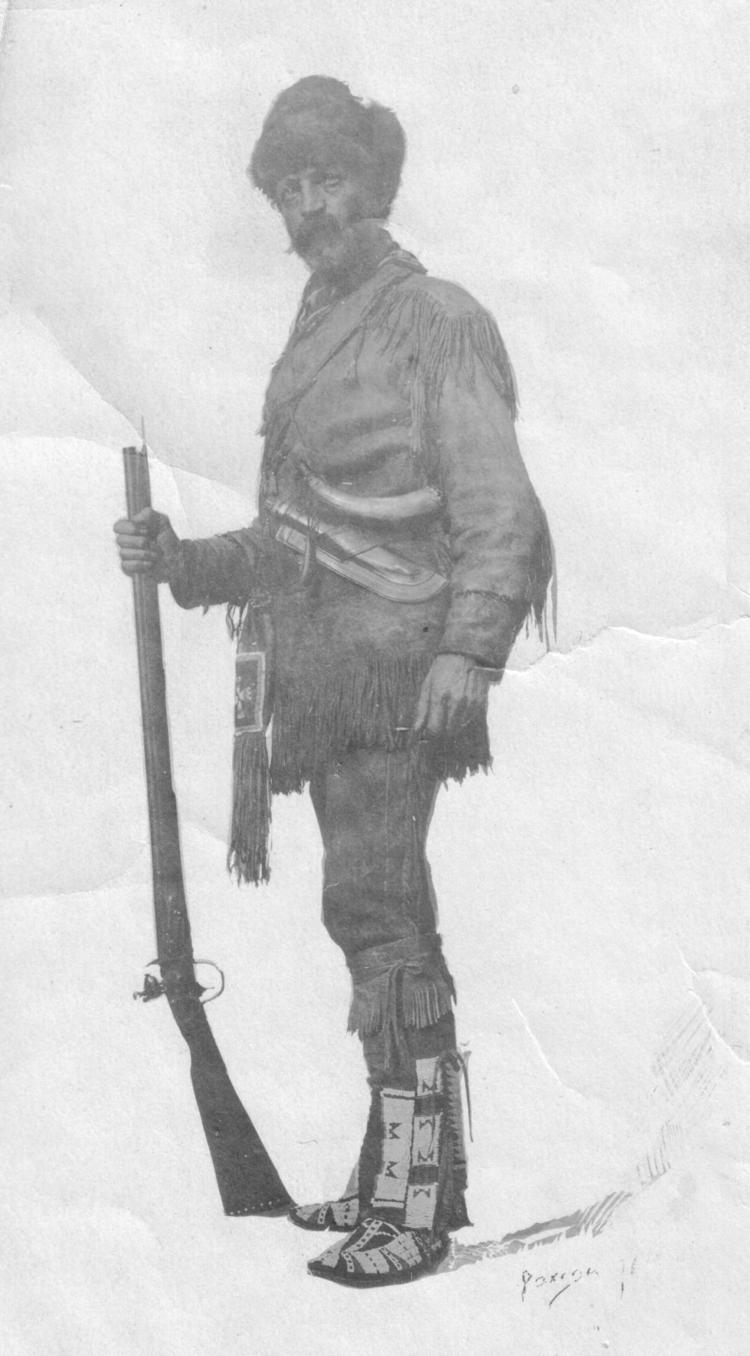 You see, just like his contemporary Charlie Russell, Edgar S. Paxson was a stickler for detail. Not only had Paxson been an avid hunter since an early age, but like most outdoorsmen of the era, he actually had a great reverence for Mother Nature. He also genuinely envied the independent, nomadic lifestyle of Native Americans, and is probably best known for his realistic portrayals of Indians on the hunt. Eventually he filled his studio with a large collection of Indian artifacts and curios that he had gathered up through the years, including bows and arrows, moccasins, belts, necklaces, headdresses, baskets and beaded buckskin coats. One visitor stated, "The beadwork alone is fit for a museum." It's no wonder that his knowledge of native habits and costume was amazingly accurate down to the finest detail, and because of his admiration for the indigenous people; he invariably portrayed them in a worthy manner befitting their proud heritage.
Though Paxson displayed a certain knack for drawing at an early age, his only formal training was as an apprentice for a backdrop painter at the age of ten. The job didn't last too long, but Paxson learned quick and eventually relied upon backdrop painting as a steady income in his early days in Butte City. Some of these backdrops can still be seen in theaters today in Philipsburg and Anaconda. He also had a thriving business painting signs and billboards for storefronts in Deer Lodge and Butte, and other neighboring boom towns throughout western Montana. According to one report he had learned to do lettering and pin striping from his father, who painted logos and fancy scroll work on stagecoaches and carriages back east.
Born in East Hamburg, New York, in 1852, Paxson wandered into this part of the country in the spring of 1877, and immediately found employment as a range rider in Ryan's Canyon on the southern end of the Jefferson, or Beaverhead River, near what is known today as the Beaverhead Gateway. At that time a number of "non-treaty" Nez Perce Indians were at war with the United States government. As a result of the hostilities, the cattle ranchers in southwestern Montana suddenly realized they needed a dependable man to keep an eye on their wandering livestock and to carry any information of Indian movement between the isolated ranches. This position suited the twenty-five year old adventurer perfectly, and he fell into the routine of bringing in game and carrying mail for the settlers, while camping out alone in the middle of the sparsely populated rangeland.
In an interview many years later Paxson described an incident that occurred during one of his lonely patrols in the Beaverhead district. Though he was always handy with a gun, he never claimed to be an Indian fighter, and in this particular case he used a "quick-draw" of another sort to wiggle his way out of a difficult situation. One day while he was riding alone on his way to town to pick up the newspapers and mail for the ranchers, he was taken captive by a band of about thirty warriors. It's unclear whether the natives were non-treaty Nez Perce, or a band of Bannock or Shoshoni Indians, who were also having treaty problems at the time. As the Indians deliberated his fate, he hastily pulled out his pencil and paper and began drawing the chief brave who seemed to be in charge of the expedition. It wasn't long before the Indians noticed what he was up to, and soon they were all gathered around him as he sketched a perfect likeness of the chief. The portrait apparently garnered the critical approval of the Indians because Paxson was eventually released unharmed.
Within a year of his arrival in Montana, Paxson had settled in at Deer Lodge, and soon sent word for his wife Laura to join him there. His young bride and their three-year-old son boarded a Union Pacific train bound for Salt Lake City, and then booked passage on a stagecoach to Deer Lodge. The couple readily adapted to frontier life at Deer Lodge, where their backdoor opened out directly onto the rolling grasslands lying between the Upper Clark Fork and the foothills of the Flint Creek Range. After working the range as a scout, Edgar Paxson found employment for a while with the Gilmer & Salisbury Stage Line, and he later claimed that some of his earliest commissioned paintings were done on leftover canvas from some derelict relic of a stagecoach that was no longer in use!
The couple eventually moved from Deer Lodge to Butte where Paxson continued to paint business signs and scenic backdrops. In fact, one theater owner furnished him with a fully equipped studio in one of his playhouses in Butte, and people often came from miles around to see his intricately detailed backdrops just as much as they came to see the plays! Paxson liked to work with natural light and he often complained that the ore smelters in and around Butte spewed out a constant stream of sooty smog, darkening the skies almost daily, sometimes leaving him with just a few hours of good light to work by. In 1906 the Paxson family left the somber skies of Butte City far behind and moved to Missoula.
Most of Edgar Paxson's better-known works depict historical events common in Montana lore and legend. All of these are done on an epic scale, and sometimes took years of research to gather the kind of specific information he was looking for. Paxson obviously had a great sense of pioneer history as it unfolded around him, and yet he knew that the times were changing rapidly. With his art, he helped to preserve a vanishing view of the west. He was justifiably lauded for his depiction of "Custer's Last Stand" in 1899, and spent untold hours interviewing the Indians who played a key part in the battle, while the horrifying battle scene was vividly described by the Calvary men who had arrived to witness the gruesome aftermath.
After moving to Missoula, Paxson was hired to do a selection of paintings to decorate the walls of the State Capitol. At about the same time Charlie Russell was commissioned to add his talents to the gallery, and both men produced some of their finest work for the enterprise. When Paxson was selected to do all the murals for the Missoula County Courthouse shortly afterwards, a delegation of curious Indians came down from the Flathead reservation to view his progress. The year was 1913, and though the actual works were incomplete at the time, according to an article in the Missoulian, the Salish "were delighted with the work" and openly applauded the effort. Paxson was working on a painting called "The Arrival of Father Ravalli at Fort Owen" at the time, and was extremely gratified when the Indians saw the picture and immediately recognized the likeness of Father Ravalli.
The courthouse had been erected just a few years earlier, and was originally furnished with a series of canvases that apparently revealed little or nothing in the way of local history. These first murals were met with scant approval by area art enthusiasts and the citizenry in general, but the beautiful mix of vibrant colors and well-known subject matter incorporated in the Paxson murals were instantly appreciated as a vast improvement over their predecessors. In 1914 Paxson's old friend Buffalo Bill Cody brought his famous Wild West Show to Missoula, and during his visit he went to the courthouse with Paxson to view the murals. Paxson proudly reported in his journal that Cody had remarked "there was no building of the kind in all the country that can boast of anything so good."
The Ravalli Republic is teaming up with Ravalli County Museum to bring you a series of local history and photo features. If you would like more information on today's subject please contact the Ravalli County Museum at www.ravallimuseum.org. You can also find them on Facebook, Twitter and Instagram.
Get local news delivered to your inbox!
Subscribe to our Daily Headlines newsletter.