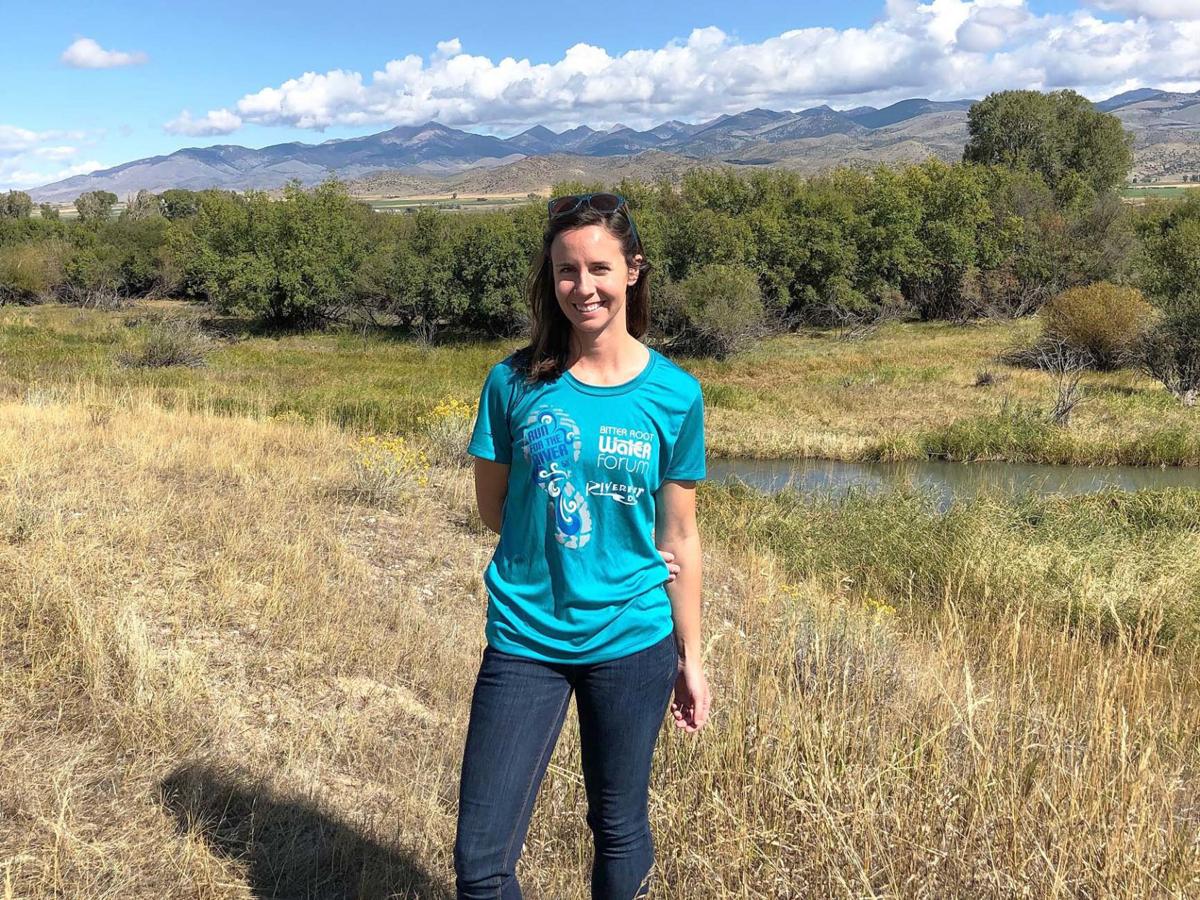 The Bitter Root Water Forum adds a restoration coordinator and needs matching funds for big restoration projects on the Bitterroot River, Threemile Creek and the Burnt Fork.
The Bitter Root Water Forum has been a part of the Bitterroot community for 25 years. As a local nonprofit their mission is to bring the community together to protect, enhance and restore the waterways in the Bitterroot Valley. They do this by completing restoration projects that improve water quality and habitat for fish and wildlife, and educating youth and adults about the importance of a healthy watershed.
To increase their conservation impact, the organization recently created a new restoration coordinator position. Andrea Price joined the Water Forum team in this position in late July. With a degree in environmental engineering, Price brings new technical skills to the organization.
"Having Andrea as our new restoration coordinator brings a fresh perspective and a more technical knowledge base, which means we are going to get more done for Bitterroot waters," said Heather Barber, executive director of the Bitter Root Water Forum. "We have achieved so much with limited staff, and now we'll be able to do even more for ranching families and streamside landowners."
With the hiring of Price, the Water Forum has grown to three full-time staff positions and an AmeriCorps member, who serves for a 10.5-month term each year. The timing of this hire could not be better as there is an exciting opportunity for funding restoration work specifically in the Bitterroot. The restoration coordinator will ensure that the Water Forum can take advantage of this special opportunity.
The Montana Department of Environmental Quality (DEQ) announced in 2018 that they will direct half of the funds from their 319 program to the Bitterroot Watershed for the next three years. The 319 program is funded through the Environmental Protection Agency (EPA) with roughly a million dollars per year going to support work at a local level on issues of nonpoint source (NPS) pollution in Montana.
"Thanks to DEQ and the 319 program, we've been able to complete projects with private landowners in Rye Creek, Threemile Creek, Cameron Creek and the East Fork of the Bitterroot River. These projects are good for fish and good for water quality, and now we'll be able to do even more," said Barber.
You have free articles remaining.
In the Bitterroot, the primary NPS pollution issues are temperature, sediment and nutrients, which can cause problems for aquatic life. Overly warm waters can kill fish or make it difficult for them to reproduce. Too much sediment or fine dirt fills in the deep pools where fish find relief in summer and can choke out aquatic insects and fish eggs. Excess nutrients, typically nitrogen and phosphorous, can lead to overgrowth of algae or, in high enough concentrations can be lethal to aquatic life.
The Bitter Root Water Forum's restoration work is successfully combating these NPS pollution issues.
"A healthy plant buffer along waterways can make a huge different for our streams," Barber said. "Native trees and shrubs like cottonwoods and willows provide shade, habitat and food sources, they can reinforce eroding banks and filter nutrients from the soil."
The Water Forum is slated to break ground on five restoration projects next year, which Barber says never would have been possible without additional staff and increased funding from DEQ and local supporters.
The 319 funding, however, requires support from outside sources through matching funds of at least 40% of the project total. That means for every $150,000 awarded through the 319 program there needs to be an additional $100,000 from private donors, foundations and state funds.
"Our community has an opportunity to receive more restoration dollars than ever before, and the Water Forum is positioned to step up to the plate and knock projects out of the park, but DEQ can't be the only source of funding," Barber said.
The Water Forum has already secured funding from the Montana Watershed Coordination Council's Watershed Fund to get the ball rolling. Now they need more support from the community to keep that energy up.
"In 2020, we're going to complete projects on the main stem of the Bitterroot River, on Threemile Creek and on the Burnt Fork. It's going to be a banner year for restoration and we couldn't be more grateful for the folks who have helped us get here," said Barber. "We're incredibly excited for what this growth and funding opportunity will mean for our organization and our community."
BRWF is a community-driven nonprofit organization dedicated to supporting the traditions of agriculture, community and recreation by protecting, enhancing and restoring the Bitterroot watershed through on the ground projects and watershed education. It was aestablished in 1993 to investigate and discuss water issues in the Bitterroot watershed, more specifically, water quality and water quantity.