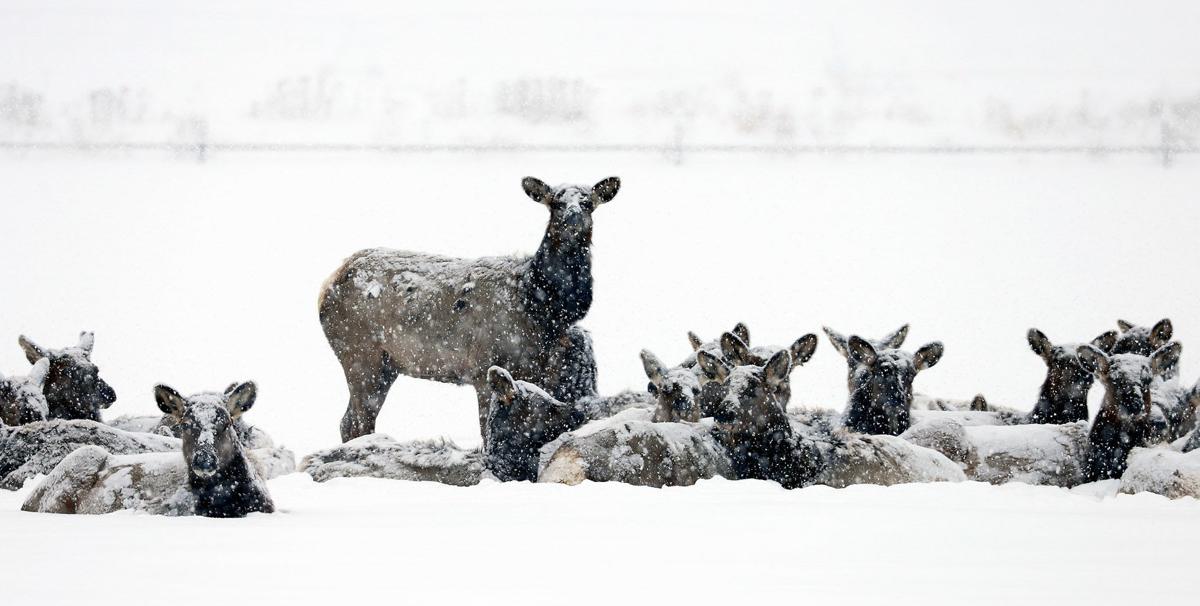 Snow and cold are usually the perfect pair for big game hunters, but a little too much of both kept hunters home and elk and deer out of the crosshairs in the Bitterroot Valley on the opening weekend of big game season.
Hunter and elk harvest numbers were down at Montana Fish, Wildlife and Parks' Darby check station.
"On Saturday, the visibility was really, really bad," said FWP's Bitterroot-based biologist Rebecca Mowry. "Hunters were having a hard time getting around, and I think animals were hunkered down. On Sunday, it was super cold."
Mowry checked through a total of 729 hunters with 51 elk, four mule deer and six white-tailed deer over the weekend. Last year's opening weekend saw 1,012 hunters at the Darby Check Station with 73 elk, two mule deer and nine white-tailed deer.
"It definitely felt slower," Mowry said. "On that first day, I was hearing from hunters coming out the Big Hole that they were getting stuck. Some said they felt like they were lucky to have been able to get out."
Mowry closed the check station an hour early on both days because the roads were so bad.
"We also had some people driving past the check station," she said. "I saw people in hunter orange who didn't stop. The people I flagged ... down said they didn't get anything. It doesn't matter. If you're hunting, you are required to stop at check stations."
All of the check stations in western Montana showed a lower than normal harvest for the opening weekend.
Biologists counted 1,575 hunters through the Darby, Anaconda and Bonner check stations. Last year a total of 2,325 hunters stopped at the same three stations on opening weekend.
While the numbers of animals harvested were down at all three, the percentage of hunters with game was up slightly. Biologists checked a total of 76 elk, 12 mule deer and 43 white-tailed deer this weekend, as compared to 99 elk, six mule deer and 71 white-tailed deer in 2019.
"It was very cold and snowy and people just went home," said FWP hunting access coordinator Kendra McKlosky.
After seeing a large increase of use at fishing access sites and state parks this summer, some wondered if that wouldn't carry over into hunting season.
So far, Missoula-area wildlife manager Mike Thompson said that hasn't happened. Record snow and cold was certainly a factor.
"If it warms up as predicted, hunters could find crunchy snow conditions making travel more difficult and noisier, but we'll have more animals moving around which is a good thing for hunter success," Thompson said. "It's been an interesting start to the season for sure."
This year Mowry worked the check station without help from the University of Montana student volunteers, whose class was canceled due to COVID-19 concerns. Mowry did get some help from another volunteer, which she said was greatly appreciated.
Mowry wants deer hunters to know that she is not doing any monitoring for chronic wasting disease. If people want their deer tested, they either need to take the animal to FWP's Missoula regional office or submit samples themselves (directions found at https://bit.ly/2HFb5X3).
Overall, last weekend didn't see many law enforcement issues.
Mowry said someone mistakenly shot a spike elk while thinking it was cow due to poor visibility and someone shot a bull on private land.
A hunter did bring the only mountain goat that will be harvested legally in western Montana through the check station this weekend. The goat was harvested in HD 240 in the Bitterroot Mountains. There was only one goat tag made available this hunting season for the region.
With temperatures expected to rise into the low 50s next weekend, Mowry is guessing she will see more people stopping by the Darby station.
"Normally opening weekend is the busiest of the year," she said. "I think a lot of people might go next weekend."
Get local news delivered to your inbox!
Subscribe to our Daily Headlines newsletter.