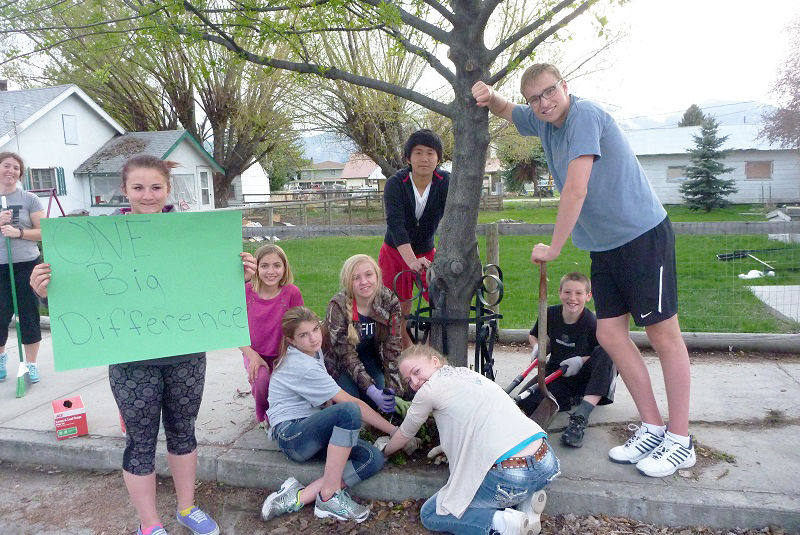 Montanans are generous people.
According to the Corporation for National and Community Service, Montana was ranked 16th nationwide for volunteerism in 2013, with 30.6 percent of residents volunteering.
The numbers get better. Montana has 264,800 volunteers giving 32.7 million hours of service and contributing $735.9 million each year.
In the Bitterroot Valley, strong youth volunteer organizations include 4-H and Bitterroot Ecological Awareness Resources.
Montana 4-H state ambassadors created an idea to celebrate and encourage community service during the Montana 4-H Week of Service, April 12-19.
Members and organizations (4-H and non 4-H youth) were encouraged to create a project to benefit the community they live in.
"We hope the concentrated effort during the National Volunteer Week will continue year after year," said Katelyn Andersen, MSU extension agent in the Bitterroot Valley. "Community service is one aspect of 4-H and part of the pledge, 'I pledge my hands to larger service, for my club, my community, my country and my world.' We encourage each club to plan and implement a service project selected by the membership."
Projects are already being completed around the valley. The Rocky Mountain Ranchers 4-H Club, 15 youth and adults, took two hours to clean up the trees on Main Street in Corvallis. The Rocky Mountain Kids 4-H Club and Big Sky Horizons 4-H Club are teaming up to clean trash around the fairgrounds this coming weekend.
The Ravalli County 4-H Teen Council, a leadership development committee, decided to combine forces with a local youth organization, Bitterroot Ecological Awareness Resources, to do a community service project. Their mission is to "inspire area youth to connect to their own potential, their community, and the landscape through experiential and outdoor adventure programs."
"Through participation in community service projects, youth have an opportunity to make positive connections with their peers, the greater community, and the natural landscape of the Bitterroot Valley. The connection created through service often inspires youth to give back to their community in the future," says Val Aerni, B.E.A.R. program coordinator.
B.E.A.R. youth shared their ideas for serving and celebrating. They voted to help prepare the youth garden, The Patch, at the Daly Mansion.
"The MSU Extension master gardeners volunteers will be assisting the Ravalli County 4-H Teen Council and B.E.A.R. youth to weed, prune back unwieldy perennials, lay new wood chips in the paths and prepare the garden for a June planting party," said Anderson.
The public is welcome to join this effort on Saturday, April 18, 10 a.m. to noon, at the Daly Mansion. Bring garden gloves, rakes, shovels, hoe and clippers. Pizza lunch will be provided.
In addition to National Volunteer Week and the Montana 4-H Week of Service, Earth Day is April 22. Contact any community service organization and keep those volunteer numbers up, Montana.