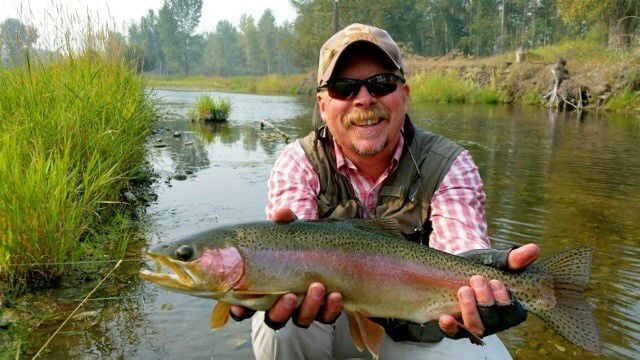 Every October my friend Andy and I take a trip to the Missouri River to celebrate the end of the guiding season. Late October is usually a great time to fish the "Mo" for its large and abundant trout.
Some folks throw streamers for big brown trout, while others like myself come for the baetis hatch. We planned the trip a few weeks ago picking the best days family and work obligations would allow.
Unfortunately, we couldn't plan our trip around the weather. This year we decided to do some bird hunting as well with Andy's new pointer. When Monday arrived we loaded the truck with dogs, shotguns and fishing gear. Expectations weren't very high as we were in the midst of a record snowfall and cold spell.
We decided to hunt the first two days as high temperatures in Craig were predicted to be in the 20s with 20-30mph winds. Conditions were tough on dogs and hunters alike as we trudged through a foot and a half of snow with some drifts up to our waists. We all worked hard but most of the birds got up wild before we could get close enough for a shot.
Both of us got a few shots off at some Sharptail Grouse, but didn't drop any. I guess some more practice at the trap club is in order. The biggest excitement of the two days hunting was towing a rancher and his wife out of a four-foot snow drift they attempted to drive through.
Day three arrived with higher hopes, thanks to temperatures in the 50s, light winds and overcast skies. Perfect weather for dry fly fishing.
We started the day nymph fishing and both landed several nice fish. Most fish were caught on a traditional pheasant tail in sizes #18 & 20. The day wore on into afternoon with only a few may fly duns on the surface and no risers.
I worried the hatch might not happen until we finally saw a pod of trout sipping flies off the surface at 3:30. I quickly switched to my dry fly rod rigged with one of the BWO emergers I had tied for the trip. I made two casts and hooked a small 14" rainbow that jumped several times.
A 14" trout is a good fish on most rivers but small on the Missouri. Recent surveys (2016) from FWP estimate 43% of the rivers 4,000 rainbows per mile are over 18 inches.
Fish continued to rise as we floated downriver. I had already missed a couple takes and broke off a good one when we anchored on another pod of risers.
Several fish stopped rising except one that appeared to be a smaller fish at the end of the run. I made a cast at the riser and as luck would have it the fly landed 2 feet above the trout in its feeding lane. The fly floated a few seconds then disappeared under a small dimple on the surface. I hesitated a second then lifted the rod to set the hook.
Immediately there was a silver explosion of trout and spray above the water. I realized I was into a good fish as it raced downstream to the sound of the screaming drag of my old Hardy reel. Andy asked if I would like him to chase the fish.
I quickly responded yes as the hook was a size 20 tied on 6x tippet and the line was almost into the backing. He pulled the anchor and pushed the boat downstream toward the fish. After several more runs and jumps a fat 19" rainbow was in the net. I revived and released the beautiful trout and realized my day was complete. My friend would fish the rest of the day as we floated and cast to risers. He managed to catch a few more trout with the biggest being a 17" rainbow.
Some folks measure success by the most or biggest fish caught. Yes, those days are great, but for me success can also be measured by a single moment or an experience. That moment in time when everything comes together, the right fly, perfect cast and landing a tough fish. The experience spent on the water with a friend or family member. That moment when the trout flew into the air will forever be burned into my memory. A memory that will get me through the long, dark winter ahead and fuel anticipation of the spring to follow.
Eddie Olwell of Stevensville's Fishs Eddy O has been fishing the waters of western Montana since 1977 and guiding since 1999. Olwell writes a regular column for the Ravalli Republic called Fish Tales.
Get local news delivered to your inbox!
Subscribe to our Daily Headlines newsletter.