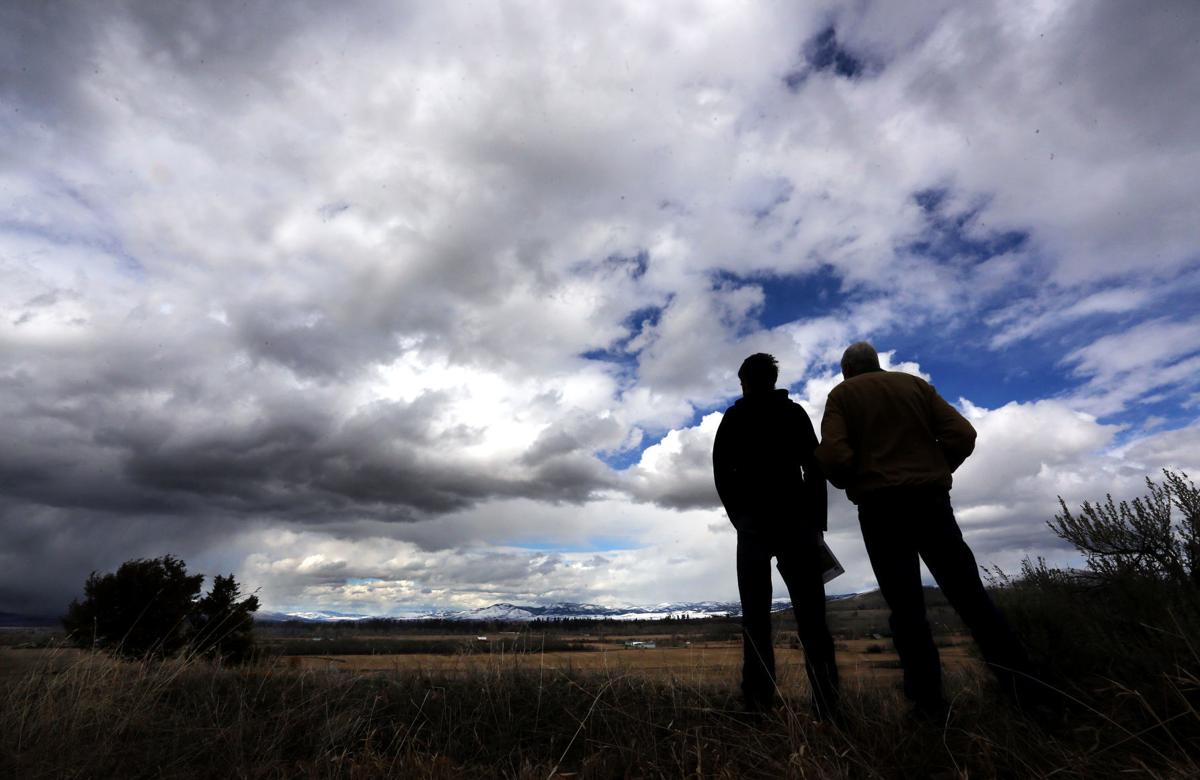 Last year, the Bitter Root Land Trust celebrated its 20th anniversary with a barn dance on one the places they helped preserve forever.
Cindy Jimmerson of the Middle Bear Farm near Victor had recently placed a conservation easement on her land. She was excited about the idea of inviting people out to see what they had helped protect through their contributions to Ravalli County's Open Space Bond.
It turned out that there were a lot of people interested in doing just that.
"We had anticipated a much smaller crowd," said Emy Royce, communication director for Bitter Root Land Trust. "We ended up hosting about 300 people. By a few amazing strokes of good luck, we ended up with enough food. It was intense, but it was wonderful, too."
Those who came said they really wanted the opportunity to talk with Jimmerson to learn about her decision to protect her farm from further development with a conservation easement.
"They were the supporters from the community who make all these projects happen," Royce said. "It was a wonderful meeting of folks who wanted to be able to see with their own eyes this magic that's been happening over the last decade in terms of conservation."
The event was so positive and rewarding that the land trust decided to repeat it this year on the other side of the valley.
Steve Peckinpaugh and Catherine Taylor of the Lazy Burnt Fork Ranch east of Stevensville volunteered to host the fundraiser barn dance at their place next Saturday, June 30.
The couple placed a conservation easement on their 333-acre working ranch in 2016.
The voluntary legal agreement allows landowners to permanently limit the uses of their land to protect its conservation value but still allows them to use, sell or pass on the land to their heirs, according to the Land Trust Alliance website.
So far, 1,896 acres of ranch lands have been protected in the Stevensville area through conservation easements. This year, that total is expected to climb by another 762 acres.
In the Bitterroot Valley, the land trust has helped landowners preserve 7,273 acres of working farms and ranches, wildlife habitat and riparian areas along rivers and streams. Another 105 acres have been or will be set aside as public recreation parks and trails.
Peckinpaugh said he didn't have to be asked twice about hosting the fundraiser for the land trust.
"I definitely support the work of the Bitter Root Land Trust," Peckinpaugh said. "They work really hard to custom fit easements to fit the needs of landowners… I think it's nice to be able to have the venue on an easement where people can see for themselves why it's important to protect these lands."
Peckinpaugh has seen just how fast a landscape can change. Back in the early 1970s, he lived in the area just east of Florence at a time when there were just a few ranches there.
"There must be a 1,000 homes up there now," he said. "It's all changed."
It was about 1971 when he made his first trip up the Burnt Fork east of Stevensville. He can still remember being taken by its rural nature and beauty.
"There's been a lot of focus on preserving that here in the Burnt Fork," he said. "A number of contiguous landowners have put conservation easements on their places. With that in place, you don't have to wonder what it will look like here in 10 years. You can begin to imagine what it's going to look like 100 years from now.
"I'm happy to know that our place isn't going to be peppered with open cuts on the landscape and houses," Peckinpaugh said. "We just fell in love with this place. We would never consider splitting it up. I'm glad that, with the help of the county's open lands program, we won't have to."
The barn dance will include opportunities to take a tour of the ranch and visit with the couple.
"They've spent years rehabilitating their ranch and they're proud of what they've been able to accomplish," Royce said. "Steve and Catherine are really excited about being able to show people what's happening on the ground."
The middle fork of Burnt Fork Creek runs through the couple's ranch. That water eventually winds up in the Lee Metcalf National Wildlife Refuge. Elk and mule deer winter on the sagebrush-covered highlands. The couple leased some of the ground to a young rancher looking for a chance to get started in agriculture.
The $25 ticket to the event includes the tour, a dinner of food from area farms and a dance to the music of Cash for Junkers. There will be lawn games and a kid's fishing hole for the youngsters.
The event offers a chance to make a connection with another piece of the Bitterroot Valley.
"The beauty of this place is the reason that we all love to live here," Royce said. "The things we get to do and how we get to live our lives. Those are all important. We don't want to lose those connections.
"This event is way to have all those connections come together in one place," she said. "It's a way of showing what we're all doing to help protect this way of life."
Ticket numbers are limited to 250. Royce said there were less than 100 left last week.