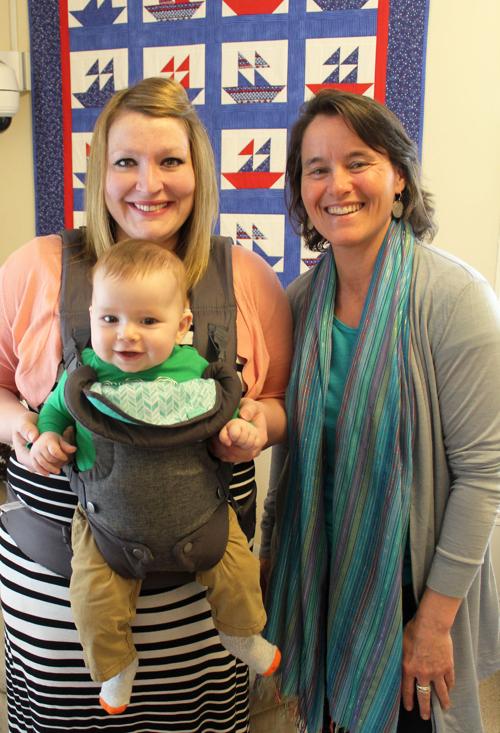 'Spring-Back' is a celebration of well-being, resilience from adversity and less daily stress. 
It is hosted by The Bitterroot Cares for Kids Network, Emma's House and Tobacco Free Ravalli, on April 20, in the Bedford Building.
"Spring-Back 2017 is designed to uplift professionals working with kids and parents or caregivers by understanding ways to take care of themselves in order to care for others effectively," said Kierstin Schmitt, prevention coordinator at Emma's House. "We will offer a simple yoga class, a nutrition class, booths to visit with resources for self-care and the 'Resilience' movie with discussion."
Schmitt said everyone who works with children can benefit from understanding the long-term effects of trauma on kids.
"The importance of understanding how adverse childhood experiences (ACEs) or toxic stress effect children and families cannot be understated when it comes to personal physical and mental health, social and economic health," she said.
Faylee Favara, prevention program manager for Western Montana Addictions Services, said the event is open to the general public.
"We hope people just come in and have a good day," Favara said. "We're looking at resiliency, adverse childhood experiences and the next step of what to do about it. We're creating tools for resiliency."
The event on Thursday begins at 8:30 a.m. with guest speaker Kat Werner sharing about the book "Trauma Stewardship: An Everyday Guide to Caring for Self While Caring for Others" by Laura van Dernoot Lipsky, founder and director of The Trauma Stewardship Institute.  
That's followed by an hour-long session starting at 9:30 a.m. on yoga for healing and resiliency.
Schmitt said the easy mat and chair techniques are "simple things people can do at their desk at work if they need a little break."
"People have mixed feelings on yoga," said Favara. "She is keeping it very simple and addressing resilience in movement. Movement can be a huge component in healing."
At 10:30 a.m. Favara will present 'Nutrition for Happiness! With Think Whole Nutrition Counseling' about how food can help with general self-care.
Participants will enjoy the lunch Favara has prepared and visit booths with information on resiliency.
At 1 p.m. the 'Spring-Back' event coordinators will show the film "Resilience" by James Redford and will host a discussion afterwards.
"'Resilience' is the follow-up to the 'Paper Tigers' documentary that we showed last year, both directed by James Redford," Schmitt said. "This film brings together leaders in the medical field, social work, education and communities to bring hope and healing to our most vulnerable population, our children."
Schmitt said the movie is about finding hope.
"It is important to understand that the effect of trauma, but it doesn't mean you're doomed for the rest of your life," she said. "The awareness of the ACEs study in the mental health field and education field can bring significant changes. There are some struggles, like everybody has, and there are ways with the right resources and information that you can thrive and overcome."
Schmitt said the community benefits from people, such as first responders and police, who may have been through hard experiences and can respond in stressful situations effectively.
"Children may have had trauma but they can overcome," she said. "Just because they are acting up in school doesn't mean they are a bad kid. It just means we need to address it in a different way."
Lyndsay Stover, program director for Tobacco Free Ravalli, said everyone who works with children would benefit from the event.
"As a mother of two kids under the age of 3, I know the stresses of motherhood, and they can be taxing and you don't know what to do or who to turn to," Stover said. "This event gives the opportunity to learn different skills to deal with these stresses in daily life."
Stover said the information will be great to bring into the home or work and create a positive environment.
"Teachers too are overwhelmed with work meeting guidelines and they may just view this as one more thing for them but I think this workshop will be great and will open different doors on how to look at stressors," she said.
Schmitt said the goal of the 'Spring-Back' is to honor and recognize the people that have kids and those that work with kids.
"The Spring-Back resilience fair is to recognize the strain that our professionals and caregivers experience and to help them and help our community understand the benefits in finding ways of resilient, building a resilient community," she said. "The most important thing is understanding the importance of self-care in our fields. If we don't take care of ourselves then we cannot effectively take care of other people."
'Spring-Back' is from 8:30 a.m. to 3 p.m., April 20, at Hamilton City Hall, with a $5 donation suggested. Call 532-9149 or go to www.bckn.weebly.com for more information and to register.
Five free continuing education credits and renewal credits are available for social workers and educators.
Get local news delivered to your inbox!
Subscribe to our Daily Headlines newsletter.