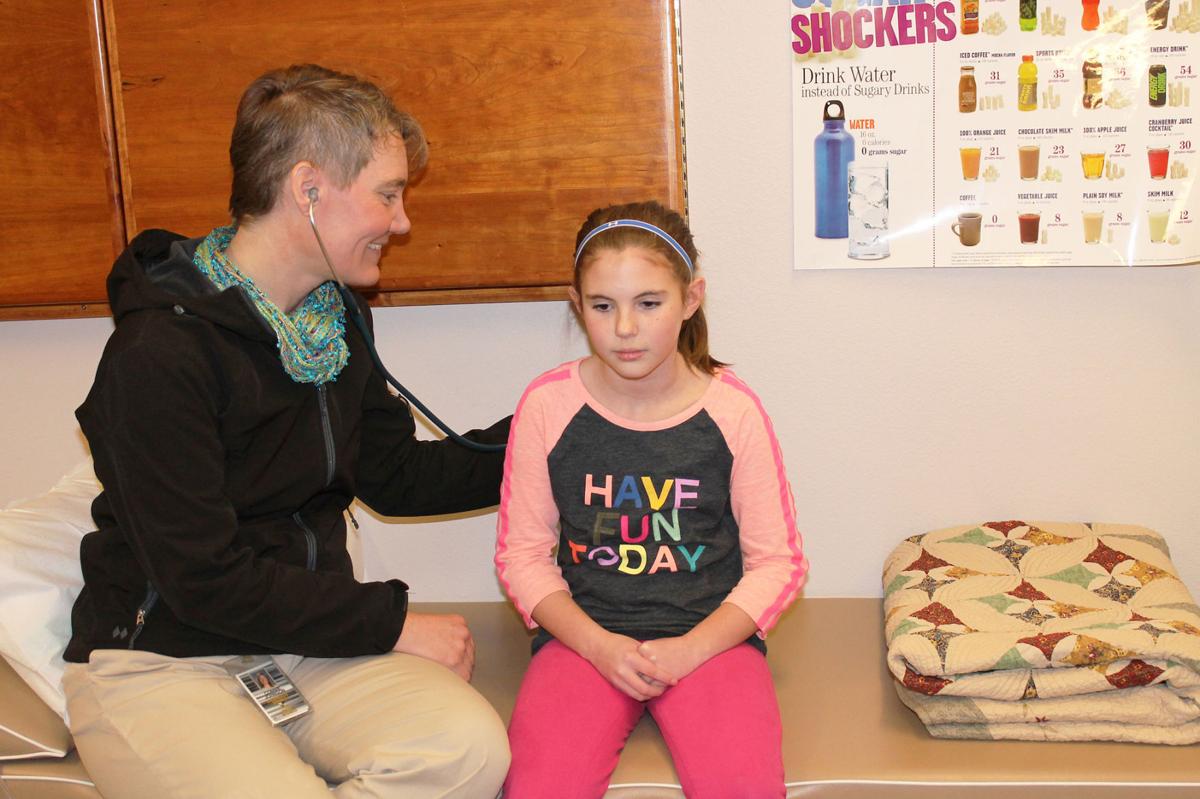 Marcus Daly Memorial Hospital provided a grant to help fund a full-time nurse in the Stevensville School District last week. 
Superintendent Bob Moore said the $6,500 school nurse grant is critical to the school district having a full-time nurse.
"Without the generous donation there is no way the school could provide the medical services our students are receiving," Moore said. "Our goal is to keep kids healthy so that they can learn. When kids are healthy the parents can work, schedules are not interrupted, the students are in class with their peers and outcomes are better."
Connie Johnson has been the Stevensville school nurse for the past six years.
"I love my job and appreciation how this Stevensville School District thinks out of the box to meet the student's needs," Johnson said. "A full-time nurse is not a mandated position, the hospital's donation and district support allows me to be here."
Moore said Johnson provides medical services to about 1,000 students.
"Connie is doing the daily medical needs of first aid and oversees any medical plan in place in our district," Moore said. "Having a school nurse is a suggestion; it is not mandated but an essential service. She is on a dead run all day long, running to our three buildings."
You have free articles remaining.
Johnson said that chronic illnesses are increasing nationally and in Stevensville. She noted an increase in cases of diabetes, aanaphylaxis, asthma and seizure disorders.
"Connie spends a significant amount of her time each day checking blood sugar and administrating medicine, especially with the very young students," Moore said. "Students in the high school are learning to be more self-sufficient but she monitors those students as well. Diabetes is becoming a huge issue in school districts."
Moore said Johnson works with students, parents and staff on emergencies, chronic medical needs, education and prevention. She chairs the safety committee to ensure the cleaning and treatment plans are met based on seriously ill students.
"We love Connie," Moore said. "She advocates for student's needs and advocates for student health. We need to sit up and take notice for the health and well-being of students involved. We could not do it without her."
Tom Anderson, board member of Marcus Daly Memorial Hospital, said the nurse grant program is important.
"The collaborative effort between the school and the hospital is seen as being crucial for overall health in the community," Anderson said. "This relationship assists with keeping children out of the emergency department unless absolutely necessary and helps with educating teachers, staff, students and family members about health needs. It seems that the need of the school nurse continues to grow and I am glad that we can be a part of this critical program."
Moore said, "This donation from the hospital is critical to us having a full-time nurse on staff. We so appreciate it."
Marcus Daly Memorial Hospital provides nurse grants to every school in Ravalli County with a full-time nurse that asks. The nurse program has been in place at least 10 years.