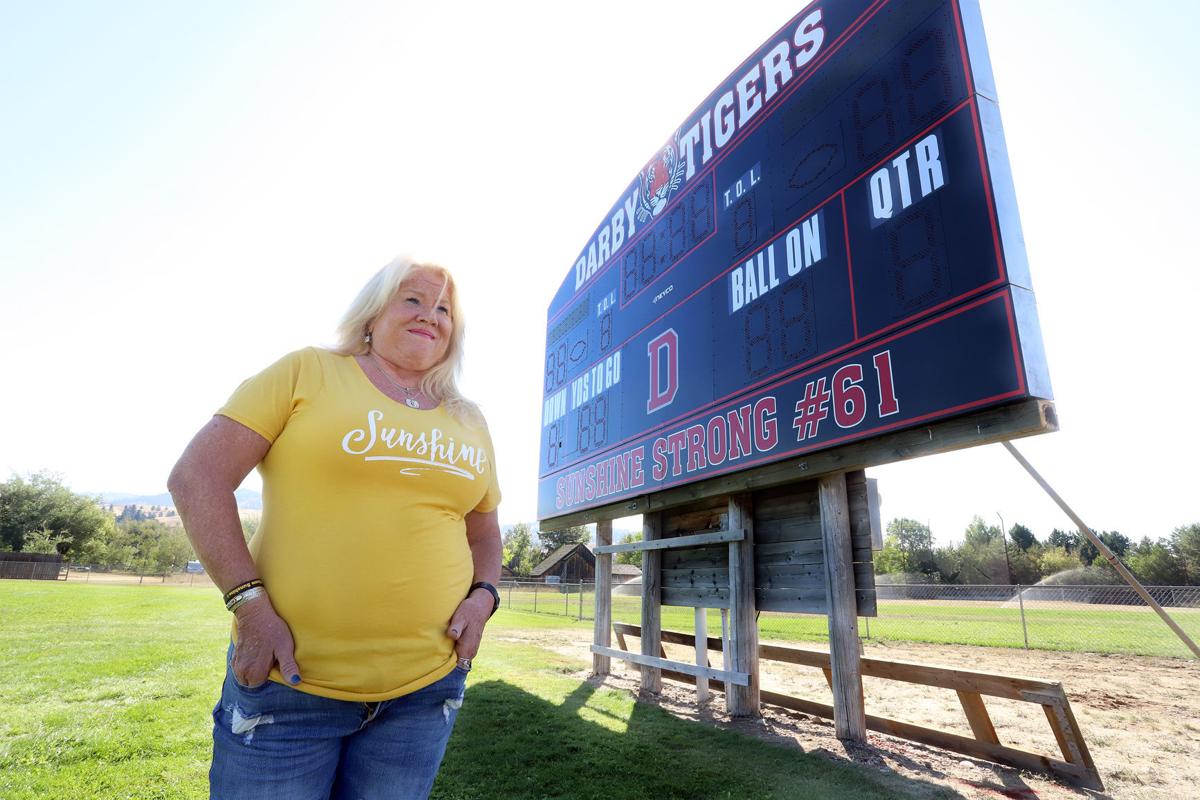 For the second time in almost a half-century, the town of Darby has come together to honor one its own with a new scoreboard at the high school's football field.
Back in the 1970s, classmates of a Vietnam veteran who died in a helicopter logging accident pulled together to raise enough money to buy a scoreboard.
"It was getting old enough that we couldn't get lights or other parts for it anymore," said Darby High School principal JP McCrossin. "The school was looking at a pretty large expenditure to replace it."
Last October, the community was shaken to its core when Darby High School graduate Jake "Sunshine" Sanders died following a battle with Stage 3 non-Hodgkins T-cell lymphoma. His journey, which included two hospital stays and a final trip back to his family home, was tracked by both those in Darby and others from all parts of the country.
A fundraising effort to pay for expenses to bring Sanders back home ended with some additional funding that both he and his mother, Debi Sanders, decided would be used as seed money to pay to replace the old scoreboard.
After most of that money ended up being used to pay for the fuel used to fly him home from a Texas hospital, Debi Sanders made it her mission to raise the nearly $18,000 it would take to pay for the scoreboard in memory of her son.
She found lots of people willing to step alongside and make that dream a reality.
Theresa Manzella opened up her arena to community members last winter to create Christmas decorations from wood pallets. Christina Harrell put together a murder mystery dinner at the community clubhouse. Others dug deep into their pocketbooks to donate.
An anonymous donor from the other side of the country pushed the seven-month fundraising effort over the top with a $3,000 donation.
This past weekend, volunteers worked to put the 10-piece scoreboard together in the bus barn and then set it up on the southwest corner of the field.
On Tuesday, Debi Sanders stopped by for another look at the sign topped with "Darby Tigers" and the words "Sunshine Strong #61" across its base.
Her son played on the Darby High School football team. He was given the nickname "Sunshine" for his long blonde hair and bright personality. His jersey number was 61.
"It turned out nice, didn't it? Jake would be so embarrassed. He was so low-key. I know he's rolling his eyes," Sanders said as she wiped tears out her own.
The "Sunshine Strong #61" portion of the sign doesn't have any lights. On the morning when it was first set on its base, Sanders said it absolutely glowed.
"It was really weird when that happened," she said.
Before her parents purchased property in Darby, they used to come to stay at an RV park that bordered the football field. Sanders can remember watching football from there while visiting from Florida.
"I would never have imagined that there was going to be a piece of me right here," she said.
McCrossin said Debi Sanders wanted to do something to remember Jake that would mean something to those who call Darby home.
"She took up this cause and through her hard work and the relationships that Jake had built through his lifetime, there was money coming in from all across the country," McCrossin said. "This became something bigger than all of us realized. Through it, we were able to get a scoreboard — probably the nicest scoreboard we've ever had."
"Jake meant a lot to a lot of people," he said.
Jake Sanders died on Oct. 10. This year at Darby's Homecoming on Oct. 11, McCrossin said the scoreboard will be dedicated in his memory.
Sometime soon, McCrossin plans to set up two plaques in honor of both Darby residents who had scoreboards built in their honor.
"They'll be there so 20 years down the road, people will know how this all came about," he said.
"This town is an amazing place," Sanders said. "I wouldn't have been strong enough for any of this without if it hadn't been for this town."
Get local news delivered to your inbox!
Subscribe to our Daily Headlines newsletter.