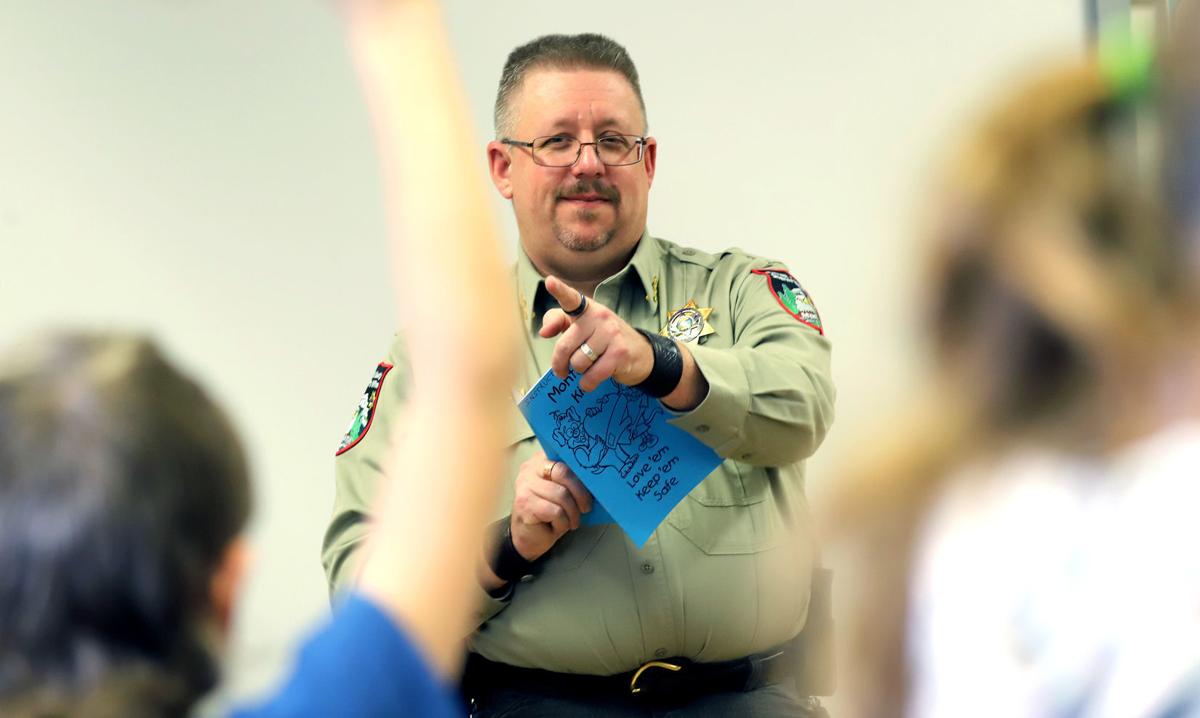 While the country focused on a wave of protests and riots earlier this year, Ravalli County Sheriff Steve Holton's phone and email lit up.
"It was nothing really bad or accusatory, but the inquiries we were receiving for information were unprecedented in the time that I've been here," Holton said. "But then a couple of weeks ago — almost overnight — it just switched."
Those questions came as people were protesting police brutality in Black Lives Matter rallies that surged across the nation following the death of George Floyd on May 25 while in custody of Minneapolis law enforcement. 
Instead of receiving requests on what training his office provides its officers or what protocols they have in place to de-escalate a situation, a new flood of thank you cards, supportive emails, lunches and plates of cookies poured in.
It seemed like every day brought some new surprise. When Holton stepped outside to dump his garbage earlier this week, he was met by a man carrying a sign that said, "Thank you for your service."
"That kind of caught me off guard," Holton said. "And then I saw the sign was in support of local law enforcement. It was a nice thing to see."
Apparently, that same citizen made a similar walk at the Hamilton Police office the next day. He wasn't alone in showing support for local law enforcement.
A group formed a program they call "Adopt a Cop." Law enforcement officers fill out forms about their interests and likes. Community members can then use those forms to come up with ways to show their support. All of it is done anonymously.
Others have stepped up more directly.
Jim Grenfell, owner of Grenfell Garage, just north of Woodside, decided he needed to take action too.
"Just because we're in crazy times," he said. "I'm buying gift certificates for law enforcement officers in the valley."
He's buying lunch for eight Montana Highway Patrol troopers, 15 Hamilton police officers and 39 Ravalli County sheriff's employees.
He presented 54 $30 gift certificates to the different departments Wednesday.
"I was born here," Grenfell said. "I feel safe. They keep us safe in this crazy world, and I'm thankful they keep us safe. Hopefully the gift certificates are a blessing to them. "
Hamilton Police Chief Ryan Oster said he appreciated the community support.
"We've been seeing a real outpouring from the community," Oster said. "This place has looked like Christmas around here with cookies, pizza, and it has been incredible."
"There is good news happening here," Oster said. "We're very blessed to live where we live. We're still small enough to still be one true community. The Bitterroot Valley hasn't grown beyond that, and our differences haven't divided us. That's pretty cool. We appreciate Jim Grenfell and what a lot of people in the community have done."
The national debate over the role of the police has resulted in several "productive and very good conversations" with both residents and city officials, Oster said. Even the person who spearheaded the county's only Black Lives Matter protest met with Oster to let him know up front that it wasn't anti-law enforcement.
"Obviously, we live in a special place," Oster said. "Things are different here than a lot of other places…Not everyone likes law enforcement, but you'll find that anywhere you go. But those people are certainly not the majority."
Stevensville Police Chief James Marble said he's had one negative reaction in the form of a man driving by and giving a single-finger salute, but everything else has been positive.
Nationally, there's a call for more community-oriented policy. Marble said they are ahead of that curve.
"That's what we do here," Marble said. "It's about connecting with your community and knowing the people you serve. Understanding the people who live here. Many of them you know on a first-name basis. Being in a community long enough to understand the issues helps too.
"We try to enforce the law in a way that's fair, and it's also compassionate," he said.
While Holton is appreciative of the public's show of support, "I really want to thank folks for knowing that some of the issues we see in other parts of the country is the not the way business is done here."
"In some ways, law enforcement hasn't changed since the 1880s," Holton said. "You are only going to be as successful as your relationship is with the public…It's why we're successful when we prosecute things here. People talk to us and we appreciate that. We can't do our jobs without them."
While living in a rural area probably has something to do with that, Holton said it's also important "that not every contact that people have with law enforcement is a bad contact. There are lots of good contacts. Even though we're pushing 45,000 people, our guys still go to church with people, our kids still get together. We interact on a social level probably more than we do on a professional level."
"It's a mutual trust," he said. "My guys trust what the public is telling them. They trust us to do the right thing with it. That's probably no different than any other relationship in any other capacity. If you don't trust one another, it's not going to work."
Holton wants the community to know that Ravalli County's law enforcement officers are thankful for the show of support they've received through the community.
"Every day, I thank God that we live and work where we do," Holton said.
Get local news delivered to your inbox!
Subscribe to our Daily Headlines newsletter.