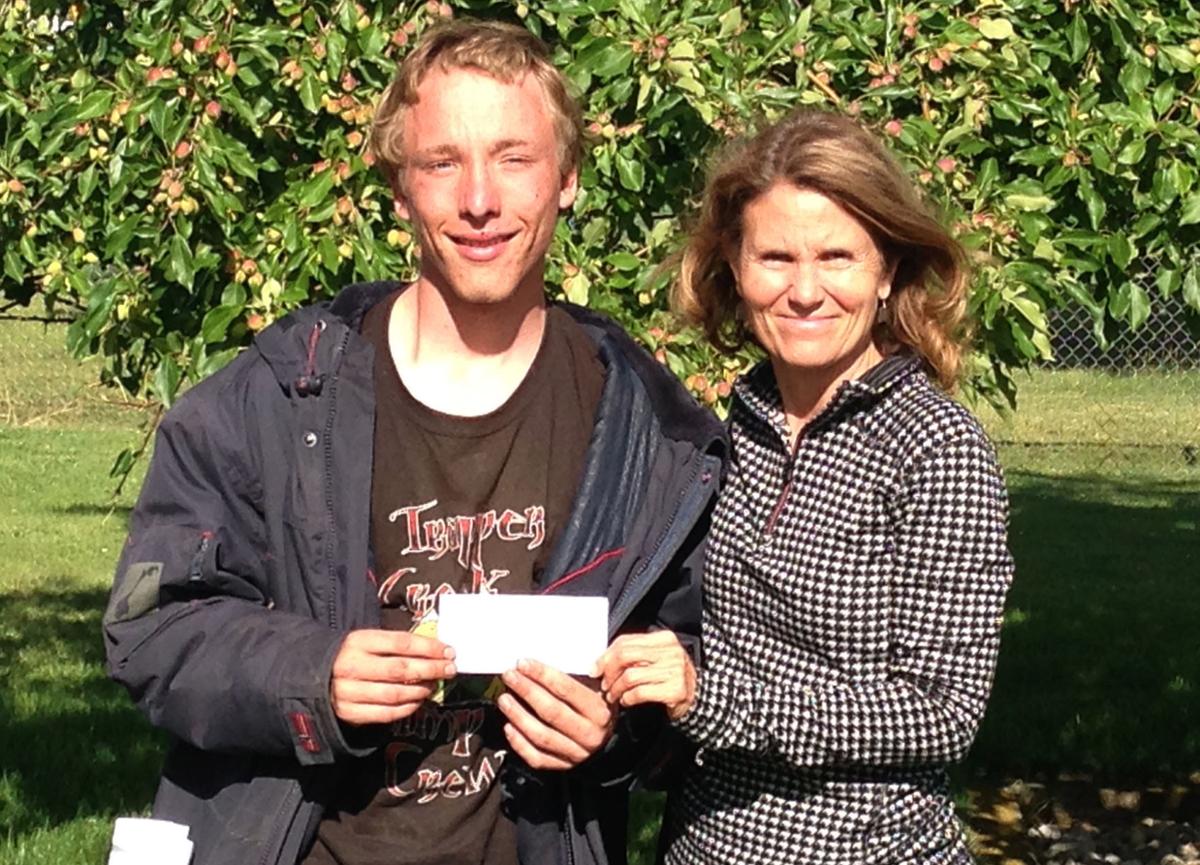 As the Observation Point fire winds down, one support worker at Darby's fire camp next to the high school was excited to be the first recipient of PFLAG's Start-up Grant.
Grey Muhlnickel, 18, of Denver, Colorado was part of the supply team with Trapper Creek Job Corps, filling orders of shovels, stakes, pumps and first aid kits for the fire crew. The fire was said to be 90 percent contained on Monday, so most of the crew at the fire camp were packing up to leave Tuesday morning.
As a student at Trapper Creek Job Corps, Muhlnickel completed the core curriculum for Level I Pre-apprentice Electrical Trade certification and is looking forward to graduation Aug. 8. He plans to seek employment or will otherwise continue his education in electrical engineering.
For the first time in the PFLAG Hamilton-Bitterroot Chapter's history, the board decided to offer a $500 grant to graduating students at area local schools for lesbian, gay, bisexual or transgender (LGBT) individuals or allies to help students with the next step in their career or education. This grant can go towards anything from tuition, books and other school supplies, or even to help with securing a job, housing or transportation.
In his grant application essay, Muhlnickel clearly demonstrated his role as an ally and advocate for LGBT individuals in his family, his school and his community.
Muhlnickel states that he saw LGBT friends as well as a family member being mistreated and discriminated against without the same basic rights or recourse to stand up to unfair practices regarding employment and housing.
"If we can learn anything from history about people who are socially ostracized based on race, ethnicity and other [protected] classes, everyone deserves the same rights and equality, including those who identify as LGBT," he said.
He also notes that "differences should be celebrated, not discouraged. Those who are different should not be compelled to conceal those differences based on the acceptance of others."
As a Boy Scout, Muhlnickel stated that his scout troop accepted girls, LGBT individuals and people of all ages, races and socio-economic sectors. When their troop handed out fliers in his school stating that anyone who wished could attend, several LGBT community members came.
"The dark question already on their mind: 'When I tell them I'm different, will they turn me away?' The answer was a unanimous no," he said. Everyone was welcome, regardless."
Muhlnickel plans to spend his Start-up Grant on a new pair of work boots and save the remainder to secure housing or a vehicle after graduating and moving to a new location for employment. He states that he will continue to advocate for LGBT individuals, especially if he sees something occurring in the workplace, such as hazing or mistreatment by management or co-workers. He says he would speak up on another LGBT person's behalf.
"I wouldn't want to work for that kind of company," he said."It's my opinion that no matter who you are, where you come from, the company you keep or the status you choose to uphold, you are accepted, you're beautiful and you deserve to be treated like everyone else. You deserve equal marriage rights, equal employment rights and your presence in society, instead of being frowned upon, should be applauded."
PFLAG's mission is to promote the health and well-being of LGBT persons, their families and friends through support, education, and advocacy and acts to create a society that is healthy and respectful of human diversity.
Deb Eckheart is the president of the PFLAG Hamilton-Bitterroot Chapter.
Get local news delivered to your inbox!
Subscribe to our Daily Headlines newsletter.