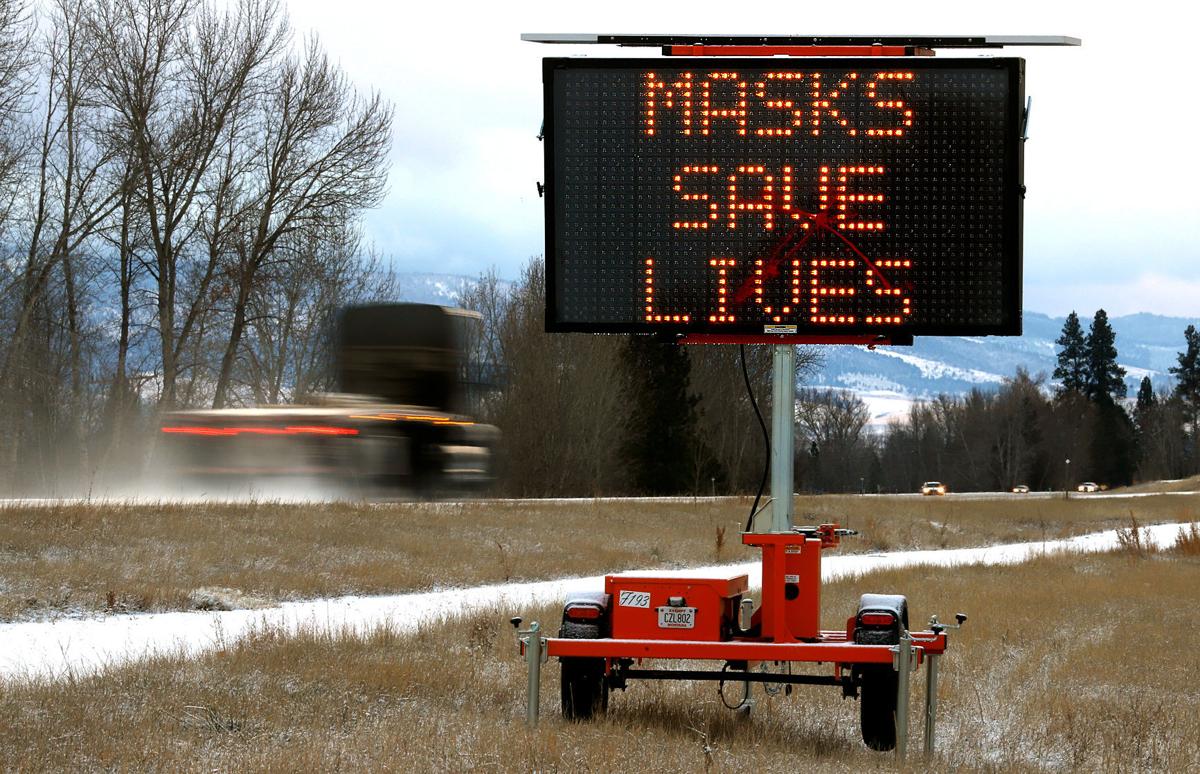 There's a flashing traffic sign on U.S. Highway 93 just north of Florence that tells people everything they need to know about where county residents stand on the COVID-19 pandemic.
The sign flashes two simple messages: "Wear a mask" and "Masks save lives." It is part of a public awareness program launched by the Ravalli County Public Health Board.
It was set up in the middle of the week.
By Thursday, someone had spray-painted a large red "X" across the board.
Depending on who has your ear in Ravalli County, the pandemic is either a pending crisis that could overwhelm local and regional healthcare facilities, or it's a hoax that's being blown out of proportion.
On Friday, Ravalli County Public Health Director Tiffany Webber reported the ninth death in Ravalli County tied to COVID-19. She also said the department received notification of 66 new cases in the county.
That followed a week that included a contentious public health board meeting where unmasked residents packed a room to spend more than two hours mostly explaining why they were skeptical about the threat posed by the pandemic.
One day after that meeting, Hamilton's Valley View Estates Health and Rehabilitation Center sent out a letter to residents, family and staff to report there were 38 residents and 19 employees who had tested positive for COVID-19.
According to death notices, three Valley View residents died on Nov. 5 and 6. Their ages correspond to last weekend's report from the county's public health department of three COVID-19 deaths, although the Ravalli Republic could not confirm the causes of death.
Valley View Estates' officials did not respond to questions about the situation at the nursing home and whether the three deaths were related to COVID-19.
While Webber said she couldn't confirm those recent deaths were tied to COVID-19 cases at Valley View Estates, she said COVID-19 cases are on the rise both in the local population in general and those who work in the health care field.
Like other areas of the country, Ravalli County is seeing an increase in COVID-19 cases. In October, Webber said there were 475 cases. In the first 10 days of November, her office has documented 230.
"This is beginning to impact a lot of people," Webber said. "We just need for the community to come together. We need for that happen right now."
Last week, a group of local emergency room physicians made national news after their joint letter said the county is "on the brink of disaster" with the rapid jump in COVID-19 cases and the growing capacity issues at regional hospitals.
This week, a group of mostly local medical laboratory professionals echoed that plea in their own letter to the community.
"As a medical laboratory professional battling COVID-19 on the frontlines and as a constituent concerned about the health and safety of my community, I ask that you support and mandate the CDC (Centers for Disease Control and Prevention) and state department coronavirus guidelines, including mandating the use of face masks in public spaces, maintaining social distancing and staying home and or isolated when sick," their letter read.
At last Tuesday's Ravalli County Public Health Board meeting, City of Hamilton officials said they were hearing from people concerned that many in the community weren't following COVID-19 guidelines, such as wearing face coverings and social distancing.
"We wanted to see as a city and government body, what we could do to help you," Hamilton Council member Robin Pruitt said. "We want to do what we can to help the economy stay running, our schools stay running and our hospital stays healthy."
During that meeting, Ravalli County Board of Health members and the county's public health officer repeatedly said there were no plans to implement a county-wide mask mandate. Instead, they would continue to encourage residents to voluntarily follow the COVID-19 guidelines.
"We're not looking at enforcing mandates," said Health Board member Katie Scholl. "We are asking that people act responsibly so we don't use up all the resources at the hospital. We also know that enforcement is virtually impossible here. We don't have the resources."
The people who attended the meeting remained skeptical of the board's intentions and many offered their versions of "the truth" that included a variety of statistics from various sources, assertions the virus had been politicized and that the tests were inaccurate.
Terri Lackey of Stevensville attacked contact tracing as an invasion of privacy, challenged the effectiveness of masks and said people should be allowed to get sick to build immunity to the virus.
Telling the board that she has so much common sense that "it oozes out of my ears," Lackey said "old people in nursing homes, that's what they usually do. They die. I'm not being insensitive. I lost my mom when I was six so don't go there."
"I don't see bodies stacked up," Lackey said. "I don't see mortuaries building new buildings. I don't know where in the world you're getting all this fear from."
She said people weren't afraid of the virus and told the board that each of them has been put on notice.
"I don't need you to tell me anything," she said. "I got common sense, and so far I still got all my freedoms. So I'm going to go where I want to go. I'm going to stand next to who I want to stand next to. I'm going to choose whether or not to wear a mask, but you're not going to tell me to wear one."
Ravalli County Commissioner Jeff Burrows serves as the health board's chairman. He is the only board member who doesn't wear a mask.
"On a personal level, I'm not scared of the virus, but I also don't get right into people's faces either," Burrows said. "While I don't wear a mask, I don't flaunt it. I don't say come here and give me a hug."
Burrows said he's known personally eight to 10 people who have had COVID-19, and all had symptoms that were similar to having a cold or flu.
"I don't want to discredit it because I know it hits everyone different," he said. "So does the flu. In my mind, I think we might be seeing an overreaction, with the solution being worse than the problem."
Small family-run businesses have suffered huge losses of revenue, and there is a potential for an increase of child abuse rates to climb with young people being out of school, Burrows said.
Burrows said the public's input at last week's meeting was a rehash of what the board has already heard.
"It was pretty much the same people saying the same thing over again," he said.
Health board member Roger Dehaan told Hamilton officials the board doesn't have a plan for how to address COVID-19 at this point.
"We're just kind of letting this thing run its course," he said. "Unfortunately, the most susceptible and those unwilling to be in an un-masked crowded situation are the ones being deprived of not being able to go to meetings or other social situations because other people are not willing to wear masks or social distance."
"People don't seem to be willing in Ravalli County to give up a little bit of freedom now in order to hopefully be able to open up with more freedoms later on," Dehaan said.
Get local news delivered to your inbox!
Subscribe to our Daily Headlines newsletter.