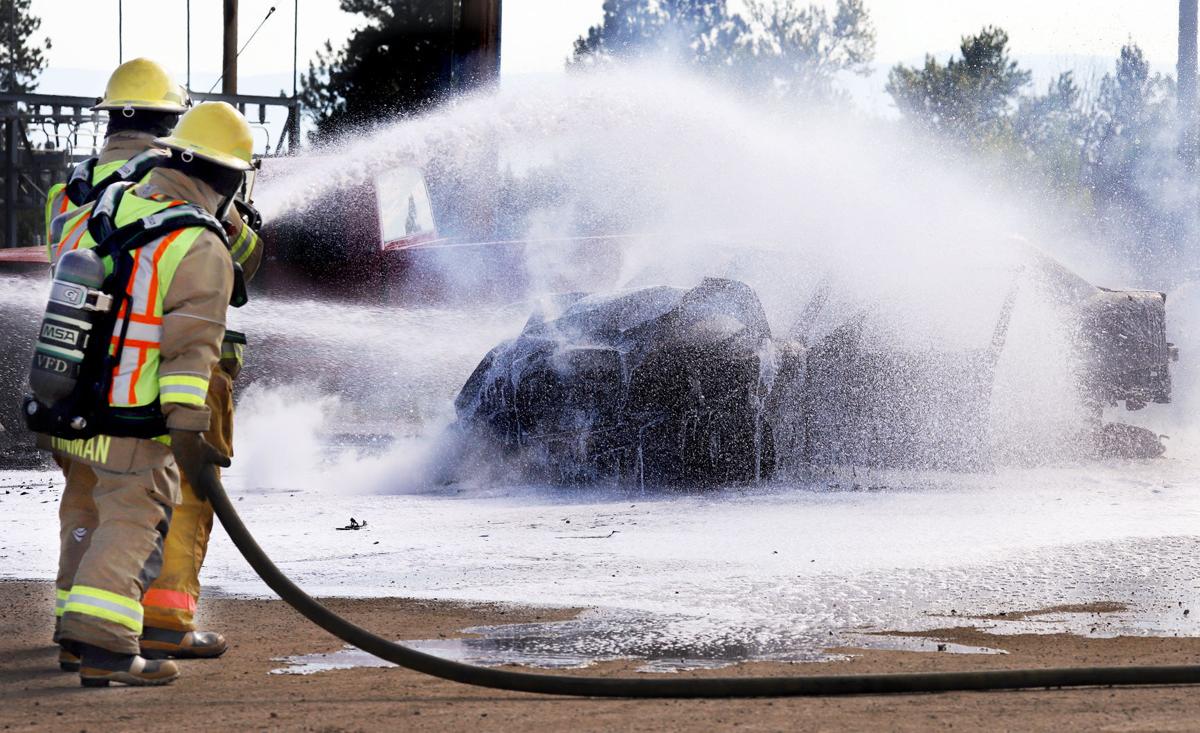 On Friday, community members will gather along U.S. Highway 93 to remember Christine Howe and others who have been impacted by the dangerous stretch of road between Florence and Lolo.
The accident was a catalyst for a new grassroots group called Advocates for Change to Montana Highway 93 S. The group is hosting Friday evening's vigil from 3:30 to 5 p.m. to bring awareness and garner support for safety improvements to the stretch of highway between Florence and Lolo.
The group is asking that people who attend the vigil bring homemade white crosses that include names of lost loved ones or people whose lives were forever changed due to accidents that occurred on the highway. People are also asked to include messages asking Gov. Greg Gianforte to support safety projects.
Organizers are asking people to spread out on the west bike path along the eight-mile stretch between Lolo and Florence and maintain six-foot social distancing as much as possible. People attending the vigil are asked to wear face masks.
Parking for the vigil will be at the park-and-ride parking lots near Trader Brothers and Carlton Creek and the parking lot near the Florence High School parking lot. People are asked not to park along the highway shoulder, driveways or access roads.
"This vigil of remembrance is not a political forum," said Stephanie Puckett. "The intention of this vigil is to remember, honor, and memorialize those lost along this dangerous stretch of road."
Howe's vehicle was rear-ended as she attempted to make a left hand turn into her driveway at about 5:20 p.m. Friday. Her car was pushed into oncoming lane that was filled with rush hour traffic.
She died at the scene. The drivers of the three other vehicles were transported to the hospital.
Howe's death hit a lot of people who travel U.S. Highway 93 South hard.
Born and raised in Lolo, Puckett has seen first-hand the substantial amount of growth in traffic on the highway. Both her husband and employees of her parent's business travel the road often. They all take notice of the number of serious accidents that occur there.
But this time was different for Puckett.
"I already had a personal investment in this highway," Puckett said. "Christine was a friend. She and her husband trained my service dog. It's at the point now that it's become too personal. I can't sit back and do nothing."
Howe co-owned Sharp K9s, a certified dog training business, with her husband.
"They trained tracking dogs and have worked with a lot of different departments and search-and-rescue organizations," Puckett said. "She was an amazing person. Everywhere she went, everyone loved her. This is a huge loss."
In response to the increasing number of vehicles and accidents on U.S. Highway 93 between Lolo and Florence, Puckett and a few others have formed a small focus group. The group plans to review the history of U.S. Highway 93 South, gather data and look for a ways to improve the safety of the highway. They plan to work with the Montana Department of Transportation, law enforcement, first responders and the community.
Sasha Olson of Florence is a member of that group. She knows how dangerous that highway can be. Olson lost her brother to an accident near Lolo and her son was T-boned as he attempted to turn left onto the highway near Trader Brothers.
She and her husband own a towing company that often responds to accidents.
"The traffic over the last few years has gotten heavier and heavier," Olson said. "When we respond to a call, people don't even get over the left lane when they pass alongside the road. They run over our cones and flares and miss the truck by just a few feet. It's scary."
Olson said the group is in the information-gathering mode right now.
"We know that you can call and cry and scream on the phone, but unless you follow the proper procedure, nothing will get done," she said. "We want to develop an action plan and look for ways to make the highway safer."
For more information refer online to Facebook: Lolo Community Outreach, Florence Community Information, and Bitterroot 500 Group.