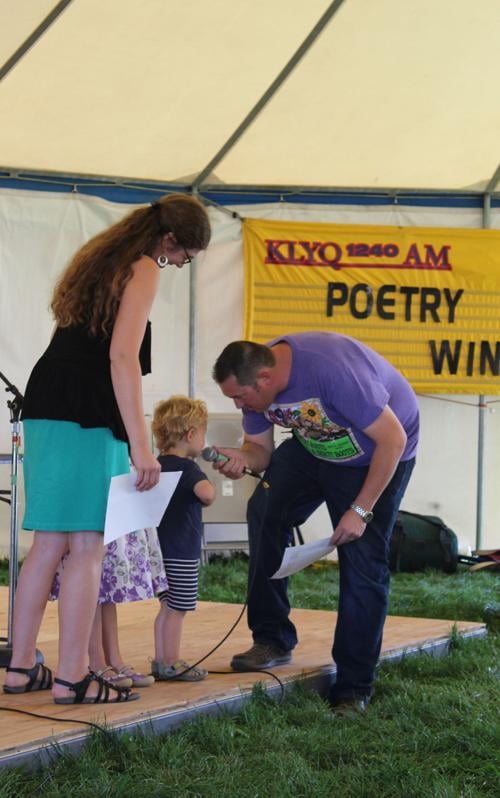 The Ravalli County Fair is fast approaching and the deadline for entries in the 10th Annual Poetry Contest is August 14 as a fair entry in a new department.
Fairgrounds Manager Melissa Seville said the fairgrounds is happy to invite the poetry department back for their 10th year.
"We would love to invite folks to get creative and enter their poetry," Seville said. "We have officially made Poetry Department No. 24 and are looking forward to a successful entry year."
The Ravalli County Poetry Contest is organized by local poet Dominic "Flominic" Farrenkopf and open to all poets in three age categories — grades K-6, grades 7-12, and 18 years and older.
"Ten years ago Deborah Rogala, the RC fair manager at the time, and I sat down and brainstormed some ideas to encourage more participation in the RC Fair," Farrenkopf said. "I had been writing an official poem for the fair book each year and Deborah thought a poetry contest would be a good idea."
It proved to be a popular part of the fair.
"Each year we have new participants as well as poets who return," Farrenkopf said. "Our biggest challenge is to find entrants in the 7-12 grade category. I teach poetry workshops in the schools and public libraries and that helps generate entries, but we always need more entries from junior high and high school."
The entries are collected, compiled and presented to five anonymous community judges. The judges rate each poem on its own merit and do not compare it to other poems.
The top eight finalists present their poems during the fair on the KLYQ Entertainment Corral Stage.
Steve Fullerton, of the KLYQ Stage, has been involved with the contest throughout the years.
"When we presented the first poetry contest a decade ago, I thought that most of the poets would be too shy to read their creations on the stage," Fullerton said. "But I was wrong. They seemed to enjoy sharing their words and the audience response has always been a great boost to each author. The variety of styles is amazing. We have a lot of talent out there."
The top three finalists in each age category win a prize. The K-6 grades and 7-12 grades win all-day carnival ride passes, and the 18-plus category winners receive gift certificates to Chapter One Book Store.
"A new and exciting feature is that this year the poetry contest has become an open class department," said Farrenkopf. "That means that first, second and third place will now also receive a ribbon and a premium prize. We are also going to find a way to display some of the poetry this year, which is something we have not been able to do in the past."
Douglas Taylor has participated in the poetry contest in the 18-plus category.
"I felt the poetry contest at the fair was a good opportunity for me and others in the community to share what we might do in the solitude of the writing process," Taylor said. "My poetry is done for myself first, then secondly to share. When others find value and resonance with the writing that is what art is about; something personal becomes universal."
Corvallis Fourth-Grade Educator Liz Jameson has made student involvement in the Poetry Contest a priority over the years.
"You might not believe it, but writing poetry is one of my fourth-grade students' favorite projects," Jameson said. "Using poems from many authors, including Flominic, and the book 'Love That Dog' by Sharon Creech, to inspire our students, the fourth graders in Corvallis always amaze us with their creativity."
Jameson said the poetry contest motivates her students to write poetry.
"Every year my students choose their favorite poem that they created that year and enter it into the contest," she said. "Many of their poems have been chosen as winners in their age category. Having the chance to win prizes is fun, but I think the recognition and getting to share their work on stage is the biggest prize."
Farrenkopf said all poets and aspiring poets are invited to submit original poems in any style and on any topic including haiku.
Poems must be submitted by the fair entry deadline of Aug. 14 to bperkins@rc.mt.gov or by direct mail to: RC Fairgrounds 100 Old Corvallis Road, Hamilton, MT 59840 or delivered in person to the Fairgrounds Office.
The eight finalists will be invited to read their poems on the KLYQ Entertainment Corral Stage at 3 p.m. on Wednesday, Sept. 2.
Farrenkopf encourages participation.
"If you are a poet, give the contest a try," he said. "If you know a poet, please encourage them to enter. Poetry can be a very personal thing and this is a great way to test the waters of presenting your poetry in public."
He said the friendly competition is enjoyable.
"The atmosphere on the KLYQ Entertainment Corral Stage is a very supportive environment where everyone listens and applauds," Farrenkopf said. "I look forward to reading all of the entries each year and this year I hope we have more entries than ever."
Get local news delivered to your inbox!
Subscribe to our Daily Headlines newsletter.