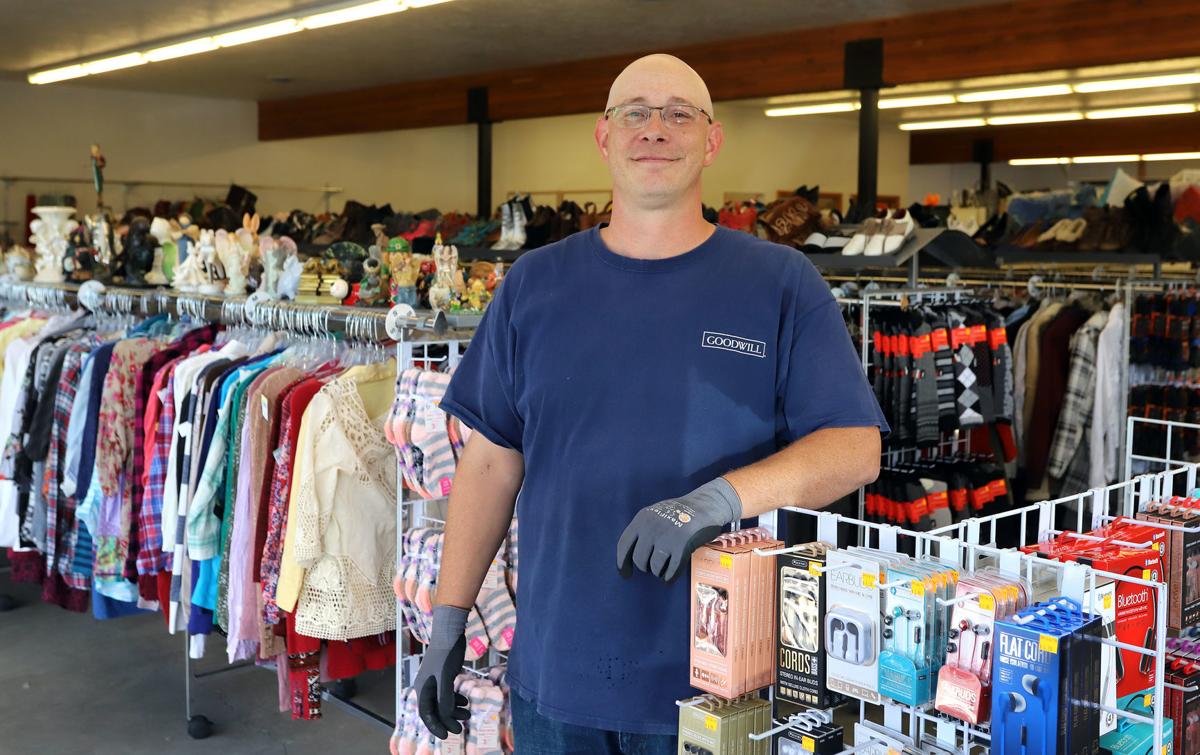 Eight years ago, Jacob Folden started working at Missoula's Goodwill store as a janitor.
"I grew up kind of poor," Folden said. "I liked being able to give back to that demographic that I knew so well as a kid."
He worked hard and eventually became the assistant store manager.
Next week, when the doors swing open to the public at Goodwill's newest Montana store in Hamilton on Thursday, Oct. 3, Folden will be there to greet people as the manager of the facility.
"We're really looking forward to a successful grand opening," Folden said. "I want to thank all the generous people who donate to Goodwill and are making this new store possible."
The store is located at 2124 N. First St. in the former O'Reilly Auto Parts location. On Friday, the 3,000 square feet of sales floor space was filling rapidly with affordable, gently used clothing and household items.
While a good part of the items filling the racks and lining the shelves was shipped from the Missoula facility, Folden said Bitterroot Valley residents were already dropping off donations at the new store's back door.
"They seem pretty excited that we're going to be here," he said. "We take all kinds of clothing and small household items. We don't accept any large appliances or any liquids or flammable materials. Right now, it's been mattresses that we've mostly been turning down."
From what he's seen so far, Folden said it appears like they won't have any trouble remaining self-sustainable.
Eight people are employed at the store.
The grand opening will feature prizes and giveaways. The first 500 customers through the door receive free canvas shopping bags. There will also be prize drawings for Goodwill gift cards, including a grand prize card worth $100.
 "In this economy where people don't have as much disposable income, Goodwill really is meeting some needs from a shopping perspective," Folden said. "More people are becoming Goodwill shoppers. It's a smart thing to do, to recycle and look good at the same time."
By giving gently used items to Goodwill, donors are giving someone else a chance to change their life. Goodwill employees learn valuable skills like customer service, cashiering, truck driving, time management, teamwork and setting goals — skills that help them in their job at Goodwill and during their entire working career.
Store hours at the new location are Monday-Saturday 9 a.m. to 7 p.m. and Sunday 10 a.m. to 6 p.m. For more information, people can call the store directly at 406-802-7027 beginning Oct. 3.
Goodwill stores in southern Idaho, Montana and Utah are part of Easterseals-Goodwill Northern Rocky Mountain Inc., a nonprofit organization with employment and job training, day programs and housing for adults with intellectual disabilities, children's therapy and health-related services for adults and seniors. Easterseals-Goodwill provides 43 different programs in 42 locations in Montana, Idaho, Wyoming and Utah, according to a press release.
Get local news delivered to your inbox!
Subscribe to our Daily Headlines newsletter.